CU People: Kaaryn Nailor Simmons, Director, Columbia-Harlem Small Business Development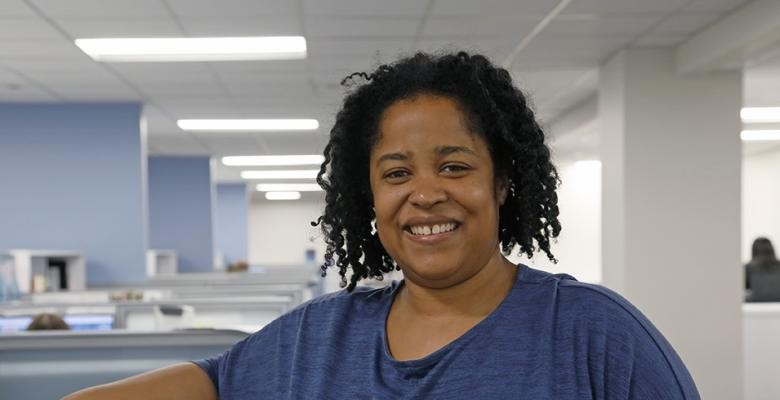 Title
Director, Columbia-Harlem Small Business Development Center
Years at Columbia
6
What She Does
Simmons works to promote economic development, empowerment and job-creation in the Harlem community. She leads workshops in the basics of starting and growing a business—marketing, finance and operations—and teaches in the Columbia Community Business Program, a two-year curriculum that meets weekly to help local managers and owners focus first on stabilizing a business and then on growing it. The Columbia-Harlem SBDC also offers one-on-one business counseling and other programs in marketing, communication skills and video storytelling so business owners can promote their products and services to potential investors and on social media and the web. Its services are free, funded by the Columbia Business School, the Small Business Administration and some corporate foundations.
Best Part of the Job
"Seeing the excitement of our business owners, who are so grateful for the knowledge that we give them," said Simmons. "Columbia University staff are very proud to support local businesses." The Columbia SBDC, founded in 2009, now serves some 400 small businesses each year, most of them owned by people of color and women. "There are so many success stories," she said. For example, the owner of a once-struggling bicycle shop, a participant in the Community Business program, increased revenue by 25 percent by revising his inventory system to emphasize more popular products.
Most Memorable Moment
At the top of her list is the annual Harlem Buyer Fair on campus. The culmination of the year-long Harlem Local Vendor Program, which she manages, the fair is where local businesses market their products—mostly food, body care and gift items—to buyers such as Whole Foods, Bed Bath and Beyond, Macy's and Columbia Dining. Simmons also enjoys the "pitch competition" that takes place every semester, allowing business owners to use what they have learned at the center to give the brief presentation on their products and marketing plans that they would give to potential investors. For the first competition four years ago, "it was like pulling teeth to get people to come in" as participants or spectators, she recalled. "Now there are 200 people in the room just to watch."
Road to Columbia
Simmons practically grew up on campus, living just a few blocks away in Morningside Gardens and attending elementary school at St. Hilda's & St. Hugh's School on 114th St. Her mother earned an MFA degree at Columbia in 1973 and her father, a physician, was a surgical resident at Harlem Hospital, which was then affiliated with the College of Physicians and Surgeons. With a B.A. from Hampton University and a law degree from the Cardozo School of Law at Yeshiva University, she worked as a lawyer before joining Harlem Children's Zone as director of its Community Pride program. "They were doing a lot with tenants' rights at the time and were looking for someone familiar with real estate law," she recalled. Working in Harlem, she saw the need for economic development through small business and when the position at Columbia opened up, it was a natural fit. "Doing small business development in the same community was very exciting," Simmons said.
In Her Spare Time
She likes to ski and to travel, but doesn't have much time for either these days. "I have a husband, a dog, and three young children—seven-year-old twins and a three-year old," she said with a laugh. "They keep me busy."