CU People: Richard Roderick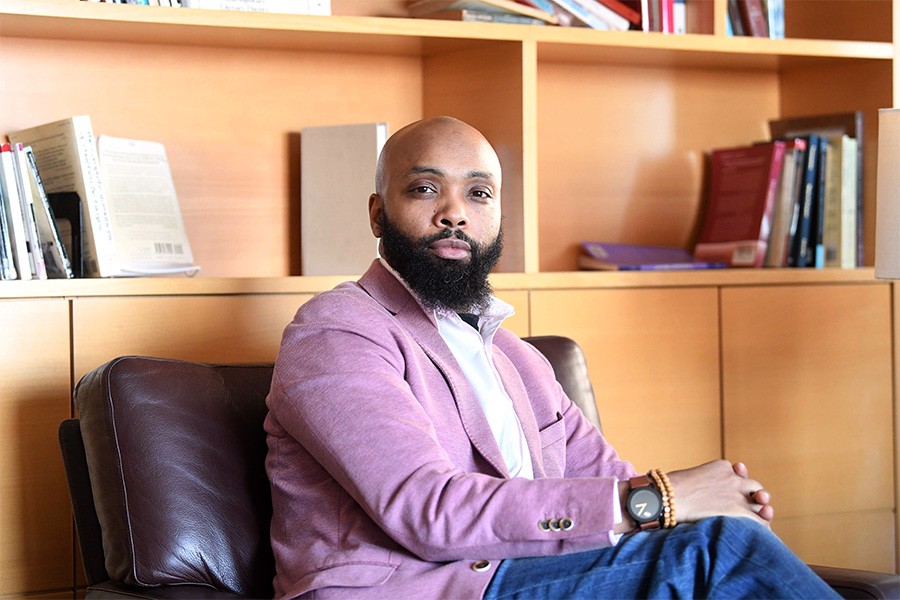 Title
Program Coordinator Justice-in-Education Initiative and Community Outreach Fellow
Years at Columbia
3.5
What He Does
Roderick's work includes providing educational opportunities at Columbia for the formerly incarcerated. The Initiative is an interdisciplinary project of the Heyman Center for the Humanities, the Center for Justice, as well as the Media and Idea Lab of the Center for the Study of Ethnicity and Race. His responsibilities involve recruiting participants to the program and preparing the accepted students for classes that are "rigorous college level courses," he said. He also proffers advice on how to balance reintegration into society with their educational goals. "I have the equivalent of office hours, in which I talk with the students and see how they are doing."
Road to Columbia
Born into poverty, Roderick was sent to kindergarten at age three to take advantage of the free breakfast and lunch program at school. As he grew, he found "very little in the school curriculum that reflected who I was and my lived reality," he said. After being expelled from high school for bringing a weapon onto school property, he committed a series of armed robberies with three teenaged friends.
They became known as the "cooler bandits," because after robbing restaurants they herded employees into walk-in refrigerators to facilitate their getaway. The four were sentenced collectively to more than 500 years; Roderick's was 69 to 150 years. He was released in 2010 after serving 19.5 years in an Ohio state prison. "I remember going to a park, taking my shoes off, walking on the grass and hearing birds chirping. I cried upon fully realizing that I was now free." Roderick then landed a job in Akron repairing truck tires.
A documentary film helped to change his life. Directed by John Lucas and released in 2014, Cooler Bandits followed Roderick and his cohorts through their last years of prison and first years of freedom. During the filming, Lucas' wife, the poet Claudia Rankine—a professor at the Claremont College consortium, told Roderick about a scholarship at Pitzer College for nontraditional students. He was accepted, graduating in 2015.
Roderick visited Columbia later that year, participating in a panel discussion when the film was screened on campus. Afterwards, he met Eileen Gillooly, executive director of the Heyman Center for the Humanities and Society of Fellows. "Richard told me that he wanted to pursue a Ph.D. in a field that would allow him to be a leader in re-entry efforts for others returning home," she said. A month later, the Justice-in-Education Initiative received a grant from the Andrew W. Mellon Foundation to support the work of returning citizens, and she encouraged Roderick to join Columbia. He was hesitant to leave California's climate, but Lucas and Rankine persuaded him "that the work we were embarking on was too important to turn down for weather reasons," said Gillooly.
Despite his achievements, Roderick cautions about over-reliance on the "model minority" framework. "Not everyone had the head start and support network I had," he said. His father had saved money for him, and he knew he could rely on family ties.
Best Thing About the Job
"Giving back to the community that I took so much from." He takes pride in seeing Initiative participants do well and watching them realize that they can do Ivy League work. "I would not be here if I couldn't see the impact of the program on people's lives."
Most Memorable Moment
In 2015 he helped organize a program called "Justice Poetry," in which poets were invited to run workshops for youthful offenders at Rikers Correctional Center. "What made it memorable was seeing the instructors work with young men there, and how transformative creative expression could be. Community was created in that moment over poetry."
In His Spare Time
Every weekend Roderick drives 15 hours to Akron and back to spend time with his two daughters and other family members. "When you're inside, you miss the small things—the relationships you build and the moments you share. The drive is nothing."