Recap: David Adjaye on Urban Ethics
At a recent event at The Forum, award-winning British architect Sir David Adjaye discussed making cities more inclusive and livable by recasting art and architecture for the future and the past.
November 21, 2019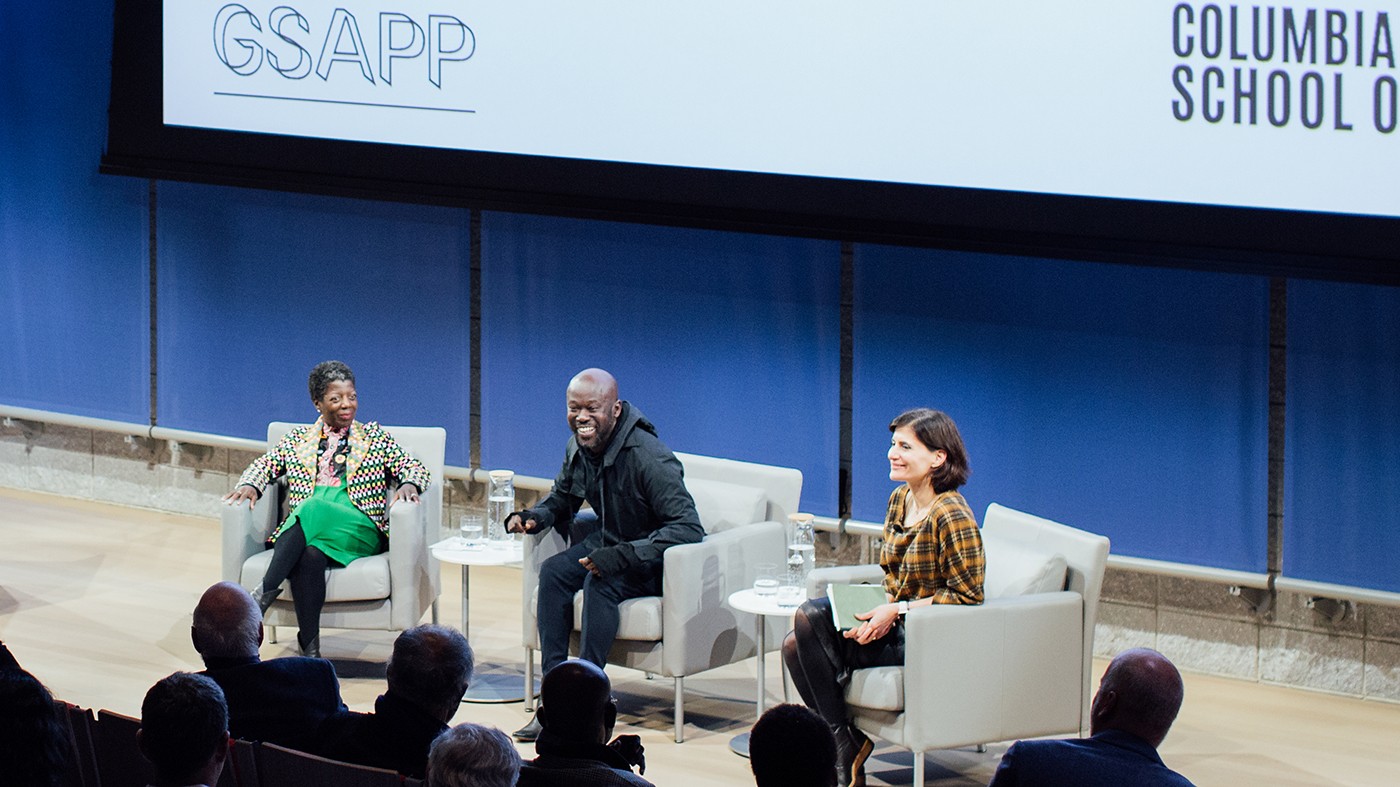 On November 7, 2019, David Adjaye, founder of the architecture practice Adjaye Associates, delivered a lecture on how design can support more ethically minded cities. After his introductory remarks, he dove deeper into the topic with Amale Andraos, dean of the Graduate School of Architecture, Planning and Preservation (GSAPP) and Thelma Golden, director and chief curator of the Studio Museum in Harlem. The event, sponsored by GSAPP, the School of the Arts and Columbia World Projects, was held at The Forum and attracted a capacity audience. 
Ira Katznelson, deputy director of Columbia World Projects, provided introductions and asked, "How can cities be designed to be more inclusive and livable?" He said that this question plays a central role in the practices of Andraos, Adjaye and Golden. 
Andraos noted that both Adjaye and Golden have done "nothing less than radically recast art and architecture not only for the future, but also for the past."
Adjaye's lecture covered three of his firm's recent projects:
The Studio Museum in Harlem
At the beginning of this project, which broke ground in 2018, Golden provided Adjaye's studio with a brief that described specific aspects of Harlem: the use of stages as spaces for public performance, urban sanctuaries and the morphology of the neighborhood's streetscape. This historical research provided the basis for Adjaye's design. "It was about trying to take in all of those diverse narratives ... we would not try to order them into a singular form, but we would agglomerate them into a compression, imbricate them together," Adjaye said. 
---
The Smithsonian National Museum of African American History and Culture in Washington, D.C.
Adjaye's team began this project by researching about 200 African American museums in the United States to imagine a new typology. "We were trying to make a building that would absorb a lot of contradictions and tensions, but also create another image ... to understand that before slavery was a narrative and that slavery is one part of a narrative that is shifting and evolving," he said.
The geometric patterns embedded in the building's facade derive from both abstractions of ornate metalwork known to have been produced by slaves in Charleston, South Carolina, as well as traditional Yoruba forms from West Africa.
---
The Abrahamic Family House Complex in Abu Dhabi
Located on Saadiyat Island, this complex includes three cube-like buildings of identical proportions that house a synagogue, church and mosque. The design celebrates commonalities among Judaism, Christianity and Islam by connecting the structures through a comprehensive landscape scheme as well as facilities to support interfaith education and museum programming. 
Andraos then asked Golden and Adjaye how they define ethics in their practice and find agency in their work. Golden cited an example of how the new Studio Museum succeeds in embedding the values of the institution—the design of the lobby allows school groups to enter through the front door instead of a separate entrance. "What could that mean? Not just in a practical way, but in a deeply important, philosophical way to have all those young people walk into that building through the front door and have an experience ... of architecture, but also an experience of community, of their humanity manifested in the space," Golden said.