From Dissertation to Complete Works, Auden Is One Scholar's Life's Work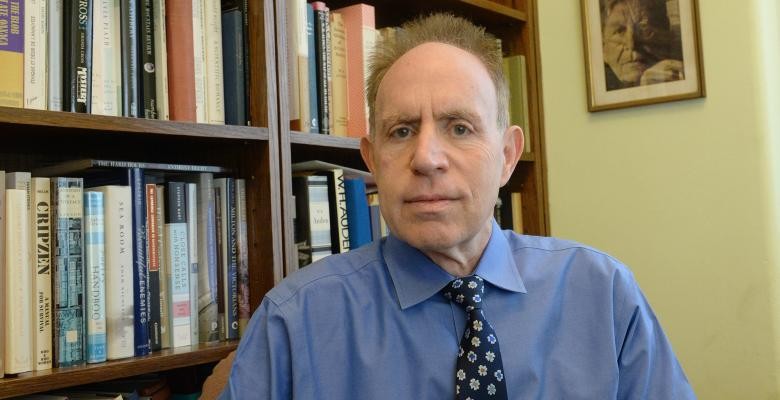 In 1972, while going over a list of essays to include in his collection, Forewords and Afterwords, the poet W. H. Auden turned to the 26-year-old scholar assisting him and asked, "Why didn't you include my essay on Romeo and Juliet?"
Flummoxed, the young man demurred. "I didn't think it was one of his best essays, it was slightly mechanical," said Edward Mendelson, now the Lionel Trilling Professor in the Humanities. "There's no polite way to say that, so I just shook my head 'no' and he beamed at me as if he were saying, 'You must use your judgment even if I don't necessarily agree.'"
Shortly thereafter, Auden asked Mendelson to be his literary executor. It was a year before Auden's death, and Mendelson credits all the good things in his life since, including his arrival at Columbia in 1981, to accepting the position. "I think that everything I value in my life came from Auden giving me the gift of that literary executorship."
Mendelson was teaching English at Yale in the early 1970s when he was given the job of chaperoning the poet around campus for a few days. Auden, renowned for his ability to write poems in nearly every verse form, was working on a prose collection, but had forgotten some of his own pieces. Mendelson, whose dissertation at Johns Hopkins was on Auden, came to the rescue by leaving the poet alone in his apartment with his own copies of all of Auden's work.
He "was delighted to find someone who had taken him seriously enough to photocopy all his work," said Mendelson, who teaches English and comparative literature, specializing in 19th-century British and 20th-century British and American literature.
Although he has spent decades plumbing the depths of Auden's output, Mendelson has never taught a course focusing solely on the poet. He occasionally teaches a seminar on Virginia Woolf, Samuel Beckett and Auden, but, he said, "It's harder to teach someone whose work you know extremely well because it's far too easy to digress into small details." He will finally teach an all-Auden seminar next spring.
"Edward Mendelson's courses are phenomenally popular, and for good reason," said Sarah Cole, chair of the Department of English and Comparative Literature. "He brings a wealth of knowledge to his courses. Professor Mendelson doesn't assume literary critics know more than great writers. It's a real pleasure to have such a genuine, learned and independent spirit for a colleague."
Mendelson has written books about Auden and assembled the standard editions of his work, including Collected Poems, The English Auden, As I Walked Out One Evening, and the continuing Complete Works of W. H. Auden, the first volume of which was published in 1985. Eight volumes have come out since and he is now completing the last two.
"Like any great writer, Auden is someone whom you don't have to translate into the present," said Mendelson. "Editing the textual notes to his poems is enough sometimes to make me want to put my head on the desk and weep because of the complexity of things that I need to spell out, but it's always rewarding."
After 40 years of wrestling with the poet, he is still discovering new things—even regularly uncovering artifacts on eBay. In 2014, he published "The Secret Auden" in The New York Review of Books in which he described the many acts of generosity that Auden performed throughout his life. "I learned about this side of him mostly by chance," said Mendelson. "It may have been far more extensive than I, or anyone, ever knew."
Mendelson was elected to the American Academy of Arts and Sciences last year, and has been a contributing editor at PC Magazine since 1987, where he writes about Mac and Windows software. "I'm confident when I ban all electronics from the classroom because I know exactly why they should be banned," he said. "I can be entirely humanistic in the classroom. My literary work is about the inner life, not the digital life."