Diversity Leadership Awards, Special Appointments, and More
From science to engineering, writing to social sciences, here are the Columbians who received awards recently.
November 02, 2022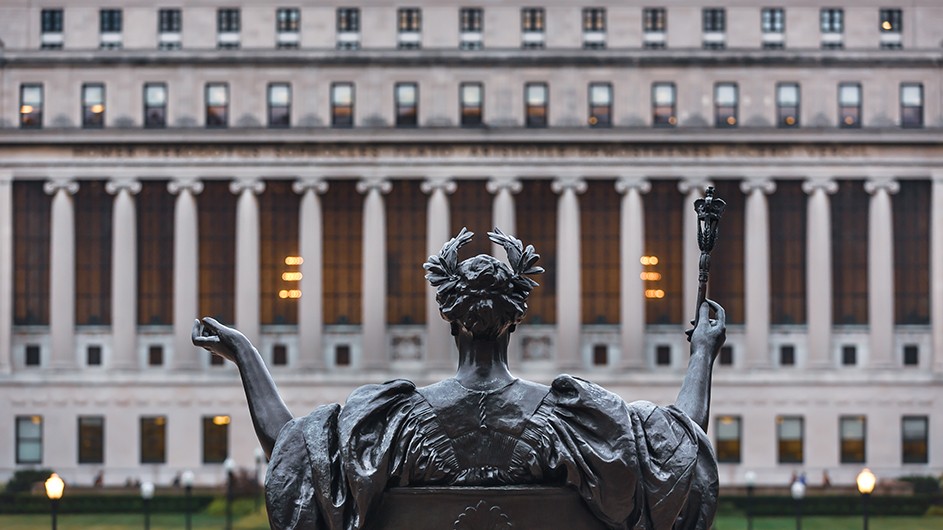 Columbia News produces a biweekly newsletter (subscribe here!) and article series featuring a roundup of awards and milestones that Columbia faculty, staff, and students have received in recent days. In this edition, you'll find awards and milestones from October 20 to November 3, 2022.
Have an award or milestone you'd like to have featured in the newsletter or article online? Please send an email to [email protected]. Note that we'll be running this series every other week. 
You can take a look at past accomplishments on our Awards & Milestones page. And you can subscribe to receive the newsletter in your inbox. 
FACULTY
SCIENCE & MEDICINE
Professors Ishmail Abdus-Saboor and Elham Azizi are among the 25 scientists nationwide who were awarded the inaugural Chan Zuckerberg Initiative Science Diversity Leadership Awards to pursue science research, the initiative announced this month. They will receive $1.15 million each over five years to pursue new research and undertake outreach, mentoring, and teaching activities.
Gregory Alexander, Helen Young CUPHSONAA Professor of Nursing, was appointed co-chair of committee #7 on the Moving Forward: Nursing Home Quality Coalition.
Donald Boyd (NUR PhD'17), associate director of the Nurse Anesthesia Program and associate professor of nursing, received the Novice Faculty Excellence in Didactic Teaching Award from the American Association of Colleges of Nursing. 
Donald Edmondson, associate professor of behavioral medicine at Columbia University Irving Medical Center and director of the Center for Behavioral Cardiovascular Health, will receive the 2022 Award for Outstanding Service to the Field of Trauma Psychology. This award recognizes sustained contributions of leadership in the field of trauma psychology.
Lorraine Frazier, dean of the School of Nursing and senior vice president of CUIMC, and Linda Fried, dean of the Mailman School of Public Health and director of the Robert N. Butler Columbia Aging Center, were selected as two of Politics NY's 2022 Power Players in Health Care.
Madelyn Gould, Irving Philips Professor of Epidemiology in Psychiatry, is the recipient of the 2022 Lifetime Achievement Award from the American Foundation for Suicide Prevention, the largest private funder of suicide prevention research. 
Roberto Lewis-Fernández, professor of clinical psychiatry, has been awarded the Wen-Shing Tseng Lifetime Award by the World Association of Cultural Psychiatry. The award is given every three years to an individual for their outstanding achievement in cultural psychiatry. 
A Columbia Mailman School report, "The Prescription of Trust Pharmacists Transforming Patient Care," led by John McHugh, health policy and management assistant professor, and co-authored with Express Scripts® Pharmacy won the PRNews platinum award for external publication campaign. It was presented at an awards ceremony on Oct. 12.
Elizabeth Park, assistant professor of medicine, received a Distinguished Fellow Award from the American College of Rheumatology and the Association of Rheumatology Professionals. 
Carlos Paz-Soldan, associate professor of applied physics and applied mathematics at Columbia Engineering, has been appointed a member of the Department of Energy's Fusion Energy Sciences Advisory Committee.
Helen de Pinho, associate dean of educational programs at the Mailman School of Public Health was selected as a 2023 Provost's Senior Faculty Teaching Scholar.
Jeremy Veenstra-VanderWeele, director of the division of child and adolescent psychiatry, is the recipient of the American Academy of Child and Adolescent Psychiatry (AACAP) George Tarjan, MD, Award for Contributions in Developmental Disabilities. The award recognizes his distinguished career as a clinical scientist working with autism. 
Warren Ng, director of clinical services for the division of child and adolescent psychiatry, is the recipient of the AACAP Jeanne Spurlock Lecture and Award on Diversity and Culture. The award recognizes his contributions to the advancement of the understanding of diversity and culture in children's mental health and commitment to recruiting members from diverse cultures into child and adolescent psychiatry. 
Myrna Weissman, Diane Goldman Kemper Family Professor of Epidemiology (in psychiatry), has been ranked 34 among the top female scientists for 2022 by Research.com, a leading academic platform. In addition to this distinction, Dr. Weissman will be honored as a Mood Disorders Award recipient and lecturer at The American College of Psychiatrists annual meeting in February 2023.
SOCIAL SCIENCES
Noémie Pinardon-Touati, assistant professor in the department of economics, was recently named the winner of the European Finance Association's Engelbert Dockner Memorial Prize for the Best Paper by Young Researchers.
STAFF
Victoria Malaney-Brown, director of academic integrity at Columbia College, was elected President of the Critical Mixed Race Studies Association for 2022-2024.