Dr. Anne Taylor's Rx for Enhancing Medical Education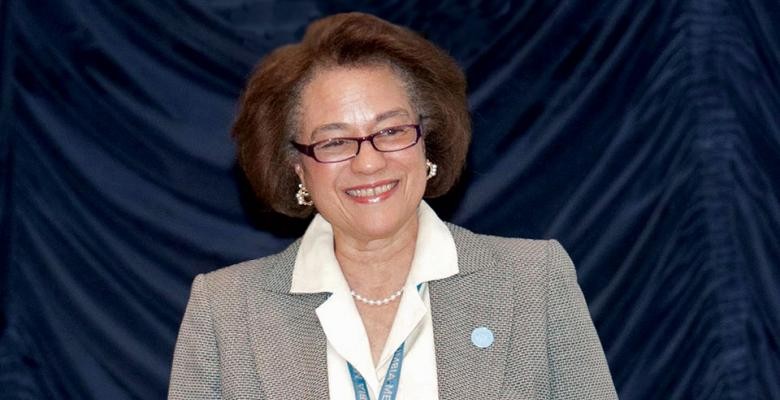 When Anne L. Taylor went to medical school in the early 1970s, she was one of a very small number of women in her class. Now the Brooklyn native, as professor of medicine at Columbia University Medical Center and vice dean for academic affairs, is well aware that women continue to lag behind men in advancement in academic medicine, despite the nearly equal numbers of men and women students in medical school.
"Somewhere between medical school and the highest levels of leadership in academic medicine we lose women," Taylor said. "We have some inkling of the reasons, but they're not the same as they were 20 or 25 years ago. Back then there were explicit prejudicial policies. Those explicit policies have gone away, but we have still failed to fully recognize the cumulative unintended barriers faced by women in developing careers in academic medicine."
That is one of the reasons why Taylor, who is responsible for programs in support of faculty at the Medical Center's College of Physicians and Surgeons (P&S), helped found the Virginia Kneeland Frantz Society for Women Faculty, named for a 1922 graduate of P&S who was the first female surgical intern at what is now New York-Presbyterian Hospital. Dr. Frantz was a distinguished faculty member at P&S her entire career at a time when this was very uncommon. "The society will empower women faculty to advance in their careers, develop personally and be full participants in institutional growth and vitality," Taylor said.
Taylor's own medical research has focused on cardiovascular disease in women and underrepresented minorities, as well as the "knowledge gap" in diverse communities– that is, how well women in different ethnic and racial groups understand their risk for cardiovascular disease.
Her interest in faculty development and diversity has been driven in large part by the recognition that her own success wouldn't have been possible without the "superb mentoring" she received early in her academic career. The activities and programs of the Frantz Society and the P&S Diversity Task Force will help the Medical Center meet its goal of enhancing diversity. And, for Taylor, achieving true diversity in the College of Physicians and Surgeons' faculty goes beyond the recruitment and promotion of women and underrepresented minorities but also fosters inclusiveness and success within the college's community.
"Diversity encompasses culture, ethnicity, disability status, sexual orientation, socioeconomic status" she said. "The first person in a family to graduate from college and go on to medical school has a very different experience than someone who comes from a long line of professors, physicians and other professionals. The meaning of diversity should encompass all of those things. The College of Physicians and Surgeons is a preeminent medical school with community, national, and global impact. By being diverse and inclusive, we enhance our ability to recruit the best in the world."
Q: What is the impetus behind the Virginia Kneeland Frantz Society?
A: Over the last five years, our professional development office has been presenting a broad set of programs to support all College of Physicians and Surgeons faculty members. We're now starting to drill down and look at faculty subgroups. The Frantz Society was developed to address issues specific to women articulated in 2005, when P&S established a committee on the status of women at the college. It issued a series of recommendations aimed at improving career development for women faculty, yet women faculty's career development still did not parallel that of their male colleagues. Having an advisory committee wasn't enough. We needed a larger more proaction group that would establish career development programs to address the unique needs of women. The committee eventually settled on developing a society for women faculty that would be very inclusive—it's open to all faculty, trainees and students—and allow us to look carefully at how to meet the unserved needs of women faculty so we maximize their opportunities to contribute to the institution as well as to achieve satisfying careers.
Q: The Frantz Society has already started a peer mentorship group coordinated out of your office. Can you tell us about that?
A: We've launched our first peer-mentorship group for women in the basic sciences, including both junior and senior faculty. We asked them, "What would be helpful to you? What are the kinds of things you want to discuss? How can we assist you in achieving your goals?" This format is a setting that is very conducive to women expressing things that they may not express in a mixed gender group, of sharing the experiences and successes of more senior faculty. When we poll our faculty, women always express a greater need for networking opportunities. We don't hear this from men as much. The group has outlined a series of discussion topics over the next year. We plan to utilize this format for other groups of women faculty organized around women with common career paths. We expect that the Virginia Kneeland Frantz Society will provide mentorship, but will also celebrate the accomplishments of our women faculty. We want to make sure that we're mindful about being inclusive—for example, in invitations to lectureships and nominations for honors and awards.
Q: What is the role of the College of Physicians and Surgeons Diversity Task Force?
A: The number of underrepresented minorities in academic medicine remains very small, and what we see at the College of Physicians and Surgeons is absolutely consistent with what we see nationally. Additionally, data aggregated from all 130 U.S. and Canadian medical schools show that women and underrepresented minority faculty have slower career progression, are less likely to have high quality mentoring and sponsorship relationships and are less likely to remain in academic medicine. These groups also experience an increased burden of service since they then are disproportionately asked to do academic service. Our diversity committee has helped us to be attentive to the career development needs of these faculty. Diversity is not just about recruiting larger numbers of women and diverse groups; it's also making sure of equal mentorship, sponsorship, career development opportunities and meaningful inclusion in the academic community.
Q: How does a more diverse faculty translate into better serving the Medical Center's patients?
A: The College of Physicians and Surgeons and its partner hospital offer extraordinary care options to the patients we serve, not just within our very diverse Washington Heights community, but also in the tri-state region, nationally and internationally. Anyone who practices medicine or public health recognizes that to do a good job in the clinical care of patients, you have to understand cultural background, belief systems, and be able to communicate in a meaningful way. In addition, disease burden differs by demographic groups and we need to understand the mechanisms to be able to provide optimal care. It's a reason why healthcare professionals providing patient care should reflect the communities they serve.
Q: How do you account for the disparity between the number of women in medical school and the number that graduate and rise to leadership roles?
A: With women comprising 50 percent of medical school classes nationally, half of faculty ought to be women, but that's not the case. At the beginning ranks— the assistant professor ranks—about 40 percent of faculty are women. By the time you get to the full professor level, somewhere between 15 and 20 percent are women. If you look at data from the Association of American Medical Colleges you see that same phenomenon. Somewhere between when women graduate from medical school and the highest levels of leadership, we lose them, and that's a loss of tremendous intellectual capital.
Q: What role does work/life balance play in this gender disparity?
A: The structure of academic medicine doesn't take into full consideration the needs that women have regarding family and life balance. Even if you have the most generous policies in the world to balance family and life, granting agencies that support biomedical research are very inflexible and expect uninterrupted progression in research productivity.
Q: Is there a penalty if you have a research grant, start a project and then go on maternity leave?
A: No, there's not a penalty. Maternity leave is generally 12 to 15 weeks, and Columbia University allows for extensions of the tenure clock for parental care giving. When the American Heart Association had their first woman president, Bernadine Healy, one of the first things that she did was to add a question on grant applications that said, "Have you had any interruptions in work, and what was the reason for it?" The NIH Office of Women's Health Research under Dr. Vivian Pinn's leadership instituted reentry grants specifically for women who had, for a time, to cut back their hours in the workplace but who wished to resume research careers. These are policy examples, but the other reality is that the science progresses even if an individual takes time away. Women may need to make strategic choices to maintain their career goals.
Q: Do women get the same kind of support, in both mentorship and sponsorship, as their male colleagues?
A: If you look at the literature on mentoring in academic medicine, it turns out that only about 25 percent of faculty will spontaneously find a mentor, and the vast majority are men. Underrepresented minorities and women are more likely to experience the absence of quality mentoring relationships and fewer sponsorship opportunities. Junior faculty need senior faculty to provide specific career guidance, help them develop important colleague networks and sponsor them when opportunities arise. For this reason, helping those in a position to support junior faculty to be mindful of being inclusive is a good step.
Q: What are the critical issues in medical education from your perspective of faculty development?
A: I think that organized mentorship is underutilized in most academic medical centers. And oftentimes faculty are left on their own to find mentors who are appropriate. It is important to develop a guidance structure for junior faculty that is not overly burdensome to senior faculty, but that really helps—in a way nuanced for individual needs—faculty members to think strategically and purposefully about their career goals and the pathway to success.
Q: You had very successful mentorships. Do you have any recommendations for faculty seeking a mentor?
A: My father was a great confidence builder; no matter what I wanted to do, he was enthusiastic, supportive and positively critical when needed. As I developed my career, I looked for those same qualities: Is someone willing to advise and be enthusiastic about what I want to do, but also appropriately critical? Do they see me as capable? Faculty should not be shy about asking for guidance. Part of the responsibility of the student or trainee or junior faculty member is to look widely at who's doing the kind of work you would like to do, and whether they are willing to provide you with advice and guidance. Very often you need multiple mentors. I think this is particularly true for women and for underrepresented minorities—you need to have the benefit of advice from people who are in similar situations to find out how they've been successful and what obstacles they had to overcome as well as how.
Q: You studied piano as a child and still play the cello. Do you think there is a connection between studying music and academic achievement?
A: I think that playing an instrument does teach you how to learn. To progress from learning simple exercises to complex long compositions requires setting a goal on a week-to-week basis and practicing to get to that goal. And with each achievement, the goal gets reset. It also requires conceptual problem solving to decide on an artistic message and how to communicate it. Knowing the history of the times and life of the composer also drives interpretive choices. There is a lot of data showing that children who study music do better academically, and at the other end of life that cognitive decline in aging is delayed in those who continue to play music. Whether it's cause and effect is less clear, but there is clearly an encouraging connection.
Q: On April 30, four women who are College of Physicians and Surgeons students performed with a special set of stringed instruments to kick off the Frantz Society's inaugural lecture, given by Barnard President Debora Spar. What made the instruments played special?
A: The instruments were made by Virginia Apgar, a 1933 P&S alumna who was also an accomplished musician and string instrument maker. Four of her stringed instruments— two violins, a viola and cello—were donated to Columbia, where they have been played rarely. I took the instruments down to my violinmaker and had them restrung and refurbished and they sounded great. Dr. Apgar was remarkable—she made important contributions to the assessment of newborns and made beautiful stringed instruments!