On Exhibit: Arthur Mitchell, Harlem's Ballet Trailblazer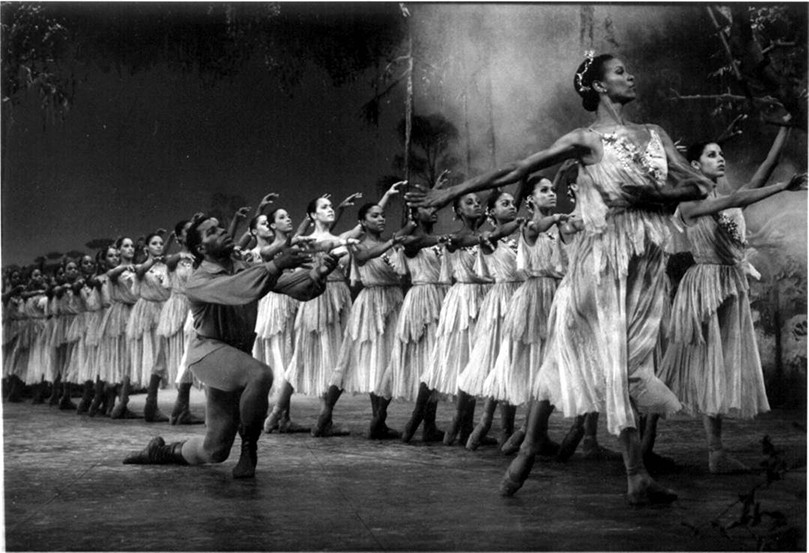 Arthur Mitchell's invitation to join the New York City Ballet in 1955 was a seminal moment in dance. He accepted and became the first African American principal dancer in a major ballet company, later co-founding the Dance Theatre of Harlem.
In January, Columbia's Miriam and Ira D. Wallach Art Gallery will celebrate his life and accomplishments in the first exhibition of objects from his archive, Arthur Mitchell: Harlem's Ballet Trailblazer. Curated by Lynn Garafola, professor emerita of dance at Barnard College, the exhibition is presented with Columbia's Rare Book & Manuscript Library, to which Mitchell donated his archive in 2015.
"This exhibition pays homage both to Mitchell's creative magic and to his visionary achievements, revealing to those who never saw him dance his charismatic stage presence and the full scope of his career as an artist," Garafola said. "At the same time, it places the Dance Theatre of Harlem at the crossroads of political, artistic and racial change in the United States and beyond."
Mitchell, who received an honorary Doctorate of Humane Letters from Columbia in 2016, said, "I am a political activist through dance. I believe that dance, and the arts more broadly, can be used as a catalyst for social change—this is why I started the Dance Theatre of Harlem."
The exhibit includes images of Mitchell and his fellow dancers by photographers such as Lord Snowden and Martha Swope as well as performance footage from the New York Public Library's Jerome Robbins Dance Division. Highlights include the telegram from Lincoln Kirstein inviting Mitchell to join the New York City Ballet; an Al Hirschfeld drawing of Mitchell and Suzanne Farrell dancing George Balanchine's Slaughter on Tenth Avenue; and an eight-foot-long 3-D puzzle created by artist Frank Bara that chronicles the first 20 years of the Dance Theatre of Harlem.
Born in Harlem in 1934, Mitchell studied at New York's High School of Performing Arts, appeared in Four Saints in Three Acts in Paris and House of Flowers on Broadway, and performed with several modern dance troupes. When he joined the New York City Ballet, under the direction of Balanchine, he quickly rose to the rank of principal, originating lead roles in works such as Agon (in which he danced an erotically charged duet with a white ballerina) and A Midsummer Night's Dream.
In 1969, galvanized by the assassination of Martin Luther King, Jr. the previous year, Mitchell cofounded the Dance Theatre of Harlem with his former teacher, Karel Shook, and it became the first African American classical ballet company to achieve international acclaim. The New York Times described the company and its school as "one of the dance world's more visionary experiments."
"With my archive at Columbia, artifacts of American dance history and African American history are accessible to young scholars, academics and the general public," said Mitchell. "The exhibition at the Wallach gallery will further this push for change."
Starting with the Uptown exhibition of local artists last summer, the first in the gallery's new space on 125th Street, the Wallach is committed to hosting exhibitions that emphasize civic and community engagement.
Deborah Cullen, the Wallach Gallery's director and chief curator, said, "Our grand re-opening year at the Lenfest Center for the Arts is the perfect opportunity to celebrate Mitchell's artistic genius." She added: "The Wallach is proud to collaborate on this presentation, offering a glimpse of these treasures to the public, while also appealing to those interested in the history of ballet, the history of Harlem and, more broadly, modern American race relations."
Arthur Mitchell: Harlem's Ballet Trailblazer opens January 13 and is on view through March 11. To learn more, visit wallach.columbia.edu.