Faces of the Frontline
A new Instagram account and website share stories of the health care heroes at the helm of the pandemic.
April 20, 2020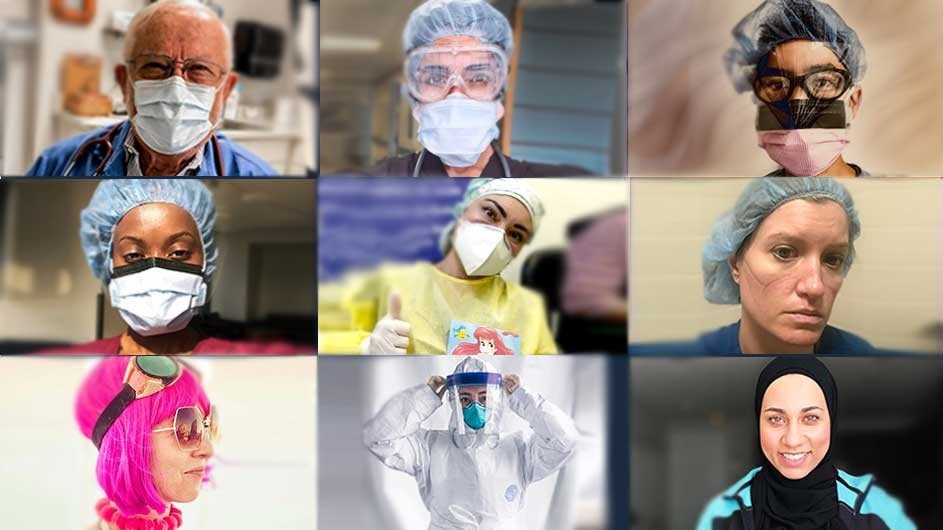 Faces of the Frontline, both an Instagram account and a website, is a rapidly growing grassroots project that started at the end of March. The brainchild of Vibhu Krishna, a medical student at Columbia's Vagelos College of Physicians and Surgeons, the project provides digital platforms for sharing and disseminating stories from the COVID-19 frontline, as well as collecting words of affirmation to deliver to our healthcare heroes. 
One of Krishna's collaborators on the project, fellow medical student Kendall Sarson, said, "I've always valued Columbia's commitment to honoring students and physicians as whole humans, and I cherish the atmosphere that this attitude toward cultivating a humanistic culture is able to foster; it has never been more apparent to me than in this community's response to the COVID-19 pandemic."
Krishna recently discussed Faces of the Frontline with Columbia News.
Q. What inspired you to start this project?
A. This idea was something I had been mulling over for about a week before it was created. I kept feeling a dearth of real storytelling that was both genuine and affirming. I would read frantic posts by residents I had worked with on rotations, or see stories of their pleas for personal protective equipment or small windows into their experiences as frontliners. I found it heartbreaking that there was not a streamlined channel to highlight their efforts.
I saw this beautiful post by a colleague on social media and asked her if I could share it—this became our first post. But the boundaries of a project like this exist beyond having an aesthetically pleasing, well-curated Instagram feed; to get to the crux of the narrative, we had to make space for various types of expression.
Other team members quickly joined like fellow Columbia medical students Jonah Tischler, brimming with ideas, including pushing the rapid creation of a website and Kendall Sarson, a talented artist who helps make our Instagram grid beautiful. Ariana Fowler, a close college friend and a strategist at UNICEF, is helping our effort, as well as medical students from other schools, a friend in law school and many others.
Q. How do you balance maintaining Faces of the Frontline with your medical studies?
A. The scope of this project has grown faster than many of us imagined at the start. Luckily, so many have stepped forward to help with content editing and outreach. We are all still figuring out workflow optimization and having long philosophical discussions about the role we see this carrying as a record keeper of our times. Yes, we do still have classes and exams, and we are also volunteering (many of us, 60 to 80 hours a week) through our medical school service-learning elective. None of us are on the frontline, which is partially why we believe in the importance of these stories and affirmations. 
Q. Have the pandemic and Faces of the Frontline changed your outlook on becoming a doctor?
A. Even we, as medical students, so proximal to this career, cannot truly grasp what it is like out there. Frontliners are our heroes, our mentors and currently at the helm of a behemoth effort to protect our species. Faces of the Frontline is a passion project. No, it will not count as academic credit. No, it will not help my upcoming Shelf exam score. But because I have a taste of clinical experience and because I have been trained by people who are now risking their lives—including my own mother—I feel equipped and obligated to convey these stories via Faces of the Frontline with the support of an incredible team. We are showing the world the various, diverse faces of the medical workers who are protecting us.