Faculty Named Fulbright U.S. Scholars, Other Institutional Milestones
From science to engineering, writing to social sciences, here are the Columbians who received awards recently.
June 01, 2022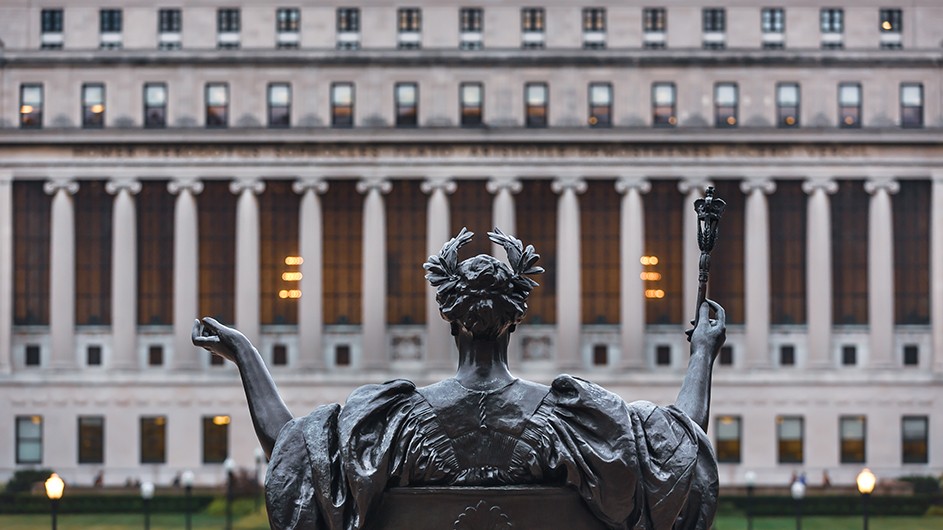 Columbia News produces a biweekly newsletter (subscribe here!) and article series featuring a roundup of awards and milestones that Columbia faculty, staff, and students have received in recent days. In this edition, you'll find awards and milestones from May 20 to June 1, 2022. 
Have an award or milestone you'd like to have featured in the newsletter or article online? Please send an email to [email protected]. Note that we'll be running this series every other week. 
You can take a look at past accomplishments on our Awards & Milestones page. And you can subscribe to receive the newsletter in your inbox. 
FACULTY
ARTS & HUMANITIES
Muhsin al-Musawi, professor of Middle Eastern, South Asian, and African Studies, has won a 2022 Sheikh Zayed Book Award in the Arab Culture in Other Languages category for his book, Arabian Nights in Contemporary World Cultures.
Jennifer Finney Boylan, Barnard College's Anna Quindlen Writer in Residence and professor of English, was announced as a 2022-23 Fellow at the Harvard-Radcliffe Center for Advanced Study.
Vishakha Desai, senior advisor for global affairs at the School of International and Public Affairs, and senior research scholar in global studies, has received a Nautilus Book Award for World as Family: A Journey of Multi-Rooted Belongings. She is a gold medalist in the Memoir & Personal Journey category.
David Henry Hwang, associate professor and playwriting concentration head at the School of the Arts, has been named the 2022 Playwrights' Sidewalk Inductee as part of the Annual Lucille Lortel Awards for Outstanding Achievement Off-Broadway. 
Katrine Øgaard Jensen (SOA'17), adjunct assistant professor, has been honored with Denmark's prestigious Kjeld Elfelt Memorial Grant.
Teachers College faculty members Detra Price-Dennis, associate professor of communication, media, and learning technology design, and Yolanda Sealey-Ruiz, associate professor of English education, received the 2023 Divergent Award for Excellence in Literacy in a Digital Age Research Publication Award for their book, Advancing Racial Literacies in Teacher Education. 
SCIENCE & MEDICINE
Marcel Agüeros, associate professor of astronomy, and Robin Bell, Palisades Geophysical Institute Lamont Research Professor at Lamont-Doherty Earth Observatory, have received Fulbright U.S. Scholar Program awards for the 2022-2023 academic year from the U.S. Department of State and the Fulbright Foreign Scholarship Board. Agüeros and Bell are among more than 800 U.S. citizens who will conduct research and/or teach abroad for the 2022-2023 academic year through the Fulbright U.S. Scholar Program. 
Archaeologist and anthropologist Kristina G. Douglass has been appointed as an associate professor of climate, the first faculty hire for Columbia Climate School.
Tanya Zelevinsky, professor of physics, has received a 2022 Brown Investigator Award for her work using quantum control of molecules to study fundamental science. 
SOCIAL SCIENCES
Amal Clooney, visiting professor at Columbia Law School, and her co-author Philippa Webb were awarded the 2022 Certificate of Merit from the American Society of International Law, the organization's top publishing prize in international law.
Kerrel Murray, associate professor of law, will clerk for newly appointed U.S. Supreme Court Justice Ketanji Brown Jackson in her first term on the bench. Murray previously clerked for Jackson when she was on the U.S. District Court for the District of Columbia.
Alma Steingart, assistant professor of history, has been awarded one of the fall 2022 Berlin Prizes. While in Berlin, Steingart will be working on her next book, Accountable Democracy: Mathematical Reasoning and Representative Democracy in America, 1920 to Now. ​​
STUDENTS
Chinmayi Balusu (CC'22, MSPH'23) was recently selected as a 2022 Global Teen Leader by We Are Family Foundation's Three Dot Dash program based on the neuroscience outreach non-profit organization she founded, Simply Neuroscience. 
STAFF
Su Yon Pak (UTS'99) was appointed vice president of academic affairs and dean of Union Theological Seminary. Pak will be Union's first Asian American and first queer academic dean, one of her many groundbreaking firsts.