First Columbian Named Rhodes Scholar for the East Africa Constituency
From science to engineering, writing to social sciences, here are the Columbians who received awards recently.
November 30, 2022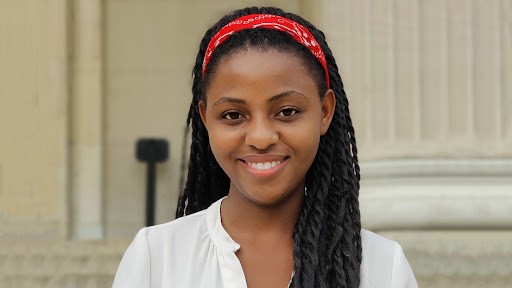 Columbia News produces a biweekly newsletter (subscribe here!) and article series featuring a roundup of awards and milestones that Columbia faculty, staff, and students have received in recent days. In this edition, you'll find awards and milestones from November 17 through December 1, 2022. 
Have an award or milestone you'd like to have featured in the newsletter or article online? Please send an email to [email protected]. Note that we'll be running this series every other week. 
You can take a look at past accomplishments on our Awards & Milestones page. And you can subscribe to receive the newsletter in your inbox. 
FACULTY
ARTS & HUMANITIES
Megan McDowell, an adjunct professor in the writing program at School of the Arts, is the co-winner of the 2022 National Book Awards for Translated Literature for Seven Empty Houses by Samanta Schweblin, and translated by McDowell.
SCIENCE & MEDICINE
Larry Abbott, William Bloor Professor of Theoretical Neuroscience and Professor of Physiology and Cellular Biophysics (in Biological Sciences and at the Mortimer B. Zuckerman Mind Brain Behavior Institute), won the Gruber Foundation's 2022 Neuroscience Prize. He was presented with the award at the Society for Neuroscience Annual Meeting in San Diego on November 13.
Brooke Aggarwal, assistant professor of medical sciences, and Matthew Lewis, assistant professor of medicine, were recently awarded the 2022-23 Lewis Katz Cardiovascular Research Prize for Division of Cardiology Investigators.
Gregory Alexander, Helen Young CUPHSONAA Professor of Nursing, received the Harriet Werley Award for Best Paper from the American Medical Informatics Association.
Jack Drescher, clinical professor of psychiatry and senior psychoanalytic consultant at Columbia's Center for Psychoanalytic Research, is the recipient of The Sigourney Award for 2022. Dr. Drescher's pioneering work has had a global impact on gender identity and harms done by efforts to change a person's sexual orientation. His work has contributed to actions in 20 U.S. states and nearly 30 countries to ban LGBTQ conversion therapies.
Ruth Masterson Creber, professor of nursing, received the Protégé Award from the Friends of the National Institute of Nursing Research. She also was selected to receive the Research Article of the Year Award by the American Heart Association's Council on Cardiovascular and Stroke Nursing.
Maureen George, professor of nursing and assistant dean of scholarship and research, was appointed as a member of the Interdisciplinary Clinical Care in Specialty Care Settings Study Section by the National Institutes of Health.
Priscila Dib Gonçalves, a postdoc in epidemiology with Myrna Weissman, recently received the Scientific Training in Addiction Research Techniques program (START) Excellence Award. START is a one-year program for gifted future investigators from historically underrepresented and underserved backgrounds, which focuses on using the Adolescent Brain Cognitive Development dataset. 
Quarraisha Abdool Karim, professor of epidemiology, has been elected to serve as the seventh president of The World Academy of Sciences.
Nour Makarem, assistant professor of epidemiology, is the winner of the American Heart Association Lifestyle and Cardiometabolic Health Early Career Investigator Award. She was presented with the award at the American Heart Association Scientific Sessions held in Chicago on November 5.
Marianna Zazhytska, postdoctoral research scientist in the Lomvardas Lab, at the Mortimer B. Zuckerman Mind Brain Behavior Institute, was presented with the Society for Neuroscience's Peter and Patricia Gruber International Research Award at SfN's Annual Meeting in San Diego on November 13.
STUDENTS
A team of Columbia GSAPP students received first prize in the Preservation Engineering Technical Committee (PETC) Student Design-Build Competition. Members of the team include Elaf Alsibyani, Adam Oscar Brodheim, Michelle Leach, Eleanor Phetteplace, Jerry Schmit, EunJin Shin, and Winnie Michi Trujillo.
Gloria Charité (CC'23) has been named the 2023 Rhodes Scholar for the East Africa constituency, the first Columbian to be named a recipient from the region. The Rhodes for East Africa, which launched in 2018, selects a single scholar each year; applicants come from Uganda, Tanzania, Rwanda, South Sudan, and Burundi.