French Human Rights Activist, 93, Tells Students They Can Effect Change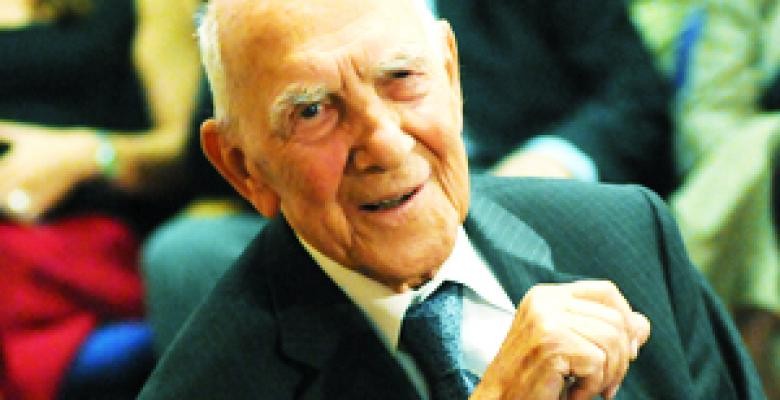 Stéphane Hessel, a 93-year-old French Resistance leader who survived imprisonment in concentration camps to become an ambassador and human rights activist, came to Columbia on Sept. 27 to deliver a message to today's youth: Identify something happening in the world that truly frustrates you, and commit to changing it.
"Never give up, never be indifferent, and never believe that things can't be changed," said Hessel, author of the international bestseller Time for Outrage, a 29-page call-to-action inspired by his own remarkable life in politics and advocacy. In French the title is Indignez-vous!, literally translated as "Be Indignant," and the book's message is resonating around the world, with translations in 30 languages and more than 3.5 million books sold.
Hessel, who made his only U.S. book appearance at Uris Hall in an event sponsored by the Columbia Maison Française, was greeted with roaring applause the moment he set foot in the auditorium before a crowd of nearly 300. He has certainly lived the life he advocates. Born in Germany, he moved to France as a child and became a naturalized French citizen in 1937, escaping from a German prison-of-war camp and joining the Resistance because of his outrage against fascism and the Nazi occupation of France. Hessel was captured and tortured by the Gestapo on a Resistance mission in France in 1944, and sent to three different concentration camps, narrowly averting death on several occasions, and finally escaping from a train headed for Bergen-Belsen in May 1945. Hessel was introduced by Shanny Peer, director of Columbia's Maison Française, and Katrina vanden Heuvel, editor and publisher of The Nation, which was the first publication to print an English translation of Hessel's book. Both saluted the man who helped draft the United Nation's Universal Declaration of Human Rights in 1948 and served as France's representative in Geneva in the late 1970s, among other diplomatic posts. He discussed the manifesto with Peer and Nikil Saval (CC'05), an editor from n +1, a Brooklyn-based politics and arts magazine.
Hessel still has causes that light a fire inside him, particularly the gap between the rich and poor around the world. "Such a spread is insufferable," he said. He is also deeply concerned by what he calls "the over-exploitation of our little planet." But he is hopeful. "Young people, once informed," he said, "should feel a responsibility to do something."
While Hessel's book has been criticized for not prescribing tangible methods for enacting change, he was hardly at a loss for words when a young Wall Street protester sought his advice. After several days of protesting corporate greed, she wondered, what comes next?
"Success is achieved by nonviolent determination," Hessel said. "Find methods strong enough to effect the ones you're protesting against—carry out something that will be felt more widely. Working with journalists is very important. Get good journalists to continue the fight."
Hessel has been fascinated by the United States for most of his life, and believes that Barack Obama's election campaign invigorated America—and possibly the world—because it was characterized by the same indignation he has felt over injustices. But he expressed disappointment in Obama's performance as president.
"He was willing to change them," Hessel said of Obama, "but now he seems to have given up."
Hessel hopes to see American youth rally against wrongdoings, but acknowledges that today's struggle is more complicated because they lack a clearly defined enemy, as he had in the Nazis. "We live in a moment that is perhaps much more important than we believe," he said.
At the event's conclusion, Hessel was met with a standing ovation.