General Studies Student Joseph Bacani Graces New Memorial Honoring Disabled Veterans
Editor's note:
Joseph Bacani was previously interviewed by Columbia News and is now being featured in the Commencement 2018 package.
November 07, 2014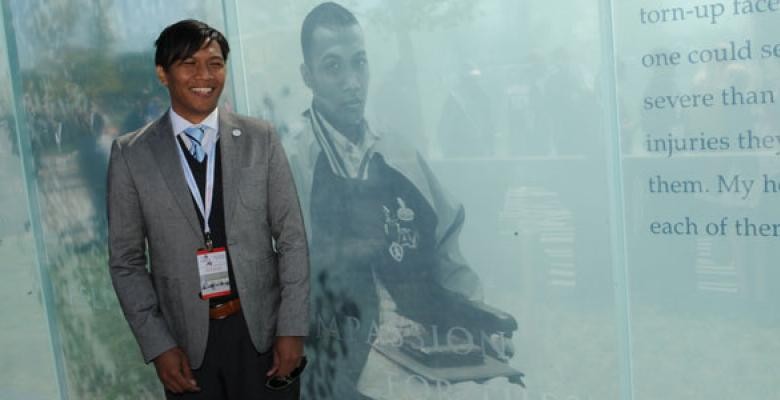 Joseph Bacani likes to be alone on Veterans Day, to reflect on his time in Iraq and the friends who died there. "It's still raw, even though it has been more than seven years," he says.
Now a student at Columbia's School of General Studies, Bacani was a 21-year-old Army private in March 2007, when he was shot through the pelvis by a sniper while on foot patrol in Baghdad searching for improvised explosive devices (IEDs).
Unable to walk because of neurological damage and suffering from post-traumatic stress, Bacani returned to the U.S. for treatment. Grueling rehabilitation for two years lay ahead. Still in a wheelchair, he was awarded a Purple Heart in a ceremony at Walter Reed Army Medical Center in April 2007.
A photo taken at that ceremony of Bacani in his wheelchair is now a part of history, etched into the glass of a new memorial for disabled veterans in view of the Capitol in Washington, D.C. Bacani attended the Oct. 5 dedication of the memorial on and was surprised to see that his image takes up so much of a wall. When he gave permission to use his picture, "I thought I would be a face among many," he says.
"Being there that day was one of the best days of my life," Bacani says, but not because of his image on the wall. "I saw so many veterans, some of them amputees. I could see on their faces the feeling that they were finally being recognized."
The American Veterans Disabled for Life Memorial, on 2.4 acres within sight of the Capitol, was built with private donations to honor disabled veterans from all wars.
Bacani, who was discharged from the Army in 2009, says he went through "an extremely dark period" while in Fort Hood, Texas, for rehabilitation, but decided to persevere. He still has pain and his right leg is unresponsive to touch. He also has recurrent nightmares and other symptoms of post-traumatic stress disorder.
Five men in his platoon died in Iraq and another died after returning home. Bacani says he is always thinking of them, especially his best friend, Darrell Shipp, who was 25 when he was killed by an IED in January 2007. "They never got to experience the life I have," Bacani says. "My drive is to live for them."
Last spring he was a student at Irvine Valley College, a community college in Southern California, when he learned that a Columbia representative would be visiting the area and he might be eligible for admission to the School of General Studies. He met with Kari Razdow, associate director of admissions, took the General Studies admissions exam and was accepted. "I never imagined going to an Ivy League university," he says.
The School of General Studies was originally created in 1947 specifically for just such nontraditional students, especially veterans returning from service in World War II, and has embraced that founding mission. Bacani is one of nearly 600 student-veterans now at Columbia, some 360 of them at General Studies.
"We are immensely proud" that Bacani was chosen to be included in the memorial, said Peter Awn, Dean of the School of General Studies. "Like so many of his veteran colleagues, Joseph has overcome extraordinary physical and personal challenges becoming in the process an even more reflective human being and committed Columbia student."
Columbia's special efforts to welcome Iraq and Afghanistan-era veterans into the student body have gained national attention in recent years. In April 2010, then-Chairman of the Joint Chiefs of Staff Admiral Mike Mullen said of the University's support for veterans, "I believe that investment on the part of America and Columbia will be paid back tenfold over the course of the next decade." Last year, Dr. Jill Biden met with student military veterans as part of Joining Forces, the initiative she started with First Lady Michelle Obama to encourage all Americans to find ways to support and honor military families.
Bacani enlisted in the Army while still in high school in Tustin, Calif., and after he graduated in 2004 went to Fort Knox, Ky., for basic training. He arrived in Iraq in November 2006 after a month in Kuwait. "My parents prayed for me every day with my grandmother that I would come home safely," he says. His father, now retired, was an electrician who worked on Marine and Navy bases; his mother worked in retail.
At Columbia, Bacani is studying psychology, learning about PTSD and trauma, which could be subjects for later research. He also is interested in abnormal psychology; one of his three older sisters has a mental illness. And he says he thinks about working in education or health care, or in children's television, remembering the impact of shows like Sesame Street, Reading Rainbow and Mister Rogers' Neighborhood when he was young. He even has considered finance. "There are so many possibilities now," he says.
Whatever his career after graduation, Bacani says he wants to devote his life to serving others. "I was spared," he says. "I have to pay it back."