Golden Globes, Churchill Scholars, Broadway Showperson of the Year, and More
From science to engineering, writing to social sciences, here are the Columbians who received awards recently.
January 24, 2023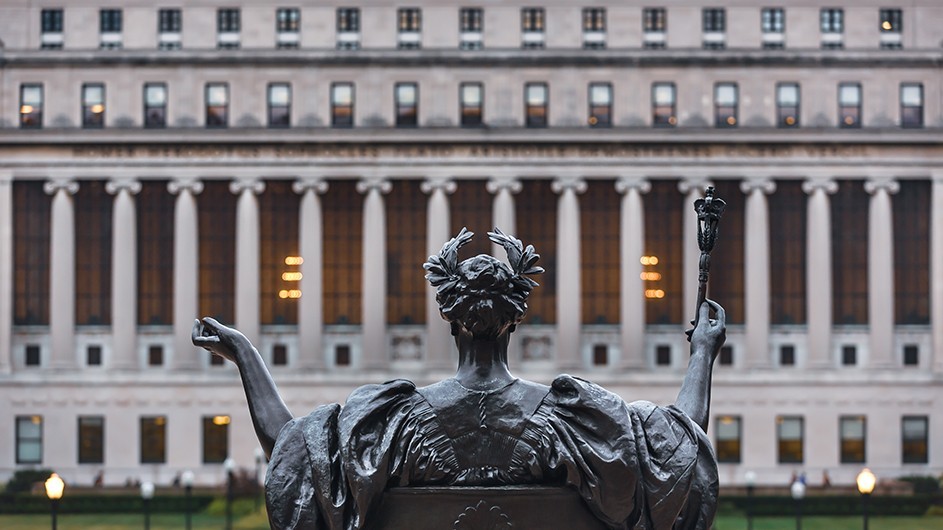 Columbia News produces a biweekly newsletter (subscribe here!) and article series featuring a roundup of awards and milestones that Columbia faculty, staff, and students have received in recent days. In this edition, you'll find awards and milestones from December 15, 2022 to January 25, 2023.
Have an award or milestone you'd like to have featured in the newsletter or article online? Please send an email to [email protected]. Note that we'll be running this series every other week. 
You can take a look at past accomplishments on our Awards & Milestones page. And you can subscribe to receive the newsletter in your inbox. 
FACULTY
ARTS & HUMANITIES
Lynn Nottage, associate professor at the School of the Arts, has been named the 2022 Broadway Showperson of the Year.
Khatchig Mouradian, lecturer in the department of Middle Eastern, South Asian, and African Studies, has been awarded the 2022 Aronian Book Prize for Excellence in Armenian Studies for his book, The Resistance Network: The Armenian Genocide and Humanitarianism in Ottoman Syria, 1915-1918.
Shanny Peer, director of Columbia Maison Française since 2009, was awarded the Chevalier de la Légion d'Honneur by Jérémie Robert, Consul General of France in New York, and Gaëtan Bruel, Cultural Counselor of the French Embassy and Director of Villa Albertine, on January 9 at the French Embassy Cultural Affairs headquarters.
SCIENCE & MEDICINE
Leonardo Beltrán, adjunct senior research scholar in the Center on Global Energy Policy in the Faculty of International and Public Affairs, was recognized by Panama's energy secretary as a strategic ally of Panama's energy transition for his contributions to the implementation of the country's energy policy.
Kellie Bryant, associate professor of nursing and assistant dean of clinical affairs and simulation, was named a Gold Foundation Ambassador by the Arnold P. Gold Foundation. 
Columbia University Irving Institute for Clinical and Translational Research has recognized several faculty members as Mentors of the Year. Delivette Castor, assistant professor of medical sciences (in medicine) and of epidemiology, received the Junior Mentor of the Year Award; and Rebecca Schnall, Mary Dickey Lindsay Professor of Disease Prevention and Health Promotion, Jennifer J. Manly, professor of neuropsychology, and Cristiane S. Duarte, Ruane Professor for the Implementation of Science for Child and Adolescent Mental Health, all received Senior Mentor of the Year Awards.
Fabien Cottier, CIESIN postdoctoral research scientist, has received the 2022 International Geneva (IG) Award from the Swiss Network for International Studies (SNIS) for co-authoring a paper on flood-induced displacement and social conflict.
Linda Fried, dean of the Mailman School of Public Health, was elected as one of three new at-large members of the board of directors of the Association of Schools and Programs of Public Health (ASPPH).
A team led by Physics PhD student Sam Goldstein was named the first place winner of the 2022 Buchalter Cosmology Prize. The award-winning research also included contributions from Columbia postdoc Oliver Philcox, Professor Lam Hui, Assistant Professor Colin Hill, and former PhD student Max Abitbol. The Buchalter Cosmology Prize is annually awarded and is intended to support innovative and cutting-edge research in theoretical, observational, and experimental cosmology. 
Roberto Lewis-Fernández, professor of clinical psychiatry, is the 2023 recipient of the American Psychiatric Association's Distinguished Service Award. The award honors individuals and/or organizations each year that have contributed exceptional meritorious service to the field of psychiatry. Dr. Lewis-Fernández, whose research focuses on developing clinical interventions and service-delivery approaches to help overcome disparities in the care, was also named an APA Distinguished Life Fellow, the organization's highest membership honor recognizing those who have made a significant contribution to their profession and to the public good.
Stephanie Lovinsky-Desir, Herbert Irving Assistant Professor of Pediatrics, and Virginia Rauh, professor of population and family health, have been appointed to the EPA Children's Health Protection Advisory Committee for 2023-2026.
Benjamin Mantell, assistant professor of pediatrics, received the Colin Molloy Award from Colin's Kids. Pediatric cardiology fellows Stephen Bravo, Sophie Hsein, and William Patten also received the Andrew King Awards. 
Frances T. McCarthy, clinical coordinator in the department of pediatrics, is a 2023 recipient of the Courageous Parents Network Ilene Beal Courageous Provider Award.
Sylvan Ryder, nurse practitioner in pediatrics, has been selected for a fellowship by Zero to Three.
A study led by Columbia Psychiatry and Mailman School of Public Health researchers was selected as winner of the 2023 European Psychiatric Association's Research Prize for the best scientific paper of the year. Co-authors include Melanie Wall, professor of biostatistics; Lisa Dixon, Edna L. Edison Professor of Psychiatry; Roberto Lewis-Fernández, professor of clinical psychiatry; Ezra Susser, professor of epidemiology and psychiatry; and Michael Compton, professor of psychiatry.
Ami Zota, associate professor of environmental sciences at the Mailman School of Public Health, was recently appointed to the Board of Associate Editors for Environmental Health Perspectives.
ENGINEERING
Shree K. Nayar, T. C. Chang Professor of Computer Science at Columbia Engineering, has been awarded the prestigious Okawa Prize from the Okawa Foundation of Japan for his seminal work on computer vision and computational imaging. Nayar is being recognized for "the invention of innovative imaging techniques and their widespread use in digital photography and computer vision." He will receive the prize at a ceremony to be held in Tokyo, Japan, in March 2023. 
SOCIAL SCIENCES
Susan Pedersen, Gouverneur Morris Professor of History, won the Bielefeld Science Award for 2022, in recognition of "outstanding (inter-)national researchers from arts and humanities, social and life sciences."
Diane Vaughan, professor of sociology, received the 2023 Gardner-Lasser Aerospace History Literature Award by the American Institute of Aeronautics and Astronautics for her book, Dead Reckoning: Air Traffic Control, System Effects, and Risk.
STUDENTS
Karen Copeland (SEAS'23) and Brian Jiang (CC'23) have been named 2023-24 Churchill Scholars. This is the first time that Columbia has seen two scholars named in the same year.
A team of Columbia students won third place in the Geneva Challenge 2022: Muhammad Rifqi Febrian (SIPA'23), Hanna Raisya Muljawan (TC'23), and Siti Hilya Nabila (GSAS'22). The Geneva Challenge is a global competition on policymaking for advanced development held by the Geneva Graduate Institute in Switzerland.
ALUMNI
Almost two dozen Columbia alumni are premiering their work during the 2023 Sundance Film Festival, happening January 19–29. 
The Fabelmans, co-written by alumnus Tony Kushner (CC'78) and director Steven Spielberg, was one of the winners at the Golden Globe Awards on January 10.