Goldwater Scholars, Bodley Medalist, NSF Graduate Research Fellowships, and More
From science to engineering, writing to social sciences, here are the Columbians who received awards recently.
May 03, 2023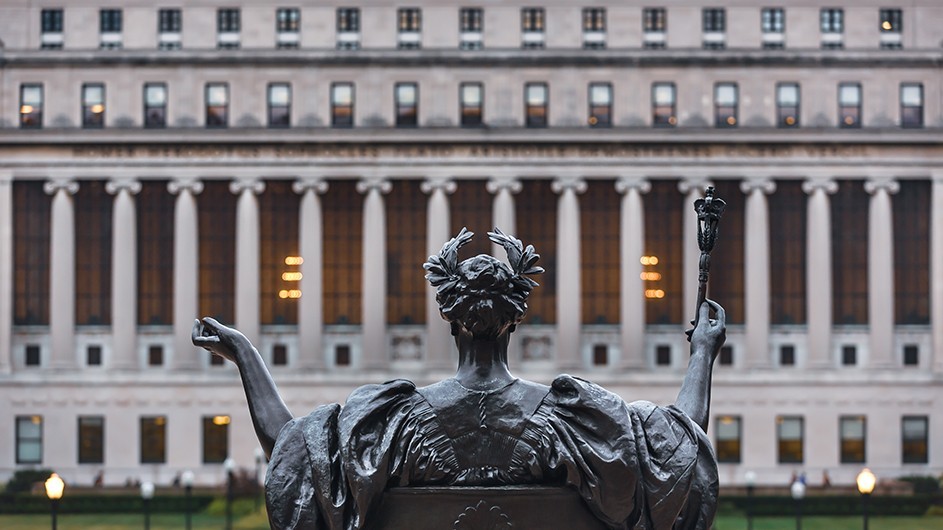 Columbia News produces a biweekly newsletter (subscribe here!) and article series featuring a roundup of awards and milestones that Columbia faculty, staff, and students have received in recent days. In this edition, you'll find awards and milestones from April 20 to May 4, 2023.
Have an award or milestone you'd like to have featured in the newsletter or article online? Please send an email to [email protected]. Note that we'll be running this series every other week. 
You can take a look at past accomplishments on our Awards & Milestones page. And you can subscribe to receive the newsletter in your inbox. 
FACULTY
ARTS & HUMANITIES
Victoria Bailey, adjunct professor in the Theatre Program at School of the Arts, has won a 2023 Tony Honor for Excellence in the Theatre.
Taarini Mookherjee, lecturer in the Department of English and Comparative Literature, has been awarded the Newton International Fellowship by the British Academy, a two-year, fully funded fellowship for early career postdoctoral researchers.
Frances Negrón-Muntaner, Julian Clarence Levi Professor in the Humanities, received the 2023 Impact Award from Bigs & Littles NYC Mentoring, which strives to transform the lives of children through one-to-one mentoring and by providing intensive support for parents.
James Shapiro, Larry Miller Professor of English and Comparative Literature, has won the Baillie Gifford Prize for Non-Fiction 'Winner of Winners' Award for his book, 1599: A Year in the Life of William Shakespeare.
Colm Tóibín, Irene and Sidney B. Silverman Professor of the Humanities, was awarded the Bodley Medal, the highest honor of the Bodleian Libraries at Oxford University.
SCIENCE & MEDICINE
Cory Abate-Shen, Robert Sonneborn Professor of Medicine, has been selected as the 2023 recipient of the American Association for Cancer Research's Women in Cancer Research Charlotte Friend Lectureship.
Veronica Barcelona, assistant professor of nursing, received a $2.1 million award from the Eunice Kennedy Shriver National Institute of Child Health and Human Development to fund a five-year study examining the interplay among discrimination, the epigenome, and Black women's worse health outcomes.
Stanley Chang, K. K. Tse and Ku Teh Ying Professor of Ophthalmology, was honored on April 4 with the Milstein Service Achievement Award.
Riccardo Dalla-Favera, Percy and Joanne Uris Professor of Clinical Medicine, received the AACR Award for Outstanding Achievement in Blood Cancer Research.
Christian Gloria, associate professor of sociomedical sciences at Columbia Mailman School of Public Health, was elected to the Board of Directors of the New York State Public Health Association. 
Giuseppe Tosto, assistant professor of neurological sciences, was awarded $7,117,882 over five years for a subaward from the National Institute on Aging for "Recruitment and Retention for Alzheimer's Disease Diversity Genetic Cohorts in the ADSP (READD-ADSP) Core B."
STUDENTS
Thirty-seven students and alumni have won 2023 graduate research fellowships through the National Science Foundation. Read about all of the awardees here.
Chinmayi Balusu (CC'22, MSPH'23) was recently honored with the AAIC Neuroscience Next "One to Watch" Award, presented by the Alzheimer's Association.
Alex Bateman, MFA candidate in the Film Program at the School of the Arts, has been named a 2023 Scholar of Sexology Fellow by the Kinsey Institute.
Victoria Choe (CC'24) was recently announced by the Phi Beta Kappa Society as a Key into Public Service Scholar for 2023. She is one of only 20 students selected from over 900 applicants and will receive an undergraduate scholarship and take part in an in-person conference in Washington, D.C. in June, which will provide scholars with training, mentoring, and reflection on pathways into local, state, and federal government public service.
Mary-Evelyn Farrior, PhD candidate in the Classics Department, is the winner of the Emeline Hill Richardson/Jesse Howard, Jr. Rome Prize (Ancient Studies).
Emani Fung (CC'25) was named to the 2023 Cohort for the Expanding Diversity in Economics Summer Institute.
Gabriel Mangum Lehmann (GS'24), Aiden Sagerman (CC'24), and 
Pranay Talla (CC'24) have been named Goldwater Scholars this year. The Goldwater Scholarship represents the preeminent undergraduate award in the fields of mathematics, the natural sciences, and engineering.
Zehra Mehdi, PhD candidate in the Department of Religion, has been awarded the Core Preceptor Teaching Award for Contemporary Civilizations.