A Graduate of the College Learns the True Meaning of Double Discovery
As a high school junior growing up in Washington Heights, Jean-Franco Diaz benefitted from the SAT prep and pre-college counseling available through Columbia's Double Discovery Center. He enjoyed being on campus so much that he applied to the College, and got in.
May 11, 2016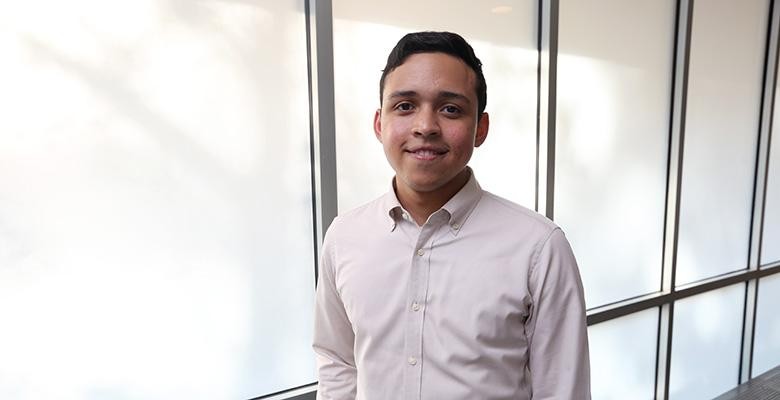 One of the first things he did when he started his freshman year was to join DDC as a volunteer to work with kids much like himself—low-income, college-bound students from Upper Manhattan. "It's double discovery in the truest sense, in my case," said the 22-year-old economics and political science major, who graduated this week. "I've been on both sides of that."
It was his mother, Pilar Mota, a native of the Dominican Republic, who first came across DDC as a resource for his older sisters, Jerrelyn and Marjorie, when they were high school students. (They graduated from Fordham University and New York University, respectively.) A working mother who spoke primarily Spanish, she raised her children alone after the death of their father in 1997. "Her determination and her ability to sacrifice everything to just focus on us, that really inspired me," said Diaz.
So starting in his junior year at Regis High School in New York City, a Jesuit prep school for Catholic boys, Diaz came to Columbia's campus each weekend, where he learned the work habits and study skills that would serve him well. After he was accepted at the College, he was named a Dyckman Institute Fund Scholar, a scholarship that provides need-based financial support for outstanding students from northern Manhattan who attend Columbia College.
"Jean-Franco Diaz is the epitome of what we hope for in terms of aspirations for our students," said Joseph Ayala, executive director of DDC. "He not only came from very humble beginnings but as a part of being a member of DDC he aspired to and went on to this great university."
Diaz's ability to share his perspective with the younger set has given him a satisfying sense of continuity, and it's not his only volunteer role on campus. He also works with Community Impact, Columbia's largest student service organization, and is a member of the Multicultural Recruitment Committee within the Office of Undergraduate Admissions, where he helps staffers identify and recruit students from historically underrepresented groups.
Related: [Watch] Double Discovery Center Dedication, Columbia News, May 19, 2016
In his junior year, he joined the advisory board of the First-in-Family Program, an initiative run by the James H. and Christine Turk Berick Center for Student Advising, and spoke on panels and helped to create resources for other students who are the first in their families to attend college.
"I grew up in New York City, but my world was really Washington Heights," he said. "Columbia showed me a more expansive world. It's exciting to see people who haven't grown up in New York City and how that shaped their perspective."
Taking the Contemporary Civilization course during his sophomore year was "a life-changing experience," Diaz said. It was his first exposure to the great philosophers and learned thinkers in Western civilization, and its format was similar to a Columbia class he had taken while at DDC. "The second time I was more prepared to engage in it because of my prior experience," he said.
"Jean-Franco is extremely resilient and focused," said Alissa Mayers, Manager of Youth Programs at Community Impact. "He is able to excel despite any challenges that lay in his path."
And in his senior year, Diaz faced his hardest challenge. His mother, age 62, died in December, just five months shy of her son's graduation. "Commencement was bittersweet, because all of my accomplishments belong to my mom," said Diaz. "I miss her and I know she would be so proud."
Of all the new experiences and knowledge he has gained at Columbia, what he prizes most is the constant and continuing conversations with a diverse group of friends and classmates. In dining halls, dorm rooms or simply sitting on the steps of Low Library on a sunny afternoon, exchanges between friends about day-to-day concerns almost inevitably turned to more philosophical discussions of things like power, feminism and gender.  "You don't sit down planning to have a deep conversation, it just happens organically."
In the end, Diaz found these conversations and sharing of perspectives will be Columbia's legacy for him.
"When I was heading to college, I thought, well you can read this or that book and learn something," he said. "I came to see that you can read a book in any college or any class. Sure, the professor leads the class in a unique way, and the way a curriculum works is great, but I think the people you're interacting with most are what shapes your education."