Coming Home After the Coronavirus Outbreak
Here's what happens when a pandemic occurs and you live halfway around the world.
April 29, 2020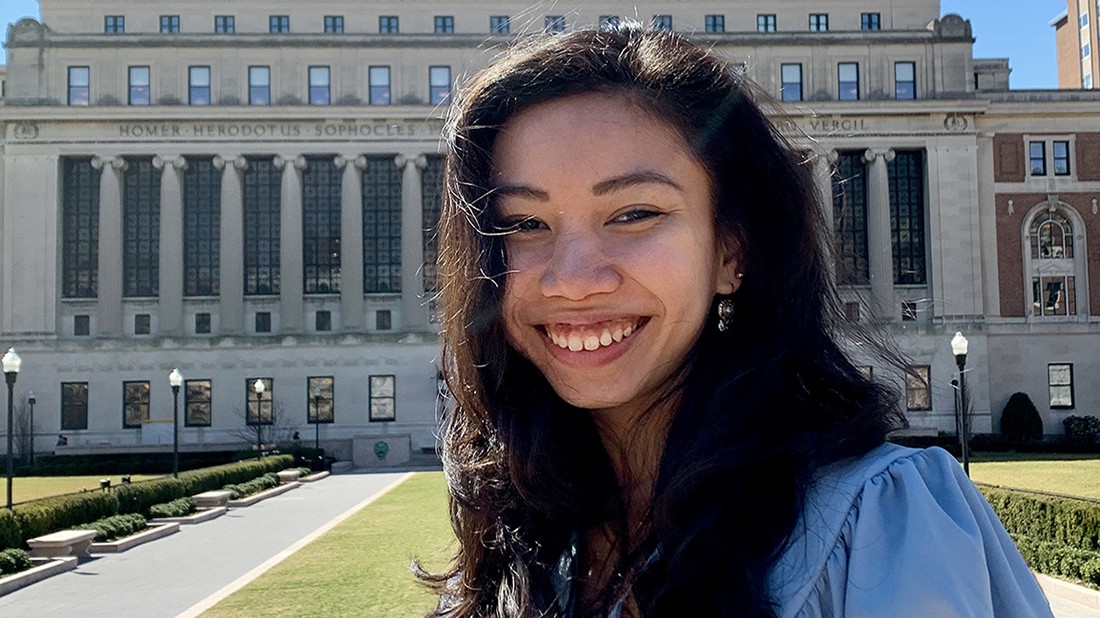 I vividly remember the day—March 8—when I received the email from President Bollinger with the subject line: "Time Sensitive Update on COVID-19." He announced that "a member of our community has been quarantined as a result of exposure to the Coronavirus (COVID-19)," and that classes had been suspended temporarily and would be moved online for the rest of the week. After reading the email, I felt confused, slightly panicky, and I had a million questions about what would happen next.
It was midterm season, and my classmates and I were busy prepping for exams. Adjusting to classes online is one thing, taking midterm exams in the midst of a pandemic is another. I could barely focus, distracted with all the news that was going around. I was also very worried about my health and living conditions. I was residing at International House, an off-campus graduate dorm. Living in a communal setting during the coronavirus outbreak was far from ideal, and I was already hearing rumors that residents were starting to get sick.
Hi, I'm a Malaysian studying in NYC. This past one week have been overwhelming. Sharing with you the timeline of news I've been dealing with. To those of you who are still adjusting to the changes, take one day at a time. It's a lot. ♥️ pic.twitter.com/aANF7csB9i

— Jasmin 🌸 (@JasminIrisha) March 17, 2020
Within the next few days, there were constant email updates flooding my inbox regarding COVID-19. Columbia announced that the rest of the spring semester would be conducted online, Trump initiated a travel ban from Europe, undergraduates were ordered to vacate the dorms, and the International House "encouraged" residents to move out. I realized that if I were forced to evacuate I-House, I would have nowhere to go. With the number of coronavirus cases rising daily, I felt so vulnerable, and I couldn't imagine getting sick in New York.
I decided to go home, which, for me, is Malaysia, a 24-hour journey from New York. I searched for the soonest flight out, and traveled back over spring break. It was a time of uncertainty and anxiety, as more borders were closing, and more flights being cancelled. I just hoped that everything would go smoothly so that I could return safely to my family. In Malaysia, a movement control order was already in place, which means that the country is under a partial lockdown with restricted movement, travel bans and numerous closures of public and private facilities and institutions.
As soon as I arrived on March 20, I checked my messages to find out that there was a confirmed COVID-19 case at the International House, followed by news of the death of an I-House resident a few days later. The facility shut down, and all the remaining residents moved out. Some of my friends were left displaced, as they were unable to return home due to border closures or the worsening  pandemic situations in their home countries. I was fortunate to have left earlier because many others struggled to pack their belongings and evacuate at the last minute.
Everything happened so abruptly, with disrupted plans every step of the way. I am sad that I am unable to have an in-person graduation ceremony, or bid a proper goodbye to my friends and New York. However, I am grateful for my health, and I'm trying my best to cope with online classes and assignments despite the 12-hour time difference. Just like that, it's all over. March felt like forever, and April seemed to pass by in the blink of an eye.