A GSAPP Event Focuses on Brothers and Architects Who Meld Historic and Contemporary Craft
Elias and Yousef Anastas design buildings, and also celebrate artisanship.
February 28, 2022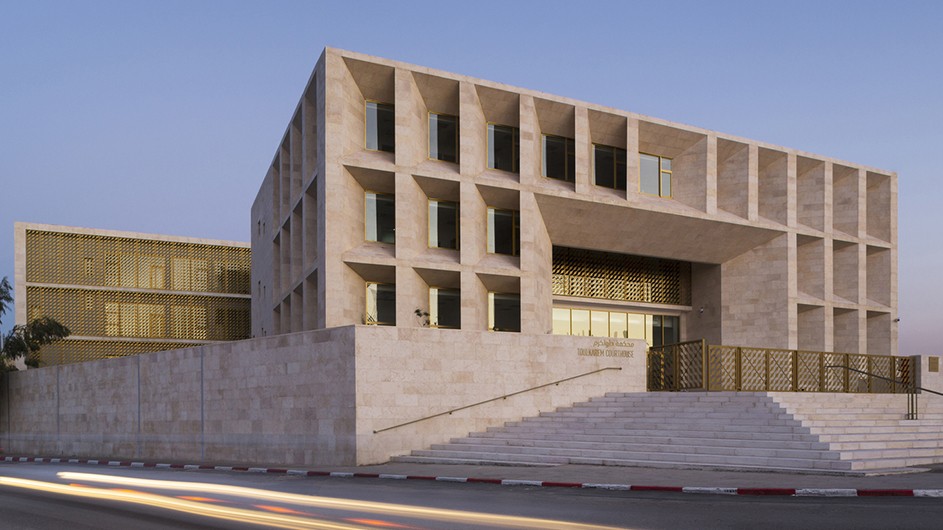 On February 7, 2022, brothers Elias and Yousef Anastas, associates of the Bethlehem-and-Paris-based architecture studio AAU Anastas, presented their recent work in a virtual lecture organized by the Graduate School of Architecture, Planning, and Preservation and co-sponsored by Columbia's Center for Palestine Studies. GSAPP Professor Ziad Jamaleddine, co-founder of the Brooklyn-and-Beirut-based practice L.E.FT Architects, introduced the brothers and joined them in a discussion after their presentation.
The work of AAU Anastas, Jamaleddine said, contributes to the "global conversation and knowledge production in the making of the built environment." 
In addition to their roles at AAU Anastas, which was founded by their parents in 1979, Elias and Yousef started the furniture-making collaborative Local Industries in 2011, and expanded AAU Anastas to include the research arm SCALES in 2016. 
Experiments in Stone Architecture
AAU Anastas's ongoing research initiative, Stone Matters, responds to what Elias and Yousef refer to as a misuse of stone in the region today. Inspired by local traditional stone-cutting processes, the architects sought to revive nearly forgotten stereotomic (stone-cutting) techniques, and rethink them in a contemporary context. 
An opportunity to test their research emerged in the form of a commission for the design of the el-Atlal (the Ruins) artist residency in Jericho in 2017. As part of the initial project phase, the architects constructed an almost-23-foot-long vault, which relies on slight variations to a rectilinear block to form a woven geodesic pattern. In 2018, AAU Anastas constructed a much larger vault as part of an extension to the 12th-century St. Mary of the Resurrection Abbey in Jerusalem. The addition—a gift shop—was topped by a vault that pays homage to the site, a notable example of Crusader architecture. 
"The entire structure of the shop is a flat vault ceiling, which is made out of 169 stone elements that are woven in a process of construction," Yousef said, the vault "creates a dialogue with the site in terms of techniques rather than in forms and shapes."
Beyond building, the firm has expanded its stereotomic knowledge by meticulously scanning stones salvaged from demolished local structures. Each stone illustrates a unique construction technique, and, indexed together, represents a vocabulary of stone architecture. Under the title Amoud, a selection of these fragments were sandwiched in between smooth, socket-like stones, and presented in the form of a column at the Amman Design Week in 2019.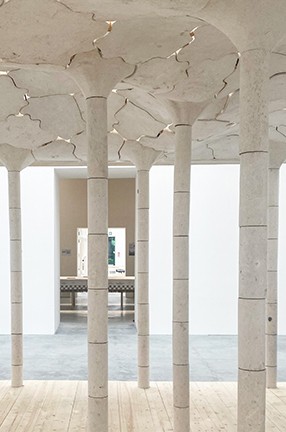 Most recently, the designers mounted the installation, All Purpose, at the 2021 Venice Architecture Biennale. The work introduces a new stonecutting technique in response to the dearth of experimental stone architecture in the region. The fact that local municipalities mandate stone cladding (legislation that dates back to a 1918 master plan created during the British Mandate) has resulted in systematic and undifferentiated approaches to construction.
"Every building is made the exact same way. There's only one construction technique, and that creates a boring city. The idea with this project was to speak about a new way of living with a structure made out of stone not only in a local context, but also to inscribe the use of stone in a more global context, an approach that has more to do with contemporary architecture," Yousef said.
Celebrating Crafts and Artisanship
In 2016, AAU Anastas collaborated with local artisans to develop a method of shaping olive wood—commonly used for fabricating religious souvenirs in Bethlehem—into 552 six-pointed modules, which were then fastened into a self-supporting structure. Each module was crafted from small branches to avoid having to uproot slow-growth olive trees. The resulting structure, Mass Imperfections, was fabricated using a machine engineered to make deviations unique to each batch, mirroring the nuances of master carvers' processes. 
"Celebrating crafts and artisanship is a different perspective, which makes use of the contemporary skills of artisans for the production of design and architecture in a modern context," Yousef said.
In 2018, AAU Anastas participated in an architecture competition that tasked participants to design a tourism-driven village in an area surrounding Bethlehem that could replicate the atmosphere of the historic city. Dismissing the brief as overly nostalgic, the designers came up with a counterproposal, Folklore or You Die. It features four buildings, each of which represents a different typology of generic local urban space at a magnified scale. Rather than romanticizing the past with iconic structures, AAU Anastas proposed everyday architecture types, which can be modified easily for any future scenario.
"Heritage, and in particular, architectural heritage, has become a Western contemporary appreciation of local cultures. It freezes [architecture into] a state of museum-ified objects with illusional qualities, and gives it de facto folkloric value," Elias said.
Navigating Local Challenges
AAU Anastas has designed two public buildings in the region: Hebron Courts Complex and Toulkarem Courthouse in Tulkarm. As is the case with most local public building competitions today, both projects were funded by international aid and implemented by the United Nations. In Hebron, the 172,000-square-foot building was planned so that local construction companies and contractors would have sufficient expertise to build it, even though buildings of that scale are uncommon there. In Tulkarm, the courthouse required infrastructural improvements beyond the building itself.
"The electrical capacity of the city wasn't enough for the building to function properly so it was updated," Yousef said.  
Following their presentation—which also included a meditative installation that traveled to London and Dubai before settling in the Cremisan Valley: a community-building radio station, a maker network, and a cultural hub—Jamaleddine commended AAU Anastas's ability to circumvent challenges, and asked them to elaborate on the impetus behind their ever-expanding range of project types.  
"You're working with this idea of movement as an operating concept in spite of or in a place where movement is limited, if not always restricted," Jamaleddine said. "Despite these constraints, the work is never fixed in one place and only responding to that."
"Lots of architects are facing complex situations due to layers of agendas that link to other political or economic contexts; developing autonomous initiatives is a way to maintain equilibrium in the practice," Elias said.  
---
Shannon Werle is the digital editor in the GSAPP Communications office.