How to Achieve Climate Justice in the City
An interactive GSAPP workshop charts a path for Columbia's role in advancing environmental and climate equity in New York's neighborhoods.
December 02, 2020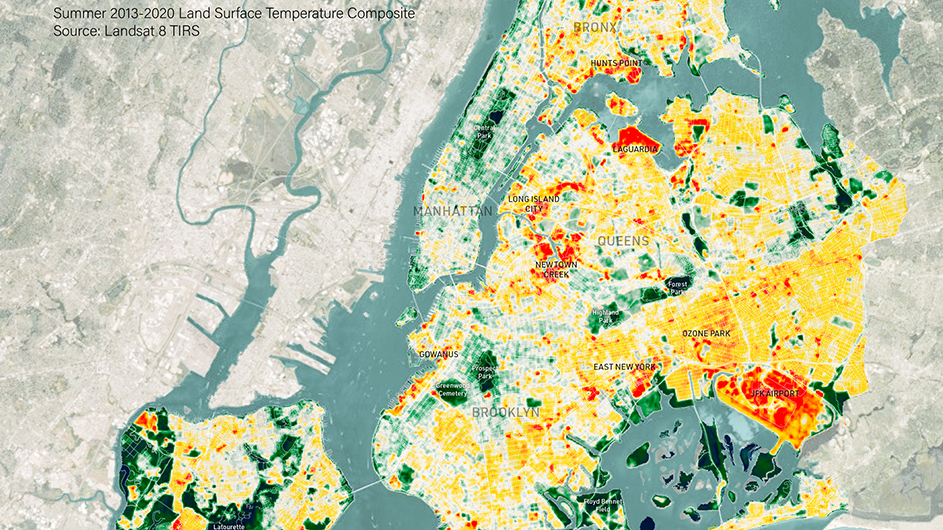 On November 20, the Graduate School of Architecture, Planning, and Preservation (GSAPP) hosted Climate Justice and the City. The online event explored how racial and environmental equity can be meaningfully integrated into urban planning and design for climate resilience. The workshop was funded by a seed grant from the Office of the Provost's Addressing Racism initiative awarded to Christian Braneon, a scientist at the NASA Goddard Institute for Space Studies; Jacqueline Klopp, codirector of the Center for Sustainable Urban Development; and Thaddeus Pawlowski, managing director of GSAPP's Center for Resilient Cities and Landscapes. 
The event marked the launch of the Environmental Justice and Climate Just Cities Network, a three-year project funded by the Earth Institute that aims to develop an online resource directory for Columbia Climate School's climate justice track. The project will also involve community-based organizations and support curriculum development.
Columbia's Core Climate Mission
"As Columbia builds the climate school," Klopp said, "we want to be sure we have environmental and climate justice at the core of this mission, and we want to be prepared with strong, respectful relationships with our partner communities and also with the curriculum."
"We want to acknowledge that academia's structural legacies of bias, and especially racism, have been barriers toward a just climate in the past," said GSAPP Professor Erica Avrami. "This network aspires to confront that structural system so that Columbia can be a more effective ally in this process toward just climate outcomes."
Local Leadership
Braneon then introduced two local leaders—Génesis Abreu, youth environmental program manager at Friends of WHEELS (Washington Heights Expeditionary Learning School), and Sonal Jessel, policy and advocacy coordinator at WE ACT for Environmental Justice—and asked them to speak about what challenges they felt should be prioritized in the struggle for environmental justice in New York City.
Both Abreu and Jessel emphasized that their priorities reflect the needs of the most vulnerable members of their northern Manhattan-based communities. Abreu's key issues were healthy housing, safe green open spaces, and climate resiliency amid increasing threats of extreme heat and flooding. Jessel discussed challenges faced by New York City Housing Authority residents, including both infrastructural and structural barriers that inhibit access to energy-efficient technologies. Aging cooling units, for example, are prone to overheating during extremely hot weather, leading to power outages.
A Tipping Point
Laurie Schoeman, senior program director of national initiatives for resilience at Enterprise Community Partners, spoke next. She said that the convergence of the affordable housing shortage and climate change has reached a tipping point, a problem further exacerbated by the lasting impacts of racially discriminatory policies such as redlining. 
"The Federal Highway Administration created an incredible risk for communities because it essentially placed a huge amount of blacktop concrete through places like Black Bottom in Detroit and the South Bronx," said Schoeman, "which exposes these populations to extreme heat, flooding, and lack of stormwater management."  
Youth Effecting Change
Following the panel discussion, participants were divided into breakout sessions led by Braneon, Klopp, Pawlowski, Avrami, and two other GSAPP professors, Reinhold Martin and Kate Orff.
The event concluded with a brief presentation by Mia Soto, a WHEELS high school student, on her work with the Clean Air Green Corridor initiative. Focusing on an area near her school—182nd Street between Amsterdam Avenue and Broadway—the initiative aims to introduce more vegetation to mitigate the urban heat island effect and improve access to Highbridge Park, a site long associated with homelessness, drug use, and waste dumping. Soto recognizes the importance of young people taking an active role in effecting change. "There is no reason," she said, "why our parks shouldn't be as beautiful as the other green spaces in New York City." 
---
Shannon Werle is the digital editor in the communications office at GSAPP.