GSAPP's Galia Solomonoff Talks About Her Life and Career as an Architect
For this associate professor, the intersection between art and architecture is vital and infuses her teaching at Columbia.
April 13, 2022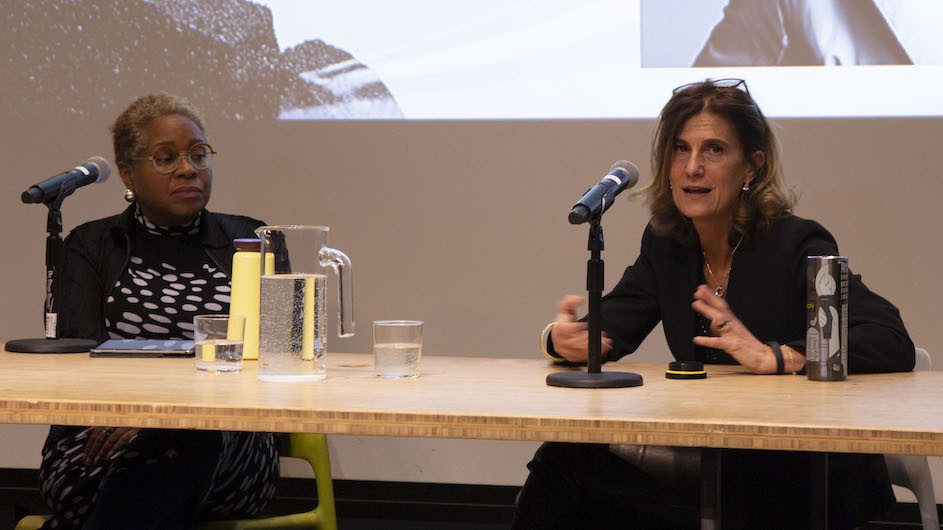 On March 28, 2022, Columbia University's Graduate School of Architecture, Planning, and Preservation (GSAPP) hosted a lecture by Galia Solomonoff, associate professor of professional practice at GSAPP and founder of Solomonoff Architecture Studio (SAS). Mabel O. Wilson, the Nancy and George Rupp professor at GSAPP and founder of Studio &, joined Solomonoff in a discussion following her talk.
In her introduction, Weiping Wu, interim dean and director of the urban planning programs of GSAPP, noted Solomonoff's wide range of engagement through both practice and teaching. "As a member of Columbia's global network, licensed architect, and leader of a minority- and woman-owned business, Galia regularly travels with students and engages in discussions of gender equity, art, architecture, and how to expand the democratic mission of architecture in all of society's spheres."
Growing Through Networks
Solomonoff prefaced her talk with an overview of her life trajectory. She was born in France, but moved to Rosario, Argentina, in 1968, with her Argentine parents, who decided to return and expand the revolutionary ideas they had encountered abroad. Her parents' blacklisted status in Argentina prevented Solomonoff's admission to many high schools, which led her to attend an engineering-focused technical school instead. She moved to New York City in 1987, and enrolled in the City College of New York, before pursuing her Master's of Architecture at Columbia. 
Immediately after graduation, Solomonoff worked at professor and dean emeritus Bernard Tschumi's eponymous firm on the design of Columbia's Alfred Lerner Hall. Several years later, a Dutch magazine published photos of a renovation she undertook for her Chelsea loft, which caught the attention of the Rotterdam-based Office for Metropolitan Architecture (OMA). After working for OMA on the Illinois Institute of Technology's McCormick Tribune Campus Center, Solomonoff launched her career as an independent architect with the exhibition "Defective Brick" at the New York City gallery Artist's Space, which was supported by a grant from the National Endowment for the Arts. The title alluded to Solomonoff's exploration of imperfection in building processes; the exhibition featured a prototype dwelling made of non-standard building units.
Creating New Modes of Practice
In 1999, Solomonoff founded OpenOffice with partners Linda Talman, Alan Cook, and Lynn Rice. Modeled after an artist's practice, the studio adhered to the rule that "every project we took had to be built because we couldn't make money if the project wasn't going to be built," Solomonoff said.
At OpenOffice, she  served as partner-in-charge for the renovation of Dia Beacon, a former Nabisco box-printing factory turned museum, in collaboration with artist Robert Irwin. Through this project, she learned to embrace trial-and-error experimentation as she worked with artists on in-situ installations.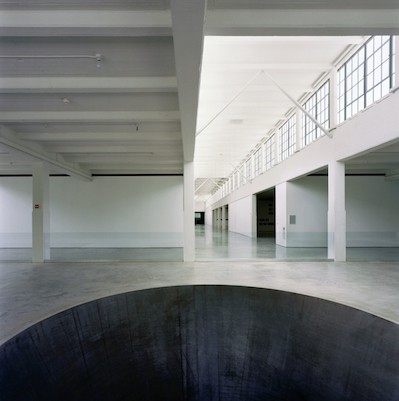 When Solomonoff's partners at OpenOffice left New York to practice in California in 2003, she established Solomonoff Architecture Studios (SAS). Her decision to launch a minority- and woman-owned business followed a personal revelation that she didn't need a partner to run a successful business.
"It's uncomfortable to talk in public, it's uncomfortable to ask for money, it's uncomfortable to go back and say I need to spend more time—but I'm doing it … I realized that over time I had internalized sexism and that I needed to give it to get rid of that and proceed," she said.
Expanding the Discipline
For Solomonoff, residential work is especially fulfilling because it involves designing for families, comprising unique personalities and needs. Many of SAS's clients include art collectors; Solomonoff collaborated with artists Jim Lambie on a vibrantly colored staircase and Rirkrit Tiravanija on a stainless-steel swing for the design of a townhouse in Greenwich village in 2011. A few years later, the owners hired SAS to baby-proof areas of the home. Solomonoff's unconventional material choice–stainless steel airplane cables with soft and colorful coatings–not only provided an effective barrier but also mimicked the playful nature of the owner's commissioned in-situ artworks.
"When they fix a plane, they need to know where the lines go very quickly, so they have every color in the rainbow," said Solomonoff.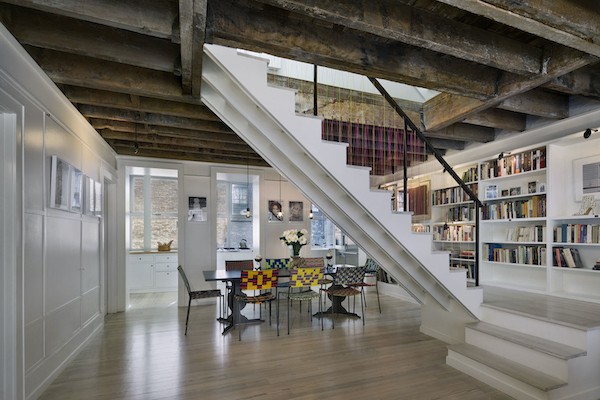 Solomonoff's design of a townhouse on Cornelia Street in Greenwich Village was made famous when resident Taylor Swift released the song "Cornelia Street" in 2019. Her studio had augmented the 17-foot-wide, two-story building with three additional floors, and an underground pool. 
Solomonoff's expertise on the intersection between art and architecture infuses her teaching at Columbia. In 2011, she began the first of several seminars focusing on inflatable structures. Co-taught with artist Liam Gillick, the course included students from GSAPP and School of the Arts. The final product, BOB, resembled a cloud over the courtyard  by Fayerweather, Schermerhorn, and Avery halls on Columbia's Morningside campus. In 2021, Solomonoff collaborated with Laurie Hawkinson, professor of architecture at GSAPP and partner at Smith-Miller + Hawkinson Architects, to lead another design-build seminar that  resulted in the Avery Spot pavilion. A new seminar is underway, and Solomonoff presented renderings of the Spider pavilion, which is expected to take shape in mid-May 2022.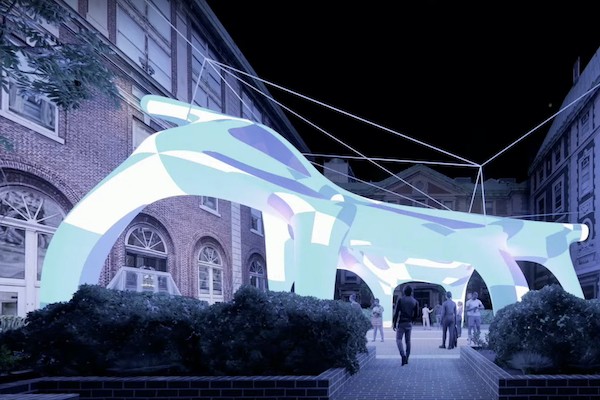 Following the lecture, Wilson spoke about the importance of dialogue in Solomonoff's practice. "The other part of the in-situ in your work is about the dialogues that you have with people. How do you evolve that question of in-situ and why is that so necessary?" Wilson asked.
Solomonoff responded that conversations with artists are often more productive due to the artists' openness to exploration, and possibly failure, as part of the learning process. Residential clients are less likely to embrace experimentation. Regardless of the project, fostering a supportive environment where open dialogue is encouraged is critical to Solomonoff's work at SAS.
"I always tell people who work in my office: if everything is going great, it's your project," Solomonoff said. "The moment something goes wrong, it's my project, so don't try to cover a mistake … I think [it's important to] create a supportive environment where difficulties are part of everyday making."
---
Shannon Werle is the digital editor in the GSAPP Communications office.