The Harriman Institute Turns 75
Two exhibitions this semester document the Harriman's history, projects, and partnerships.
September 09, 2021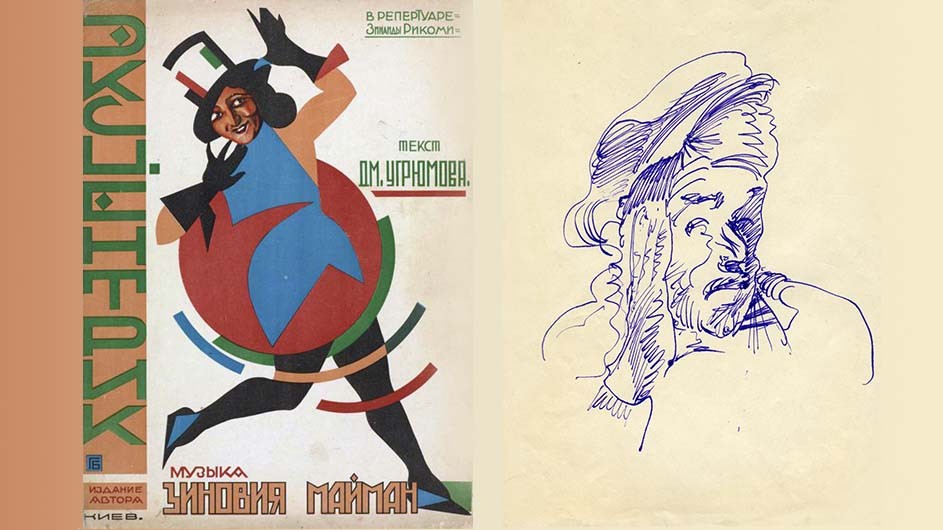 The Harriman Institute first opened its doors on September 25, 1946. This academic year, the institute commemorates its 75th anniversary with a full slate of conferences, lectures, concerts, and exhibitions, two of which are happening this semester: People, Books & Archives, 1903-1921and Anatoly Zverev: Selections from the Kolodzei Art Foundation. Both exhibitions will be on view at the Harriman, which is located on the 12th floor of the International Affairs building at 420 West 118th Street. (Other events are either online or hybrid; check the Harriman website for more information.)
Alla Rachkov, associate director of the Harriman, recently spoke with Columbia News about the exhibitions.
Q. How did these two exhibitions come about, People, Books & Archives, 1903-2021 and Anatoly Zverev: Selections from the Kolodzei Art Foundation?
A. The Harriman Institute's 75th anniversary is an occasion to highlight both our history and the partnerships we have established with our community outside the University. Edward Kasinec and Robert H. Davis, Jr., who are both Columbia alumni and have been involved with the institute in various capacities over the years, proposed and curated a wonderful retrospective of the Slavic and East European collections and the history of their acquisition at Columbia Libraries. (Davis is the librarian for Russian, Eurasian, and East European Studies at Columbia.)
The resulting exhibit, People, Books & Archives, 1903-2021, just opened, and is on display at the institute through October 22. It celebrates the wealth of resources available on campus and beyond, and the individuals who made them accessible to us.
The second show, which begins on October 28  and runs through December 17, was proposed by our longtime partners, the Kolodzei Art Foundation. This exhibition showcases the works of Anatoly Zverev, a legendary artist of the Russian non-conformist movement, who would have turned 90 this year. Kolodzei is currently celebrating its 30th anniversary, and we are thrilled to partner with the foundation and celebrate these important milestones for both of our institutions.
Q. Can you share any details about highlights of the exhibitions? Do you have any favorite works in each show?
A. The 26 illustrated text panels of People, Books & Archives, 1903-2021 document important personalities, events, and acquisitions, and are filled with fascinating vignettes. One of my favorites is a photograph taken in 1954 of Russian Institute (it became the Harriman Institute in 1982) students Gay Matthaei, Ted Curran, Jeri Lidsky Laber, and Francis B. Randall as they began a 6,000-mile journey through the Soviet Union—the first Russian-speaking graduate student group to visit the country after Stalin's death in 1953. Supplied with a movie camera and film by CBS, they captured for Americans an unusual perspective on Soviet daily life. Matthaei died in 2010, and in 2015, her daughter donated films and ephemera to Columbia Libraries, which were later supplemented by Professor Randall.
The exhibit of Anatoly Zverev's work will feature selections from the Kolodzei Art Foundation, including a few of his noted portraits. My favorite is his expressive self-portrait from the 1950s done in pen and blue ink, which perfectly captures his dynamic personality.
Q. Since the Harriman is known primarily as an academic research center, how did the mounting of exhibitions develop?
A. The institute was renovated and redesigned under the leadership of our first female director, the late Catharine Theimer Nepomnyaschy, with the goal of creating a space that would be open to collaboration, and would also allow us to mount exhibits to complement our programming. There are so few venues for exhibits on campus, and it was important for us to have a space of our own to showcase work from and about Russia, Eurasia, and East Central Europe. The first Harriman show, Nabokov in Montreaux, took place in 2005. Since then, we have organized at least four exhibits a year.