The Highest Awards in Physics, Broadcast, and Law Go to Columbians
From arts and humanities to engineering and medicine, here are the latest awards and milestones achieved by Columbians.
October 27, 2021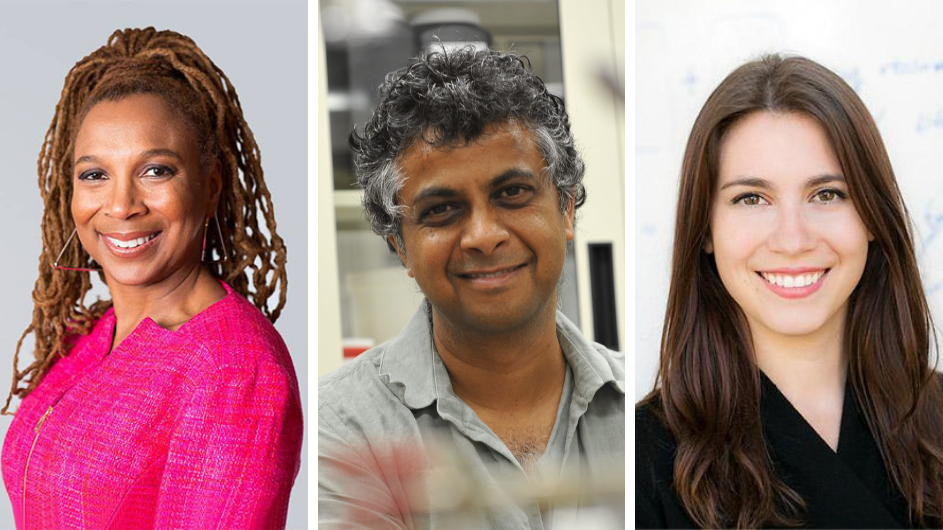 Columbia News produces a biweekly newsletter (subscribe here!) and article series featuring a roundup of awards and milestones that Columbia faculty, staff, and students have received in recent days. In this edition, you'll find awards and milestones reported to us from Oct. 14 to Oct. 26, 2021.
Have an award or milestone you'd like to have featured in the newsletter or article online? Please send an email to [email protected]. Note that we'll be running this series every other week. 
You can take a look at past accomplishments on our Awards & Milestones page. And you can subscribe to receive the newsletter in your inbox. 
ARTS & HUMANITIES
Jelani Cobb, Ira A. Lipman Professor of Journalism, and June Cross, Professor of Journalism and Director of the Documentary Journalism Program, recently won a 2021 Peabody Award for their collaboration on PBS' Frontline with "Whose Vote Counts." The Columbia Journalism Investigations team, along with the USA Today Networks, were co-recipients.
Nabila El-Bassel, University Professor and the Willma and Albert Musher Professor of Social Work, has won the 2021 Addiction Policy Forum Pillar of Excellence Award. 
Bette Gordon, Professor of Professional Practice, was honored at the Lumiere Film Festival in Lyon, France, with her name engraved on the Filmmakers Wall among such esteemed directors as Agnes Varda, Werner Herzog, and David Lynch.
Philip Kitcher, John Dewey Professor Emeritus of Philosophy, and Gayatri Spivak, University Professor, were elected to the British Academy.
Jennifer Lee, the Julian Clarence Levi Professor of Social Sciences, has been appointed to the Board of Trustees of the Russell Sage Foundation.
Shana L. Redmond, Professor of English and Comparative Literature, received the 2021 Walter and Lilian Lowenfels Award for Criticism as part of the American Book Awards by the Before Columbus Foundation for Everything Man: The Form and Function of Paul Robeson.
Amy Starecheski, Oral History MA Program Director, began her term as President of the Oral History Association in October 2021. While in that role, she will be serving as co-Principal Investigator on an $825,000 National Endowment for the Humanities grant to provide fellowships and research grants to under- or unemployed oral historians from historically marginalized communities. 
Mabel O. Wilson, Nancy and George E. Rupp Professor of Architecture, Planning and Preservation, received the Vincent Scully Prize on Oct.19, from the National Building Museum.
BUSINESS & LAW
Joel Brockner, Phillip Hettleman Professor of Business, recently received the Distinguished Scholarly Contributions to Management from the Academy of Management.
Geovanny Vicente-Romero, Enterprise Risk Management Associate, was recently recognized for his column on CNN en Español as "Political Column of The Year" by the Napolitan Victory Awards.
Kimberlé Williams Crenshaw, Isidor and Seville Sulzbacher Professor of Law, received the Triennial Award for Lifetime Service to Legal Education and the Profession from the Association of American Law Schools.
SCIENCE & MEDICINE
Maura Abbott, Assistant Professor and Assistant Dean of Clinical Affairs, was awarded the State Award for Excellence by the American Association of Nurse Practitioners.
Ryan P. Abernathey, Associate Professor at Lamont-Doherty Earth Observatory, received the Charles S. Falkenberg Award from the American Geophysical Union.
Boris Altshuler and Igor Aleiner, Professors of Physics, were awarded the 2022 Lars Onsager Prize from the American Physical Society for their foundational work on many-body localization.
Ana Asenjo-Garcia, Assistant Professor of Physics, has been named a 2021 Packard Fellow. Read her profile here. 
Billy Caceres, Assistant Professor of Nursing, was invited to join the editorial board for LGBT Health.
Frank Costantini, Professor of Genetics & Development, recently received the 14th ISTT Prize of the International Society for Transgenic Technologies. Read more here. 
Sonya Dyhrman, Associate Professor at Lamont-Doherty Earth Observatory, is co-principal investigator and partner in the Center for Chemical Currencies of Microbial Planet project led by Woods Hole Oceanographic Institution. The Center will study the chemicals and chemical processes that underpin ocean ecosystems.
René Hen, Professor, Elisa E. Konofagou, Robert and Margaret Hariri Professor of Biomedical Engineering and Radiology (Physics), and Jennifer Manly, Professor of Neuropsychology in Neurology, have been elected to the National Academy of Medicine. 
Bärbel Hönisch, Professor at Lamont-Doherty Earth Observatory, was named Cesare Emiliani Lecturer by the American Geophysical Union.
Kim A. Kastens, Special Research Scientist at Lamont-Doherty Earth Observatory, was elected a Fellow by the American Geophysical Union.
Peter B. Kelemen, Arthur D. Storke Memorial Professor at Lamont-Doherty Earth Observatory, received the Harry H. Hess Medal from the American Geophysical Union.
Chia-Ying Lee, Lamont Assistant Research Professor, Ocean and Climate Physics Division at Lamont-Doherty Earth Observatory, received the Natural Hazards Early Career Award from the American Geophysical Union.
Jerry F. McManus, Professor and Chair of the Department of Earth and Environmental Sciences, and Geochemistry Division at Lamont-Doherty Earth Observatory, was elected a Fellow by the American Geophysical Union.
Wei Min, Professor of Chemistry, recently received the 2021 Scientific Achievement Award from the Royal Microscopical Society.
Fatemeh Momen-Heravi, Associate Professor at the College of Dental Medicine and founder and director of the head and neck cancer research group at the Herbert Irving Comprehensive Cancer Center, received the AACR-Bayer Innovation and Discovery award to develop a new gene-editing delivery system for the treatment of cancer and rare diseases. 
Gisela Winckler, Lamont Research Professor and Associate Director of the Geochemistry Division at Lamont-Doherty Earth Observatory, was selected as a Seeding Diversity Fellow, as part of an NSF-funded project led by Prof. Jason Chen at the University of William and Mary. 
ENGINEERING
View more recent awards from the School of Engineering and Applied Sciences. 
Rachel Cummings, Assistant Professor of Engineering, recently received a DARPA Young Faculty Award titled "Guarding Against User Misperceptions of Differential Privacy" in the amount of $992,000 to support her work to make novel privacy technologies more understandable and usable. 
Qiang Du, Fu Foundation Professor of Applied Mathematics, is part of a team of multidisciplinary researchers who have been awarded a $1.2 million National Foundation for Science grant to improve traffic management in real time. 
Sanat Kumar, Bykhovsky Professor of Chemical Engineering, was recently awarded the Polymer Physics Prize of the American Physical Society, the highest honor in polymer physics.
Carlos Paz-Soldan, Associate Professor, has received two awards from the Department of Energy. He was also named the recipient of the 2021 Thomas H. Stix Award for Outstanding Early Career Contributions to Plasma Physics Research from the American Physical Society. 
Mijo Simunovic, Assistant Professor of Chemical Engineering, was named a National Institutes of Health New Innovator.
STAFF
Helen Bielak, Antonella Contrera, Karin Rivera, Afrodita Sali, and Nicole Thompson received the Outstanding Women in Construction Award, and Scharlene De La Cruz, Rory Madden, Leilani Reynolds, Monifa Smith-Zamor, and Tiffany Williams received the Next Generation of Women Builders Award from the Women Builders Council at the 16th Annual Champion Awards Red Tie Reception. Read more here. 
Estefany (Andino-Mendez) Ziskin, Senior Project Engineer for Facilities Engineering at Columbia University Irving Medical Center, is a recent recipient of a 20 under 40 award from the Building Commissioning Association. 
STUDENTS
Alexander McCoy, GS'23, was recently named by Washingtonian Magazine as one of the "250 Most Influential People in Washington."
Leah Estrada, Nursing Ph.D. student, received the Laurence G. Branch Doctoral Student Research Award from the American Public Health Association. Estrada was also honored, alongside Ashley Chastain, Senior Project Director, with the "Best Abstracts" award for their research from the American Public Health Association.