Community Scholar's Mixtape Museum Is an Ode to Hip-Hop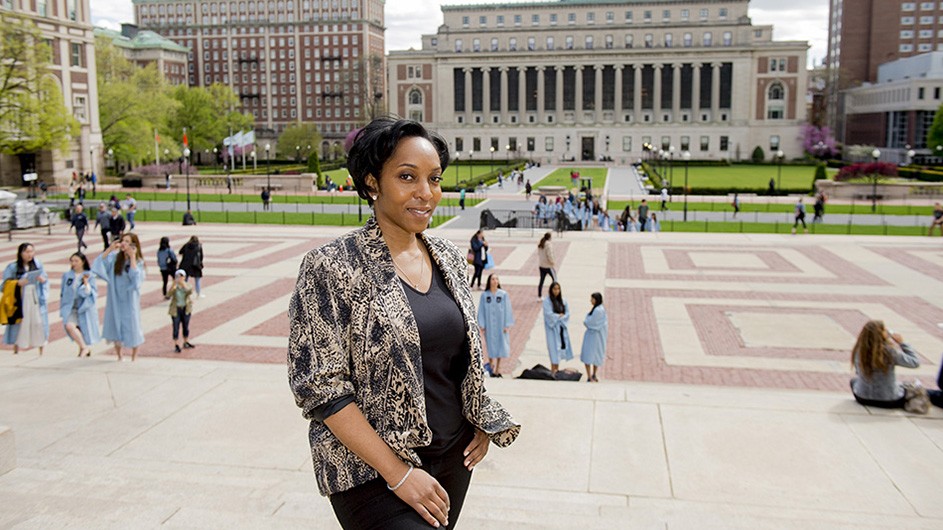 Fifteen years ago, Regan Sommer McCoy looked around at the collection of mixtapes, album cover art and music industry paraphernalia overflowing her boyfriend's Brooklyn apartment and thought, "This place could be a museum."
Now, as McCoy finishes her third year as a Columbia Community Scholar, her Mixtape Museum is a reality and she is preparing to join the advisory board of the Universal Hip Hop Museum as a historian when it opens in The Bronx in 2023.
"I learned about the Community Scholars program in 2016 and applied despite feelings that I was not an academic type," said McCoy who has developed practical research skills in oral history, digital archiving and cataloging. "Now I can do anything a scholar can."
Established in 2013, the program is a joint initiative of Government and Community Affairs, the Provost's office and the School of Professional Studies. Each year, five Upper Manhattan residents submit research proposals for access to the University's libraries, course-auditing privileges and the opportunity to work with faculty and participate in seminars and events.
McCoy's proposal for establishing a Mixtape Museum was based on her years in and around the hip-hop community. In 2004, her then-boyfriend, Orpheus "Justo" Faison, a DJ and founder of the Mixtape Awards that honor underground DJs and artists, taught her about the economic and cultural influence of mixtapes as well as the informal distribution networks that helped new hip-hop music gain traction.

She applied this knowledge to her job as tour manager for the hip-hop duo The Clipse who's first album, Lord Willin', went gold in 2002, selling more than 500,000 copies. That same year, they earned a Grammy nomination for the single "Like I Love You," which was featured on Justin Timberlake's solo debut album, Justified.
Following that success, The Clipse's second album was caught in a tangle of record industry consolidation for almost five years. To keep new music flowing to fans, McCoy helped Clipse founders Gene "Malice" Thornton and his brother Terrence "Pusha T" distribute several collections in 2004. The mixtape, We Got It 4 Cheap, was so successful that The Clipse was able to expand its tour overseas.
After Faison died in a car accident in 2005, McCoy was motivated to honor him by advancing public understanding and appreciation of the art, history and technique of the mixtape. To do that she created the Mixtape Museum. "It's critical for this to happen now and at a research institution like Columbia. It's my giveback to Justo," she said. Documenting this history is at the root of the Mixtape Museum's mission to establish a clear record of how hip-hop grew from its New York City roots into a dominant musical genre in the United States.
"Mixtapes are the distribution of the grassroots and they were central to hip-hop's growth," said Kevin Holt (GSAS'18), an adjunct assistant professor in the Department of African American and African Diaspora Studies, whose research has focused on how hip-hop evolved in the South. "To historicize this is to call attention to the subversive way people have been able to create music and gain a bit of agency that they wouldn't be afforded through the traditional route."
Today, mixtapes are digitally assembled playlists of songs often selected by algorithms. The analog mixtapes that first appeared in the 1970s were painstakingly recorded on cassette tapes, song-by-song. Because they were informally made and distributed, there was no way to measure their influence.
"You can now find statistics for any album: Grammy nominations, how often a song gets played and how many times someone like Jay-Z appeared," McCoy said. "I'm trying to figure that out retroactively for mixtapes, to show how much the music industry today benefitted from this landscape."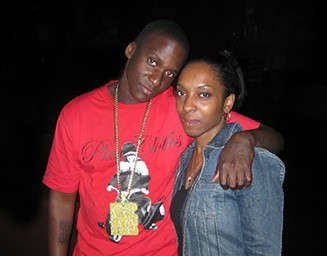 McCoy spent much of her time at Columbia combing through archives and further developing her SQL programming skills so she could build a mixtape database. She worked closely with Community Scholar Martha Diaz, who in 2010 created the Hip-Hop Education Center and has collaborated with music industry experts, librarians and archivists to learn the best way to digitize and store cassette tapes. Now, her biggest challenge is making sure the tapes don't deteriorate before she can extract the data.
Her work to preserve this specific cultural moment in music reflects Columbia's commitment to exchanging knowledge and resources with the local community. "Her project is extraordinarily well-planned and substantive with the potential to be groundbreaking," said Karen Jewett, vice president for Government and Community Affairs and director of the Columbia Community Scholars program. Other Community Scholar projects have included a study of religious communities in West Harlem, an investigation into police brutality in the 1980s and 1990s in New York City and efforts to promote healthy eating habits for Upper Manhattan residents.
As she prepares for her new role at the Universal Hip Hop Museum, McCoy is the operations manager in Education and Community Engagement at the Brooklyn Academy of Music. She also continues to work in the community with initiatives such as the STEM-based program, Hip-Hop Hacks. As for The Clipse, they recently reunited for the first time since 2009 in a song on Kanye West's latest album Jesus Is King.
---
Listen to the late Orpheus "Justo" Faison discuss the role of mixtapes in hip-hop and why he created the Mixtape Awards Show.
---
"She is always connecting the dots," said Gene Thornton about McCoy's approach to her work. "We can credit the mixtape with being true to the nature of merit-driven hip-hop. You had no boundaries. No barriers. The record industry capitalized on where we started. The mainstream really enjoyed what grassroots hip-hop offered. But now the hip-hop community needs to have a resurgence by going back to its essence."
McCoy's Mixtape Museum is preserving that essence for the future.