Historian Studies 'Troubling Freedom' of Former Slaves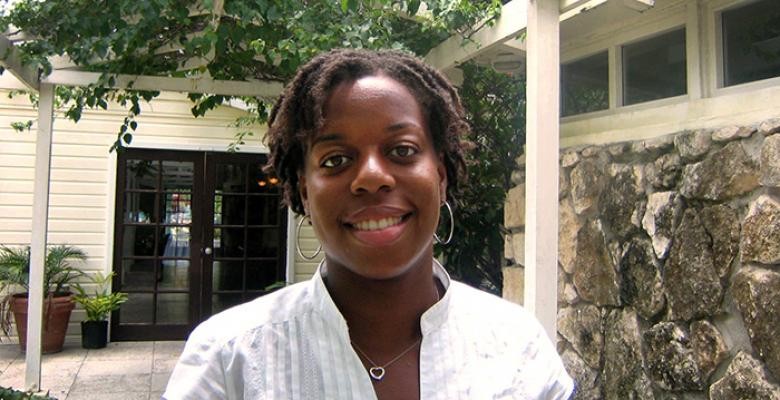 The personal and the professional came together for Natasha Lightfoot in her first book, Troubling Freedom: Antigua and the Aftermath of British Emancipation. The daughter of immigrants from Antigua, she has been interested in the Caribbean island forever and visited frequently while growing up. As a historian, her scholarly work is focused on the African diaspora and the meaning of freedom in the Atlantic islands that were colonized by Europeans and for years dependent on slave labor.
"The story I tell is a complicated one," said Lightfoot, associate professor of history. "It is about the unfree nature of freedom."
The British freed slaves in Antigua in 1834, part of a move to abolish slavery in its Caribbean colonies in the belief that it was outdated and hindered modernization. But the former slaves still toiled all day in a system largely indistinguishable from slavery. With no place to live, many stayed in plantation housing and residence was deemed to be an agreement to work on that plantation. They had no right to negotiate wages or working conditions. Former slaves who couldn't show evidence of gainful employment were jailed and sentenced to years of hard labor, while former slave owners received compensation from the British government for their "loss of property."
"They were freed, but with minimal rights and privileges," Lightfoot said. "Systems of law and customs were immediately put in place so they couldn't escape."
Unlike larger islands, where freed slaves could grow various crops on small parcels of land, Antigua's economy depended on its sugar plantations. There were few other employment opportunities for former slaves and little available land for them to settle on their own. White landowners retained power.
"Oppression can seep into even the most valiant causes," said Lightfoot. "Things got much worse for black people before they got better."
The former slaves formed communities, struggled to educate themselves and their children and sought leisure pursuits, but were often mocked by whites for dressing and behaving above their social station. Limitations on what they could do even in their free time and competition for jobs with newly arrived migrants from the nearby island of Barbuda led to a violent uprising in 1858. They had been victims of violence, said Lightfoot, and to be able to wield such power was a mark of freedom.
Lightfoot, who grew up in the Bronx, joined the Columbia faculty in 2007, just after earning her doctorate in history at NYU. She describes the course she teaches on the modern Caribbean as history from Columbus to tourism. Another course covers slavery and abolition in the Atlantic World and a third is about black resistance in the Caribbean. She is involved with the Institute for Research in African American Studies, the Center for the Study of Ethnicity and Race, the Center for the Study of Social Difference, and other interdisciplinary centers on campus.
"There's a really incredible faculty here, leaders in the study of emancipation and the meaning of black freedom," she said. "It has been an incredible place to mature as a scholar."
Troubling Freedom grew out of Lightfoot's Ph.D. thesis on slavery and abolition in the Atlantic World. She spent three summers doing research in Antigua, reviewed original documents at the University of the West Indies in Trinidad and spent an academic year doing research in the National Archives in Britain. Because most documents from 19th century Antigua were written by white colonists, she says she had to "turn sources inside out and remove the lens of hostility" to understand what black people were experiencing.
Her current research is focused on fugitive slaves in the 19th century Caribbean, piecing together individual stories of what happened as they moved between jurisdictions. One story is about a woman who fled slavery in British colonial Nevis in 1817 or 1818, first to the British island of Tortola and then to Puerto Rico, where she tried to persuade a judge that she should be free. Instead she was sold to a slave owner in Cuba.
By 1855, she had been traded another five or six times. Meanwhile, slavery ended in Nevis in the 1830s, decades before the Spanish Caribbean islands; she would have been free had she remained. Antigua gained its independence from Britain in 1981 and remains part of the Commonwealth.
"No bloodshed, just a lot of paperwork," said Lightfoot, who recently was invited by the government of Nevis to speak at its Independence Day celebrations. The island's population, about 90 percent black, now also includes American and European expatriates as well as middle-class Syrians and Lebanese whose families fled conflict in the MidEast in the 1930s, all creating a new elite. "Blackness still sits in a place of poverty. That has not changed," she said.