Historic Preservation Program Conserves the Past for the Future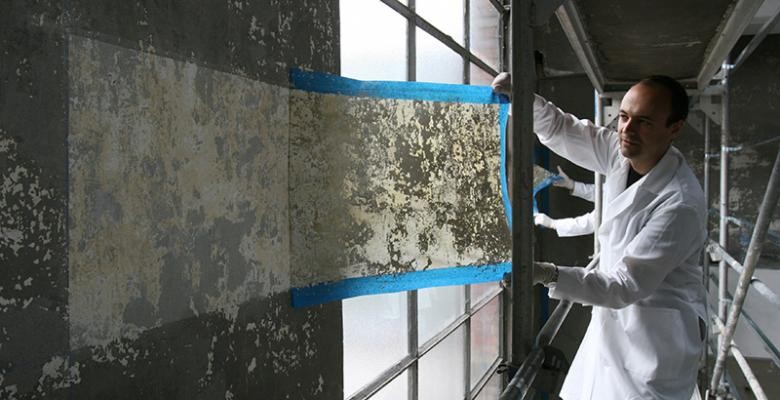 When he was growing up in Madrid, Jorge Otero-Pailos often accompanied his father, a landscape painter, to the Prado Museum, where they set up canvases on easels and copied works by such masters as Goya and Velázquez. But as he grew up, his art teachers advised him to do something where he could earn a living.
After coming to the United States as a teenage exchange student, Otero-Pailos earned his bachelor's and master's degrees from Cornell University's College of Architecture, Art, and Planning and a Ph.D. in architectural history from MIT.
"I spent a lot of my life avoiding being an artist," said Otero-Pailos, who joined Columbia's Graduate School of Architecture, Planning and Preservation as a professor in 2002 and became director of its historic preservation program in 2016.
"Jorge brings a creativity to preservation so that it's not just about restoring something to its original state, but enabling a structure or a piece of stone to tell a story," said Amale Andraos, dean of the architecture school. "He has expanded our understanding of historic preservation in terms of its capacity to push the discipline of architecture. Exciting experimentation is happening now with new materials and digital technology."
As it turns out, Otero-Pailos didn't steer clear of art entirely. He has blended it with his expertise in architecture and preservation to design large installations that pay tribute to old buildings and the ways in which we form attachments to them. His installations and other artworks have been commissioned and exhibited by museums and cultural organizations including the Victoria and Albert Museum in London, the Venice Art Biennale and the San Francisco Museum of Modern Art.
His Ethics of Dust is part of a continuing series in which liquid latex is painted onto the walls of historic buildings, capturing the dust and pollution on their surfaces. "Why do we clean iconic monuments and then just get rid of the dirt? What stories, what histories are in the stuff that we are removing?" asks Otero-Pailos.
In 2016, the Ethics of Dust project focused on the walls of the British Parliament's 1,000-year-old Westminster Hall, which was saved from fire in 1834. The latex absorbed centuries of dust over three days before being peeled off in small sheets that were woven together in what Otero-Pailos called "a skin of history" that was 165 feet long, 20 feet high and suspended from the ceiling. Visitors who walked between the newly cleaned stones and the latex skin were surrounded by layers of history.
The installation opened six days after the Brexit vote in 2016. "The Ethics of Dust is a latex requiem for a dying Westminster… Jorge Otero-Pailos applied latex to walls in Westminster Hall to lift out centuries of dirt. But he can't remove the post-Brexit stains of British politics," wrote Adrian Searle, chief art critic of The Guardian. Other projects in the Ethics of Dustseries are at the old United States Mint, Paris' Louis Vuitton Galerie Museum and the Doge's Palace in Venice, among other historic venues.
In 2017, Otero-Pailos and neuroscientist Andreas Keller, an adjunct professor who specializes in smell, taught an innovative course in the preservation program. Working with Christine Nelson, a curator from the Morgan Library & Museum, they investigated the connection between smell and memory at the museum by sampling the odors of old objects.
"People in my field are interested in what makes buildings significant," Otero-Pailos said. "Memories make them culturally significant, and smell is the most direct way to those memories, but we pay so little attention to it. In architecture school, we teach everything about space, light and color of spaces, somehow everything but the smell."
By gently placing a small glass dome with plastic tubing looping out of it on objects—rare books, furniture, carpets—the team captured escaping molecules that create distinct smells. The molecules were later analyzed by Carlos Benaim, an award-winning master perfumer, to determine which of them constitutes the item's smell profile.
The goal of the experimental class was to perhaps someday convey a sense of the 1906 building's history beyond its look and feel by recreating the aromas, possibly through an olfactory exhibition or sensory gallery.
Starting this fall, the preservation program, which was founded in 1964, expanded to offer a doctorate that blends scholarship with science and technology. "Launching a Ph.D. in this field—the first in the nation—is critical to advance knowledge about how preservation can contribute to an understanding of culture, identity and related issues in our globalized world," said Andraos.