How 'Roots' Inspired Social Science Dean to Study Race and DNA
Alondra Nelson was an eight-year-old when the television adaptation of Alex Haley's Roots aired in 1977 to an audience of 130 million people. "We knew it was very important," she said. "My parents were fairly strict about bedtimes and television time, but allowed us to stay up until 11 pm for eight nights."
May 27, 2016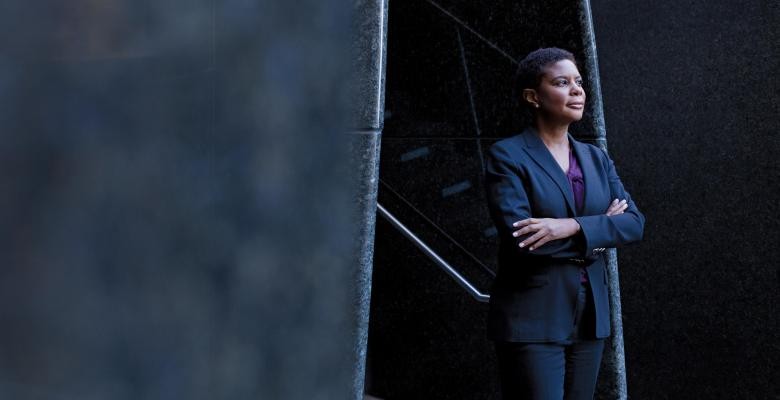 The series had an impact on Nelson long after she watched it with her parents and three younger siblings. "It inspired my desire to know about the past and the legacy of slavery, and how these are manifest in racial discrimination and racial inequality today," she said.
So it is fitting that nearly 40 years later, Nelson, a professor of sociology, dean of social science at Columbia and author of The Social Life of DNA: Race, Reparations and Reconciliation after the Genome, was invited to discuss her research as part of a day-long White House conference on May 17 on finding American stories in connection with a remake of Haley's iconic tale.
The conference, which included actors from both versions of Roots, African American activists, a researcher from 23 and Me and Nelson in panel discussions, also featured a screening of the first episode of the four-part miniseries, which will be broadcast on the History Channel, Lifetime and Arts & Entertainment beginning May 30. Attendees included students from Howard University and the University of Maryland, Baltimore County.
"It's very appropriate that the new version of Roots had its premiere at the White House," says Nelson, noting that Birth of a Nation was screened at the White House in 1915 and Gone with the Wind in 1939, both with depictions of slavery from a very different point of view. "It's symbolic, an interesting, corrective full-circle moment."
Q. What was it like watching Roots with your family in 1977?
A. My parents, and my friends' parents, had told us some of this history but I don't think any of us fully appreciated the scope of intergenerational slavery and the resilience and resistance it fostered. It left us with a lot of questions.
Q. Why was Roots so important at the time?
A. Haley's book [published in 1976] was the first time many people became aware of this history from the point of view of enslaved people. Roots is a difficult fictionalized history put into powerful visual narrative form.  Before it, our prevailing cultural narratives of slavery were the movies Birth of a Nation and Gone with the Wind. Roots also sparked an interest in genealogy that, in ensuing decades, has become a significant aspect of American culture.
Q. How do you think the reaction to the 2016 version will differ from the one in 1977?
A. This is a very different time. There are so many more and more varied representations of the history of slavery, Amistad, 12 Years a Slave, even Django Unchained. But when Roots emerged in the 1970s it was such a path-breaking account that it came to shape future representations of this history. Part of the formative power of Roots was that tens of millions of people watched it simultaneously and consecutively over eight nights. Millions will likely watch the remake. But it's an open question whether the viewing experience will be as collectively powerful now that people can watch four episodes back-to-back in a viewing binge sometime in the future, or choose to watch two episodes one week and two episodes another week. One does wonder whether this will produce a kind of dissolution of the effect that the original Roots had or an amplification of it over a longer period of time.
Q. Have discussions about race changed since the original Roots was broadcast?
A. As the last few years have shown, we are a society that remains imperfect with regard to racial inequality. Although much remains to be done, our society has at least become more conversant about it. Certainly, conversation alone is insufficient, and we still have many problems to confront. But before Roots aired, I don't recall a time in my childhood when we had national conversations or debates about racial discrimination on a regular basis. It's more likely now than it was 40 years ago.
Q. Can genetic ancestry testing, the subject of your recent book, replace archival searches like the one Alex Haley undertook?
A. Genetic ancestry testing is increasingly used today in conjunction with conventional archive-based genealogy. The technologies are limited, in part because they rely on how extensive the reference databases are; if the information doesn't exist in a database you can't receive a reliable inference about your ancestry. Then again, these technologies may be the only recourse when there are no genealogical records on paper. DNA testing is an imperfect process, but it can offer a qualified answer in instances in which there may be no answer otherwise. We have to face the uncomfortable idea that there are some things we may never know.