Columbia Together Reveals the Power of Collective Storytelling
An online platform created by Human Resources allows University employees to connect through word and image during the pandemic.
June 04, 2020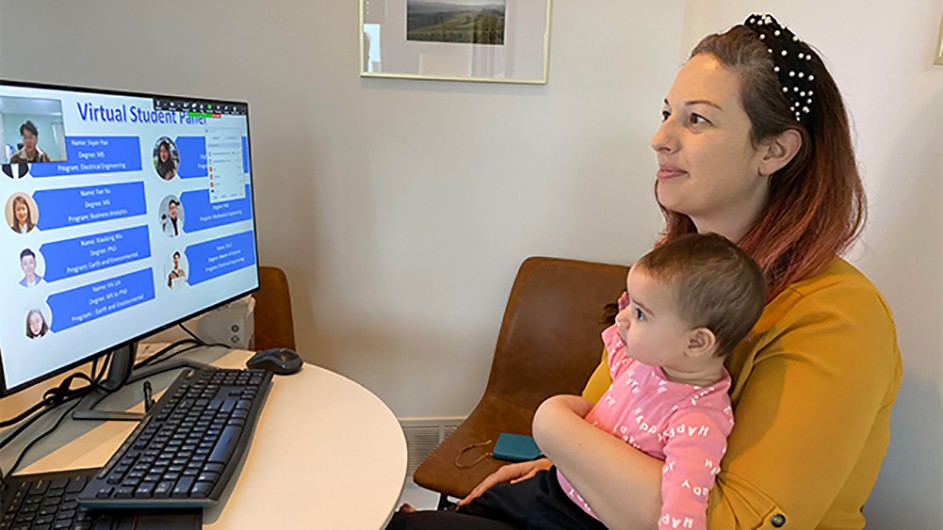 Author Herman Wouk (CC '34), reflecting on his college experience in the essay, "A Doubled Magic," wrote, "All of my writings, such as they are, trace back in one sense or another to my four years at Columbia… The best things of the moment were outside the rectangle of Columbia; the best things of all human history and thought were inside the rectangle."
The line Wouk drew between inside and outside the rectangle vanished once the COVID-19 pandemic exploded in March. "Since quarantine started and we've moved to off-campus operations, Columbia faculty and staff have shown on a daily basis that 'the best things in all human history and thought' are not dependent on our physical space, but on our spirit of community, dedication and support for one another," said Virginia Kaplan, an assistant vice president in Human Resources.
In an effort to keep this spirit alive, the CUHR communications team, Mick Schommer and Sara Pepitone, along with Kaplan and associate vice president Elizabeth Braden, created Columbia Together, a platform where University employees can share their experiences of working remotely during the pandemic by uploading photos and text. Through images of colleagues in their makeshift workspaces accompanied by captions, University staff are engaging in a form of collective storytelling that reflects the power of strength in numbers and offers solace and hope to those feeling isolated.           
A photo of Dr. Mark Nathanson, a geriatric psychiatrist at Columbia University Irving Medical Center (CUIMC), shows him entertaining friends and neighbors on the brownstone stoops of his Brooklyn neighborhood. Kate, who works in faculty practice organization at a provider enrollment group, poses at her home desk with the youngest of her three children perched on her lap. Julian in Public Safety poses in front of the gates to College Walk at Broadway and 116th Street, and writes that he is "happy to be of service during this time," a sentiment echoed by his Public Safety colleague, Keron, also photographed in front of the entrance to College Walk. "I like being here. It lets the community know that we are here for them, and that we are all in this together," said his caption.
Another section of Columbia Together solicits shout-outs to the University's essential workers. "The courage and commitment you've shown is inspiring. Thank you," said Chuck in HR at CUIMC. "You are the true heroes! Please stay safe and healthy," wrote Samuel in Payroll.  "Thanks for being out there during these tough times. Missing you all," added Jess from Middle Eastern, South Asian and African Studies.
Since Columbia Together launched on April 13 via an email to all University employees, HR has received more than 200 submissions, and there have been more than 7,000 page views—a response rate that pleases Kaplan and Braden and shows that staff are eager to connect with colleagues and be a part of the larger Columbia narrative.
Columbia Together will remain active for the foreseeable future—as long as the majority of University employees continue to work remotely. So all are encouraged to submit content and "share their views and voices," said Kaplan. Eventually, part of this content will be transferred to University Archives at the Rare Book & Manuscript Library, where it will be catalogued for future generations "to understand how the University persevered during this time," added Kaplan.
If you want to share your experiences, please consider contributing to Columbia Together.