Inaugural Group of Obama Foundation Scholars at Columbia University Announced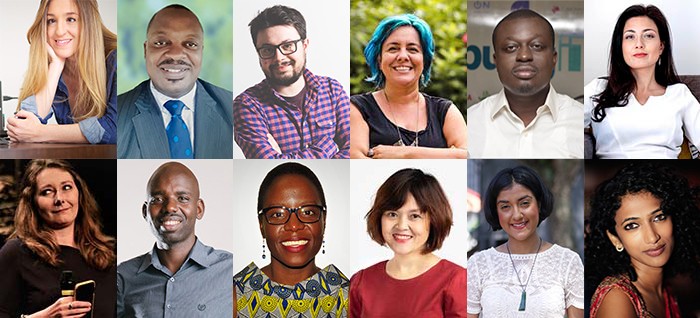 An accomplished group of 12 rising social change-makers from around the world has been selected as the first class of Obama Foundation Scholars at Columbia University. Consistent with the Obama Foundation's mission to inspire, empower, and connect the next generation of civic leaders, the new, year-long academic program based at Columbia will strengthen the expertise and knowledge of individuals with the demonstrated ability to be transformative leaders in their communities, nations, and the world. 
The Scholars, from Asia, Africa, South America, South Asia, and Europe, have each shown a commitment to finding practical solutions to complex challenges facing society. They will participate in an immersive program of academic and experiential learning at Columbia's campus in New York City, including active engagement with a new university initiative called Columbia World Projects and in one-of-a-kind experiences led by the Obama Foundation, including robust networking, mentorship, service activities, and values-based leadership development, offering them a chance to learn from some of the world's most innovative leaders. The Scholars also will play a significant role in the Foundation's growing global network of civic leaders.
"When President Obama left office, he challenged us to believe -- not in his ability to bring about change, but ours," said Obama Foundation CEO David Simas. "Through our partnership with Columbia with this new Scholars program and through all of the Foundation's work, we are living this call to action. I am incredibly impressed with the talented young leaders who will be joining Columbia and the Foundation this fall and looking forward to helping support and scale their work."
"Generations of Columbia students, including President Obama, know from first-hand experience that our campus and the great, global city that is our New York home provide a unique classroom for engaging the world and addressing the problems facing society," said Columbia President Lee C. Bollinger.  "We are proud to be a partner with the Obama Foundation in launching the Obama Foundation Scholars at Columbia to advance our shared mission of developing leaders who are not only dedicated to making a difference, but also have the intellectual and practical skills to turn their ideas into action."
The 12 Obama Foundation Scholars at Columbia University will also have the opportunity to interact with the separate but affiliated Obama Foundation Scholars cohort based at the Harris School of Public Policy at the University of Chicago, announced earlier this year.
The Obama Foundation Scholars at Columbia were selected to participate through a process involving applications, faculty evaluation, review by individuals affiliated with the Obama Foundation and Columbia World Projects, outreach to references, and candidate interviews.  Applications for this inaugural class of Scholars were solicited by invitation after consulting with a range of civil society organizations around the world.
The Obama Foundation Scholars program reflects the Obama Foundation's stated interest in developing a long-term presence at Columbia University, which the Foundation announced in 2015 at the conclusion of the presidential library competition.  The program will include three pillars:
a core seminar led by Columbia faculty that will run the length of the academic year, in which all Scholars will participate;
an experiential learning component that will engage the Scholars in the work of policy development and implementation, involving the Obama Foundation and Columbia World Projects, an initiative designed to apply the best evidence-based academic research to the creation and application of practical solutions to real-world challenges; and
non-core seminar coursework that will provide Scholars with the flexibility to select one or two courses at Columbia. 
To inform the development of the curriculum, selected Scholars will be asked to identify subjects and skills they wish to explore and develop.  To round out the experience of active learning, Scholars will have access to a wide range of opportunities for civic engagement in the City of New York provided by Columbia and its many local partners in government, community-based organizations, the mission-driven sector, and social entrepreneurship, as well as the Obama Foundation. 
For more information about the program at Columbia, including the application process for the 2019-2020 class, click here. For more information on the Obama Foundation Scholars Program more broadly, click here.
The dynamic young leaders who comprise the first cohort of Scholars hails from Vietnam, Tunisia, Bulgaria, Cameroon, Burundi, Nigeria, Singapore, India, Paraguay, Colombia, France, and Zimbabwe via South Africa. The inaugural 2018-2019 cohort is noted below:
CEO and Co-founder, SINGA France
Fostering collaboration between refugees and their host societies by focusing on refugees' personal, professional, cultural, and entrepreneurial plans and goals.
Program Manager, Mandela Institute for Development Studies (MINDS)
Building the capacity of African youth to lead the continent's social and economic progress.
CEO and Founder, Okimo Vision Ltd.
Democratizing access to visual health and inclusive education through the creation of tools that help diagnose and treat visual and development conditions at a fraction of the current market price.
Chief Sustainability Officer, Fundación por la Educación Multidimensional (FEM)
Enabling inclusive development in Colombia through participatory planning and design processes that allow diverse stakeholders to find shared fulfillment and mutual recognition in indigenous communities.
Founder and Executive Director, CHANGE
Mobilizing youth leaders to promote environmental preservation through communication, education, and community organizing toward a vision of a green and clean Vietnam protected by all people.
Founder and CEO, Mobdiun – Creative Youth
Inspiring youth to become peaceful and creative change leaders in Tunisia and throughout Africa.
Co-founder, Managing Director, Time Heroes Foundation
Co-founder, Chair of the Board, Fine Acts Foundation
Developing creative solutions and digital tools to inspire civic engagement.
Community Engagement Program Manager, Village Health Works
Improving community cohesion among people of all backgrounds by leveraging communal structures to improve health and economic outcomes.
Founder and President, Unite for Health Foundation
Improving access to basic health care in underserved communities in Cameroon.
Lead Partner, BudgIT
Working to simplify budgets and public finance documents to strengthen the capacity of citizens to hold governments accountable.
Co-Founder, Freedom Cups
Changing mindsets and making periods a problem of the past by providing women in underprivileged communities with menstrual cups through a "buy one, give one" model.
Founder and CEO, SheSays, India
Advancing sustainable development through a gender-sensitive and youth-centric approach.