Institute for Israel and Jewish Studies Gets New Home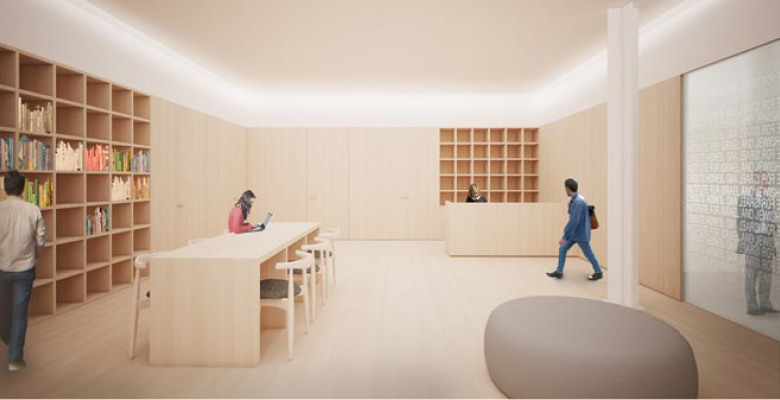 Jewish Studies have a long history at Columbia. In 1930, it appointed Salo Wittmayer Baron, the first chair in Jewish history and literature at a secular Western university, and later established the first graduate program in Yiddish Studies. Then came the Center for Israel and Jewish Studies in 1950, which focused on the history, life, religion, and literature of Judaism.
Now its successor, the Institute for Israel and Jewish Studies, has a new space befitting its history in a sunny suite of offices in Kent Hall. It includes room for public events, visiting speakers and scholarly conferences—a necessity for an organization that hosts more than 50 public events each year.
"It's an acknowledgment of the central place that Jewish and Israel Studies holds at Columbia," said Jeremy Dauber, who directs the institute and is the Atran Professor of Yiddish Language, Literature and Culture. "We're delighted for the Institute's location to be a home for innovative research, scholarship and teaching for decades to come. We're so grateful for the generosity of our supporters, our donors, and members of the administration, all of whom have worked to make this possible." Adam Kirsch, who directs Columbia's master's program in Jewish Studies, and in April was named a Guggenheim fellow, said. "The institute's new home is a leap forward in terms of space, design, and technology."
The new offices open into a room whose shelves are packed full of books by theologian Abraham Joshua Heschel, novelist Chaim Potok, author and cartoonist Jules Feiffer and Columbia professors Samuel G. Freedman and Elisheva Carlebach. The library also contains volumes from the library of the late Columbia professor Yosef Hayim Yerushalmi (GSAS'66) a rabbi turned academic who wrote important books on Jewish history and memory.
Related: Columbia Professor Explores the Life and Afterlife of Tevye's Creator, Sholem Aleichem, Columbia News, Dec 4, 2013
The institute supports doctoral students in their travel for research and hosts visiting scholars from other universities, who help complement regular courses given at Columbia. An Israel Fellowship sends undergraduates, as many as 30 a year, to Israel for pre-professional and academic experiences , whether it is taking Hebrew language classes, interning at a tech startup, or a working at a think tank. It supplements these experiences with events that continue throughout the academic year once they return to Columbia, providing opportunities for the students to meet with experts in the fields of foreign policy, journalism, political science, and government to continue exploring the complexity of Israel.
Its public programs include author talks, a foreign policy seminar, lunchtime lectures, and a film series that takes the audience behind the camera to speak with actors, directors and producers of such films as Zero Motivation, Rosenwald and Wedding Doll. Talks have varied from "Food and Politics in Israel," "Women and Rabbinic Law in the Middle Ages" to "The Representation of God in Comic Books." Journalists, writers, historians, literature professors, sociologists, political scientists and others have visited the Institute to share their insights to both scholars and the general public.
Dauber, the institute's director, is a scholar who wrote a 2013 biography, The Worlds of Sholem Aleichem: The Remarkable Life and Afterlife of the Man Who Created Tevye. Born in 1859, Aleichem, who is most widely known for his humorous short stories featuring the pivotal figure in what became the basis for the Broadway show Fiddler on the Roof.
Aleichem died in 1916, and in his will, which was read into the Congressional Record, the author stated his wish that his work be enjoyed each year on the anniversary of his death. "Let my name be recalled with laughter, or not at all," he wrote. Fittingly, the institute collaborated on a website devoted to Aleichem's work. "It has a double role for us at Columbia," said Dauber. "It provides an accessible website for study and appreciation of the life and work of one of the most important and influential Yiddish-Jewish authors in the world."
In addition to the institute, Columbia/Barnard Hillel likewise makes an important contribution to Jewish life on campus. Its Kraft Center for Jewish Student Life is a place for Sabbath meals, prayer services, cultural programs, learning, social events and holiday celebrations. This week Hillel bestows on businessman Ronald O. Perelman its annual award named for Gershom Mendes Seixas, who in the 18th century led Congregation Shearith Israel in New York, the oldest Jewish congregation in the United States. After the Revolutionary War, Seixas helped establish Columbia College and was a trustee for 30 years.