Irving Family's $700 Million Bequest to Columbia and NewYork-Presbyterian Sets Stage for Dramatic Advances in Cancer Research and Care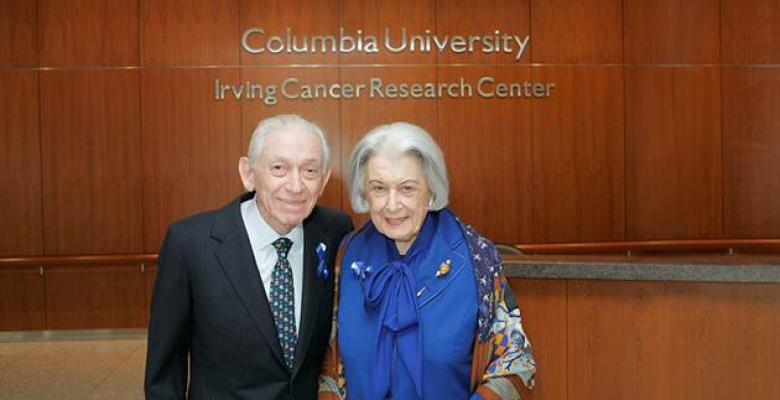 Columbia University and NewYork-Presbyterian announced today that Florence Irving and her late husband, Herbert Irving, have given $700 million to the two institutions to dramatically advance research and clinical programs for the treatment of cancer.
"It is widely recognized that the long battle against cancer has arrived at a crucial juncture," said Lee C. Bollinger, Dr. Steven J. Corwin, and Dr. Lee Goldman, the leaders respectively of Columbia University, NewYork-Presbyterian, and Columbia University Irving Medical Center, in a joint statement underscoring the significance of the Irvings' gift, the largest in the Medical Center's history. "What is perhaps less well understood is that the dramatic advances now within our reach will be realized only by harnessing the learning of many different scientific disciplines and such work requires enormous institutional resources. The Irvings have given us the means to engage in that collective effort, and we are determined to reward their ambitious vision."
The $700 million bequest, which includes $600 million in new funds in addition to previously announced pledges to the two organizations, brings the Irvings' total donations to Columbia University and NewYork-Presbyterian to more than $900 million over the past three decades. The 20-acre Medical Center campus shared by the two institutions in upper Manhattan was renamed last year to honor the Irvings, and the institutions are now known as Columbia University Irving Medical Center and NewYork-Presbyterian/Columbia University Irving Medical Center.
The Irvings' historic gift will have a profound impact on research and clinical care at what is already one of the world's preeminent academic medical centers at a time when new scientific tools and techniques are allowing researchers and clinicians to better understand how cancer begins and grows—and how to fight its spread. The new infusion of resources will help Columbia and NewYork-Presbyterian recruit the very best basic scientists, physician-scientists, and clinicians dedicated to producing a range of innovations in patient care, including improved efficacy of radiation therapy, new surgical approaches, and the development of a variety of new therapeutic options for patients. Facilities also will be expanded at the Herbert Irving Comprehensive Cancer Center, where more than 4,000 new cancer patients are treated each year. It is one of 47 comprehensive cancer centers in the U.S., one of the first to be designated by the National Cancer Institute for its capabilities in both cancer research and clinical care.
The Irvings' extraordinary philanthropy will be felt across a wide range of scientific disciplines, including cancer genomics, immunology, computational biology, pathology, and biomedical engineering. (Columbia biochemist Joachim Frank shared the 2017 Nobel Prize in Chemistry for his pioneering work on the development of cryo-electron microscopy—a technique used to create high-resolution, three-dimensional images of life's molecular machinery in atomic detail, allowing researchers to understand how changes in specific molecules cause disease, including cancer.) A key focus will be to further advance cancer research and clinical care in Columbia's Precision Medicine Initiative which, in partnership with NewYork-Presbyterian, is exploring the genetic and genomic basis of cancer and other life-altering diseases.
In addition to the Irvings' gifts to Columbia University and NewYork-Presbyterian, The Metropolitan Museum of Art, where Florence Irving is a Trustee Emeritus, announced today that it is receiving a donation in excess of $80 million from the Irving family. When added to their earlier philanthropy to the university and hospital, as well as prior generous gifts to The Met including over 1200 works of Asian art, this brings the Irving family's total support for these three iconic New York City institutions to more than $1 billion.
The Irving name has long been a familiar part of Columbia and the Columbia campus of NewYork-Presbyterian. The Medical Center is home to the Herbert Irving Pavilion, the Irving Cancer Research Center, the Irving Institute for Clinical and Translational Research, the Irving Radiation Oncology Center, the Irving Bone Marrow Transplant Unit, and the Herbert Irving Comprehensive Cancer Center, as well as a long list of named professorships, faculty chairs, and clinical and research facilities. The Irvings' generosity began with their 1987 endowment of the Irving Scholars program for early-career clinical investigators.
Both Florence and Herbert Irving were born and raised in Brooklyn. Herbert Irving, who died last year at the age of 98, was a co-founder and former vice chairman of Sysco Corporation, the nation's largest food distributor. Florence Irving has served in leadership positions on the boards of several non-profit institutions, including The Metropolitan Museum of Art.
\"Herbert and I have always been proud to help the terrific doctors at Columbia and NewYork-Presbyterian,\" said Florence Irving. \"It meant everything to him to be able to support world-class research and caregiving that makes a difference in people's lives. I am honored, as he always was, to be associated with these great institutions and the special people who make them what they are."