Journalism Prof. David Hajdu Charts the Rise of Pop Music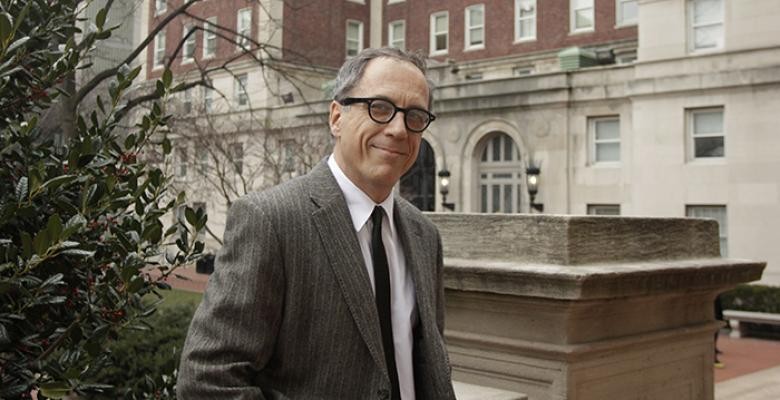 Any discussion of pop music hits has to include Yesterday, the Paul McCartney song that rocketed to the top of the charts when the Beatles released it in 1965. "It could certainly be classified as the most popular song in the history of music in the modern era," said David Hajdu, a professor at the Columbia Graduate School of Journalism, whose latest book, Love for Sale: Pop Music in America, chronicles popular music in the United States.
The song has been recorded more than 3,000 times by artists as famous as Frank Sinatra and as unlikely as Buranovskiye Babushki, a group of eight older, babushka-wearing Russian women who once came in second place on Eurovision Song Contest, a popular singing competition televised throughout Europe.
Despite its ubiquity, Yesterday may not be the most popular song ever. As Hajdu, a music historian who is also the music critic for The Nation, writes in his book, some songs of yesteryear became huge nationwide hits long before a recording industry, or radio, even existed.
"One of the main objectives of my book is to remind people that pop music started in the 19th century with the rise of mass culture in this country," he said. Sheet music and piano player rolls brought songs into millions of homes, and annual sales of pianos soared to 374,000 in 1904 from 32,000 in 1890. "There were fewer hits, but bigger hits than we could ever conceive today," Hajdu said.
Related
Listen to the 11 songs David Hajdu says gave rise to modern pop music.
Among the first was After the Ball, an 1891 waltz about lost love, which sold five million copies of sheet music. Tin Pan Alley, the nickname for the era's popular music industry, was in its heyday then, as composers and music publishers in New York City churned out popular music that could be easily sung and played on the piano.
Another was I Don't Care, written in 1922 and sung by one of the biggest stars in vaudeville, Eva Tanguay. It was one of a handful of songs she is known to have recorded, and Hajdu calls it "a proto-feminist statement." Although she is barely known now, Tanguay's stardom was akin to today's megastar wattage, as was her behavior. She feuded publicly with other singers, her dance moves were considered vulgar and she wore the skimpiest of costumes.
In Love for Sale, Hajdu also stresses the inextricable link between technology and music. Sheet music was written simply enough for people with a modicum of musical training to play or sing, and it had to be catchy. In the 1920s, the microphone "changed music completely," he said, making popular music intimate and personal. And it was the transistor radio of the 1960s, not the Sony Walkman 20 years later, that allowed people to experience music privately.
"Popular music is a very personal phenomenon," he said. "It takes on an idiosyncratic meaning to each listener."
This is the fifth book by Hajdu, who joined the Journalism School in 2004, in the midst of a career as an editor and writer that has included nine years at Entertainment Weekly and nearly 12 years as a music critic for The New Republic, as well as writing for The New Yorker, The Atlantic Monthly, and The New York Times Magazine, among other publications. A recipient of many awards for his writing, Hajdu has recently added lyricist to his list of credits. His songs have been performed and recorded by jazz singers such as Jo Lawry and Hilary Kole.
Hajdu's first journalism job was as a junior editor for consumer electronics trade publications. "It was the job I could get," he said. "But the first writing I did for mainstream magazines came from my experience covering electronics, when I wrote about the relationship between technology and music."
He still writes about that connection, especially as the music industry becomes more data driven and albums are assembled using digital and information-processing techniques. He points to songs that are built from samples and the accretion of digital information, which are then tested against algorithms and other data that show what has worked for past hits. "Today," Hajdu said, "music does what the technology allows it to do."