Journalism School Graduate Brings Comedy to Politics and the News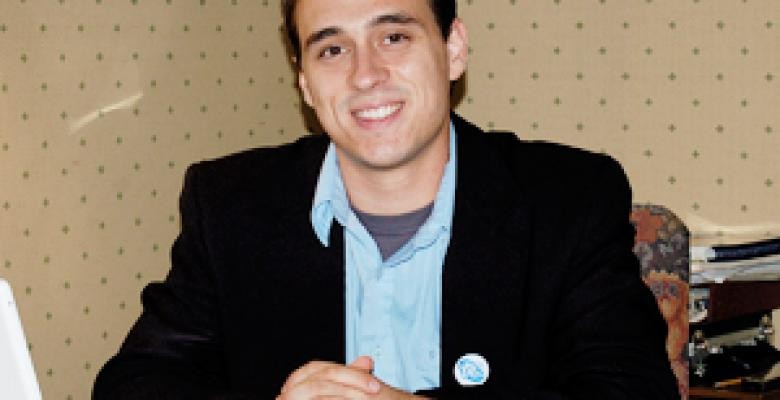 In Travis Irvine's application to Columbia's Graduate School of Journalism, he wrote that he wanted his career to include travel, filmmaking, comedy, politics and, oh yes, journalism.
An eclectic list to be sure, but the 28-year-old polymath has managed to do all of the above. In 2007, he ran for mayor of his hometown of Bexley, Ohio, and three years later ran for Congress in Ohio's 12th District. He's produced movies, campaign commercials and Internet videos, and has performed stand-up comedy around the country. As he picks up his M.S. degree in journalism on May 16 and ticks off the last item on his list, Irvine says, "I've learned that I can find a way to do something that combines all five."
Irvine, who is already at work on a book, takes a broad view of journalism. Growing up, he practiced impressions and wrote humor pieces. He wasn't merely the class clown, graduating from high school in 2002 with a 4.0 average. He enrolled in Ohio University's Scripps College of Communication, hoping to become a weatherman. "Instead, I kept falling asleep in meteorology class," he says.
During college he landed internships at NBC's London bureau and the "Today" show, and then joined a comedy troupe. While the group was on a surfing trip, raccoons attacked their camp, eating all the food. That incident inspired Irvine's first film, "Coons! Night of the Bandits of the Night" with the tagline, "They come for your food... they stay for your FLESH!" It was acquired by Troma Entertainment in 2006, the same year he graduated with a degree in communications.
Irvine then moved to the Bahamas to teach at a nonprofit educational organization for American students, spending his free time writing. Eventually he moved back home with his parents and found an unexpected opportunity in politics. His neighbors were angry about a local rezoning issue, and the current mayor was retiring.
The 23-year-old entered the 2007 mayoral race "on the basis of young leadership and standing up for my neighbors," he says. He received 4.6 percent of the vote, but his campaign commercial was later featured on the "Tonight" show with Jay Leno, and his documentary "American Mayor" was screened in the Short Film Corner at the Cannes Film Festival.
In 2010 Irvine ran for Congress; at 26, he was one of the youngest candidates in the country. In the week leading up to the election, he ran two TV ads. In one, people gesture as though they are flipping off the camera, but they're actually holding up their ring finger and "giving the two-party system the third finger." That commercial ran on PBS's "NewsHour" in a segment of ads that host Ray Suarez said used humor to "catch your eye and catch your ear."
At Columbia, the whirlwind of creative energy continued. Irvine organized three comedy events to raise money for the University's chapter of the Society of Professional Journalists. A video he made last fall titled "Occupy What Street?" has over 37,000 hits on YouTube and was featured on The Huffington Post.
He was also a standout student, completing the equivalent of two master's projects—a 15-minute video and a 6,000-word piece about medical marijuana. Now he's at work on a book about third-party politics called "They'll Never Win!" after the phrase he heard most often in his own campaigns.
As he looks back, it's clear that all his varied experiences have fed into his journalism. "If I hadn't failed at certain things," he says, "I wouldn't be where I am now."