A Meditation On Illness
Kate Zambreno's new book, To Write As If Already Dead, examines the age of AIDS and its aftermath.
June 10, 2021
To Write As If Already Dead circles around School of the Arts Adjunct Professor Kate Zambreno's failed attempts to write a study of Hervé Guibert's To the Friend Who Did Not Save My Life. In this diaristic work, the first in a cycle written in the years preceding his death, Guibert documents with speed and intensity his diagnosis and disintegration from AIDS, and elegizes a character based on Michel Foucault.

The first half of Zambreno's book is a novella in the mode of a detective story, searching after the mysterious disappearance of an online friendship. The second half, a notebook documenting the doubled history of two bodies amid another historical plague, continues the meditation on friendship, solitude, time, mortality, art, and literature.

Zambreno discusses her new book with Columbia News, as well as the books that are currently occupying her, what she is doing this summer, and how she would finesse a dinner party.
Q. What gave you the idea for this book?
A. In October of 2016, I was approached by Jenny Davidson, a professor in the Department of English and Comparative Literature, to write a study for the Rereadings series at Columbia University Press about any contemporary novel—it was pitched to me that it could be a hybrid study, like Out of Sheer Rage, Geoff Dyer's book on D.H. Lawrence.
For some time—really, about a decade—I had been harboring a desire to write about Hervé Guibert's To the Friend Who Did Not Save My Life. The concept was to write through the Guibert novel of friendship and betrayal and community, while thinking of the aftermath of a friendship with a writer I had met in the blogspace. Luckily, Jenny and CUP liked the idea, and I was able to write as wild and as weird of a book as I wanted.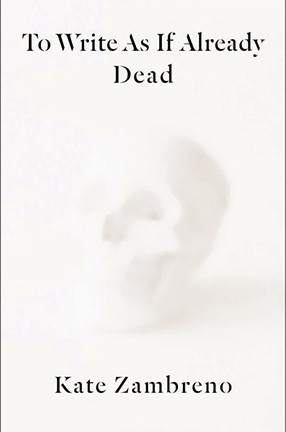 Q. The pandemic makes your book especially timely, as it's partly a meditation on another illness, AIDS. Is that just a coincidence?
A. Yes, it is a coincidence, but I believe entirely in coincidences, especially as they happen in the process of writing. So the work becomes a meditation on pandemics, morality, the body, all stuff that was already in the Guibert novel and felt so eerily magnified in the process of living through and writing the book. 
Q. What have you read lately that you would recommend, and what are you planning to read next?
A. I recently wrote the introduction to the Portuguese writer Maria Judite de Carvalho's 1966 novel, Empty Wardrobes, translated by the great Margaret Jull Costa and published by Two Lines Press. I've also been loving the novels of the French writer, Marie NDiaye, translated by Jordan Stump, also published by Two Lines Press.
I've been reading the diaries of the artist, Eva Hesse, for a novel that I'm working on that, in part, thinks through her sculptural practice. Next up is School of the Arts Professor Susan Bernofsky's biography of Robert Walser, for an event that I'm doing with her via the Center for the Art of Translation, in June. I also am looking forward to reading Thalia Field's new collection, Personhood. 
Q. What are your summer plans?
A. I have an eight-month-old baby and a four-year-old, so my summer will revolve around them, and going to Prospect Park with them hopefully almost every day. I also am intending to eke out some of the collection I'm working on, The Missing Person. 
Q. You're hosting a dinner party. Which three scholars or academics, dead or alive, would you invite, and why?
A. I would definitely invite friends who are thinkers and writers I love that I long to see—Bhanu Kapil, Sofia Samatar, Danielle Dutton, T. Fleischmann are four that come to mind, but there are many more! And I probably wouldn't host a dinner party—I would try to attend a dinner party someone else hosted if I had childcare! 
---
Check out Books to learn more about publications by Columbia professors.