Law School Honors Civil Rights Pioneer Jack Greenberg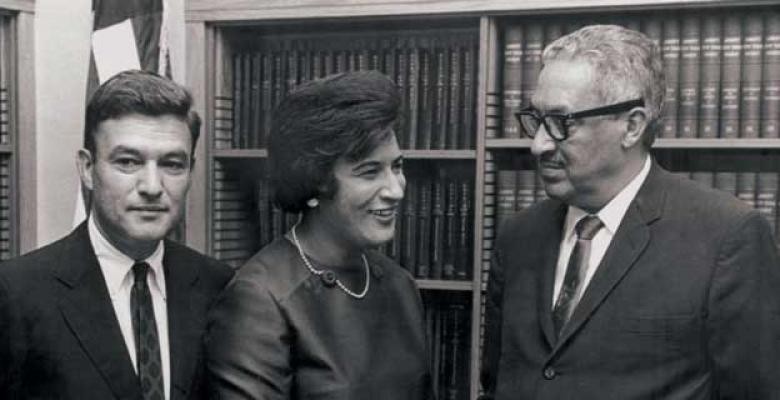 Over 65 years as a crusading civil rights lawyer, Law School Professor Jack Greenberg (CC'45, LAW'48, CC Dean'89-93), argued the landmark case Brown v. Board of Education before the U.S. Supreme Court and won Martin Luther King Jr. the right to march from Selma to Montgomery, Ala. He also has made major contributions to equal employment, fair housing, voter registration in the United States and international advocacy on behalf of the Roma people.
But to generations of Columbia Law students, alumni and faculty, Greenberg is almost as legendary in the classroom as he was in the courtroom. His legacy was the focus of a symposium on Jan. 24 that Greenberg, the Alphonse Fletcher Jr. Professor of Law, attended with his wife, Deborah, and other members of his family.
A Navy veteran who fought at Iwo Jima and Okinawa, Greenberg got his start in the law in 1949, after being asked by future Supreme Court Justice Thurgood Marshall to join the NAACP Legal Defense and Educational Fund. He was one of six Columbia Law School alumni to make history working on the Brown case, along with Columbia law professor Charles Black. The alumni include Jack Weinstein (LAW'48), now a federal judge, and the late Constance Baker Motley (LAW'46), who wrote the original complaints in the case, as well as the late Robert Carter (LAW'41), lead counsel on the case.
Greenberg later succeeded Marshall as director-counsel of the LDF, and went on to co-found the Mexican-American Legal Defense and Educational Fund. He was also an original board member of Human Rights Watch.
In 1984 Greenberg became a full-time professor and vice dean at the Law School, where he created the Human Rights Internship Program, which has placed more than 1,500 Law School students in human rights organizations worldwide.
Greenberg, who also had a three-year-stint as dean of Columbia College, has won many awards for his work, including the Presidential Citizens Medal in 2001. In 2009 the Law School presented Greenberg with the Lawrence A. Wien Prize for Social Responsibility.
The symposium was organized by Columbia Law School Professors Ted Shaw (LAW'79), who is also a former LDF director-counsel, and Kendall Thomas. Panelists included current leaders of civil rights organizations as well as William L. Robinson (LAW'66), founding dean of the District of Columbia School of Law and the University of the District of Columbia School of Law, who said Greenberg was the perfect mentor: encouraging his staff to perform at a high level, helping them develop leadership skills, and wishing them well when they left. But they never really left, he noted, recalling how he received an assignment from Greenberg years after leaving LDF.
"I was halfway through before I realized Jack didn't pay me anymore," Robinson told the packed lecture hall. "The thought of saying no never crossed my mind. Jack thought it was something I should do; ergo it was."
During a lunch in Greenberg's honor, Law School Dean David M. Schizer, the Lucy G. Moses Professor of Law and the Harvey R. Miller Professor of Law and Economics, recalled discussing Greenberg's legacy recently with Attorney General Eric H. Holder Jr., (LAW'76).
"Holder said, 'If not for Jack Greenberg, I would not be here today—there would not be an African-American attorney general,'" Schizer said. The afternoon program explored Greenberg's contributions to advocacy for the Roma, sometimes called Gypsies. Greenberg wrote in a 2010 Columbia Law Review article that their treatment is "one of the gravest humanitarian and economic crises of our time."
The panelists for the afternoon session included James Goldston, founding executive director of the Open Society Justice Initiative, and Peter Rosenblum (LL.M.'92), a professor of international law and human rights at Bard College and former head of the Law School's Human Rights Clinic.
Rosenblum spoke about the intellectual excitement of developing human rights advocacy at the Law School in the early 1990s.
"I call it 'The House that Jack Built,'" Rosenblum said. "He knew that we needed to send our students out and bring in people from outside the institution. We had so much to learn, and only then could we start thinking about teaching."