How Are You? Literally.
Remote working has changed the transactional nature of work relationships, and brought transparency and closeness otherwise infeasible.
August 20, 2020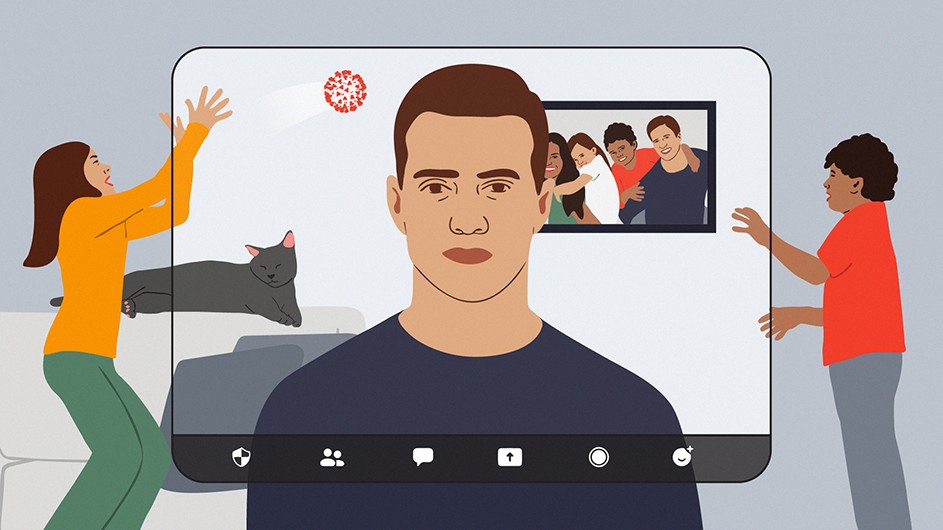 This is part of a Columbia News series, titled Lessons Learned, which invites the Columbia community to reflect on the pandemic and the insights they have gained from their COVID-19 experience. These essays speak to the innovation, creativity and resourcefulness we have witnessed during this period of unprecedented challenge, as well as some of the silver linings in the actions we have had to take by necessity.
---
Thanks to Covid-19, we have taken back How are you? Working remotely and social distancing have led to emotional closeness, an intimacy rarely experienced in the office. A silver lining in this pandemic is that now, more than ever before, we're concerned about each other's welfare and basic needs in a primal way. Let's all stay here forever, this place where the exchange of greetings—"How are you?" "Good, thanks. You?"—is now a genuine inquiry about health, mood, well-being, and not a faux question that feels at times impersonal, borderline insincere social interaction.
This is not to say that we never spent time talking Yankees, Giants, horse racing, Queen Victoria, monarchies in general, Ruth Ware, literary fiction, memoir, elder care, summer camp, Idris Elba, jewelry-making, dehydrated strawberries, chocolate, leftovers, hockey, tennis, Paris, hair dye, the economics of housing, spiked seltzer, potato chips or box pools. Or that you weren't part of an informal book exchange (that shared copy of My Sister, the Serial Killer by Oyinkan Braithwaite). Or that your boss never bought you bananas from Fairway. Or that you never cried/saw-someone-cry/wanted-to-cry/comforted-a-crier. But we all know how that often ends: a run to the restroom, stairwell, elevator. Not a full expression of grief, anger, anxiety, frustration, depression. 
Plus, these conversations nearly always happened on the way to something else, a byproduct of a need—caffeine, deadline, stretch, lunch, commute.
Now, seeing into each other's homes has changed the transactional nature of work relationships and offered a transparency and closeness otherwise infeasible. Sure, some have staged the likes of Robert Caro on their shelves, and we don't always know what's off-stage. But mostly, we're more honest and vulnerable than we ever have been. And we're learning to expect it from others. We do not want to be in the dark, so we're willing to illuminate previously private parts of our lives in attempted inspiration. Solicitation of information.  
What's amazing is how virtual work conversations have enabled the complete range of pitch and volume changes in conversations that used to happen in violent whispers, or not at all. Now I send, make and look forward to inappropriately long texts, lengthy phone calls, never-ending detail.
We share our embarrassing moments (and wall hangings), our confusion, fears and mistakes, arguments with spouses, children, parents, roommates. Our hopes. Our losses. We're open to and for each other.   
This is true connectivity. Trust. Support. Because of it, we're feeling and expressing gratitude more regularly. We're listening more.
How are you? is no longer a throwaway prelude to the point of an email. These days it can be the point (pretend with me that every email has a point). If you have not done so already, ask people outside your usual clique how they are. Don't worry what time or day it is because there is no time, and that's good in this context.
Your colleagues do not need to be your best friends. But we are a community. Our problems are shared. This fundamental shift in How are you? can only serve us well. Look forward to the response. It's pertinent. 
---
Sara Pepitone is the assistant director of strategic benefits communications in Human Resources.