Lin-Manuel Miranda Receives Columbia Libraries' Kennedy Prize, Views Hamilton Archive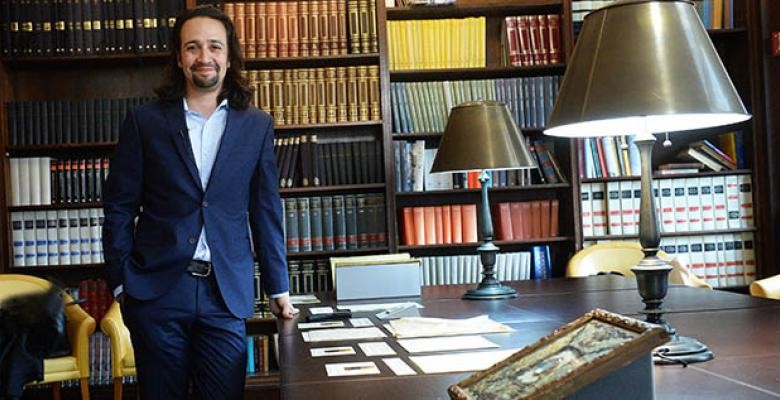 Lin-Manuel Miranda, the composer, lyricist, writer and star of the hit Broadway musical Hamilton, came to Columbia April 7 to receive the Edward M. Kennedy Prize for Drama Inspired by American History. Miranda also viewed an extraordinary collection of Alexander Hamilton artifacts from Columbia's Rare Book and Manuscript Library, including letters and personal items he shared with his wife, Eliza, some of which figure prominently in the award-winning show.
Established in 2013 by Ambassador Jean Kennedy Smith, the late senator's sister, and administered by Columbia Libraries, the prize is awarded annually to a new play or musical that explores United States history, in this case, the life of a founding father who attended King's College, Columbia's precursor. This is the first time the prize has gone to a musical.
Related: Ask Alma's Owl: Alexander Hamilton – From King's College to Broadway, Columbia News, Aug 28, 2015
In a moving tribute, Edward M. Kennedy Jr., choked up as he said he missed his father, saying, \"I know how much he would have loved this year's winner." The elder Kennedy kept a copy of the Federalist Papers, two-thirds of which Hamilton wrote, by his bedside. Each summer the late senator took his children and many nieces and nephews on bus trips to historic places around the country. Speaking directly to Miranda, Kennedy said, "you made history come alive…what my father tried to teach me, you have done for all of us."
"I am so overcome by this incredible honor," said a visibly emotional Miranda. "I have been told that Act II of Hamilton is unfairly sad. I was a mess even before I walked in here [after] getting to see those primary documents."
The archival items included drafts of Hamilton's iconic Federalist Papers, his wife's wedding ring, their matching wedding handkerchiefs and the 1774 registry showing his enrollment in King's College. He didn't graduate, leaving two years later to become George Washington's aide-de-camp. Most movingly for Miranda, he also was able to read the original letter Hamilton penned to Eliza the morning of his fatal duel with Aaron Burr. It ends with "adieu best of wives and best of women," a line Miranda sings at the end of the show.
Image Carousel with 9 slides
A carousel is a rotating set of images. Use the previous and next buttons to change the displayed slide
Slide 1: Miranda holds the Edward M. Kennedy Prize for Drama Inspired by American History awarded for his broadway play, Hamilton. Photo by Eileen Barroso

Slide 2: Wedding handkerchiefs of Alexander and Elizabeth Hamilton from 1780.

Slide 3: Double-band wedding ring of Elizabeth Schuyler Hamilton inscribed "Alexander & Elizabeth".

Slide 4: Charles Willson Peale (1741-1827). Portrait of Alexander Hamilton. Watercolor on ivory, (4.5 x 3.5 cm.), ca. 1780. Office of Art Properties

Slide 5: The 1774 admissions list into King's College includes Alexander Hamilton.

Slide 6: Columbia librarian Jennifer B. Lee guides Lin-Manuel Miranda through the Rare Book & Manuscript Library's Hamilton archive.

Slide 7: Miranda tweets after seeing artifacts of Hamilton's wife, Eliza.

Slide 8: Miranda emotionally applauds after a performance by the Young People's Chorus, later stating he was touched by the Kennedy Prize ceremony. Photo by Eileen Barroso

Slide 9: The Young People's Chorus of New York City sang selections from West Side Story, which Miranda says is one of his favorite musicals. Photo by Eileen Barroso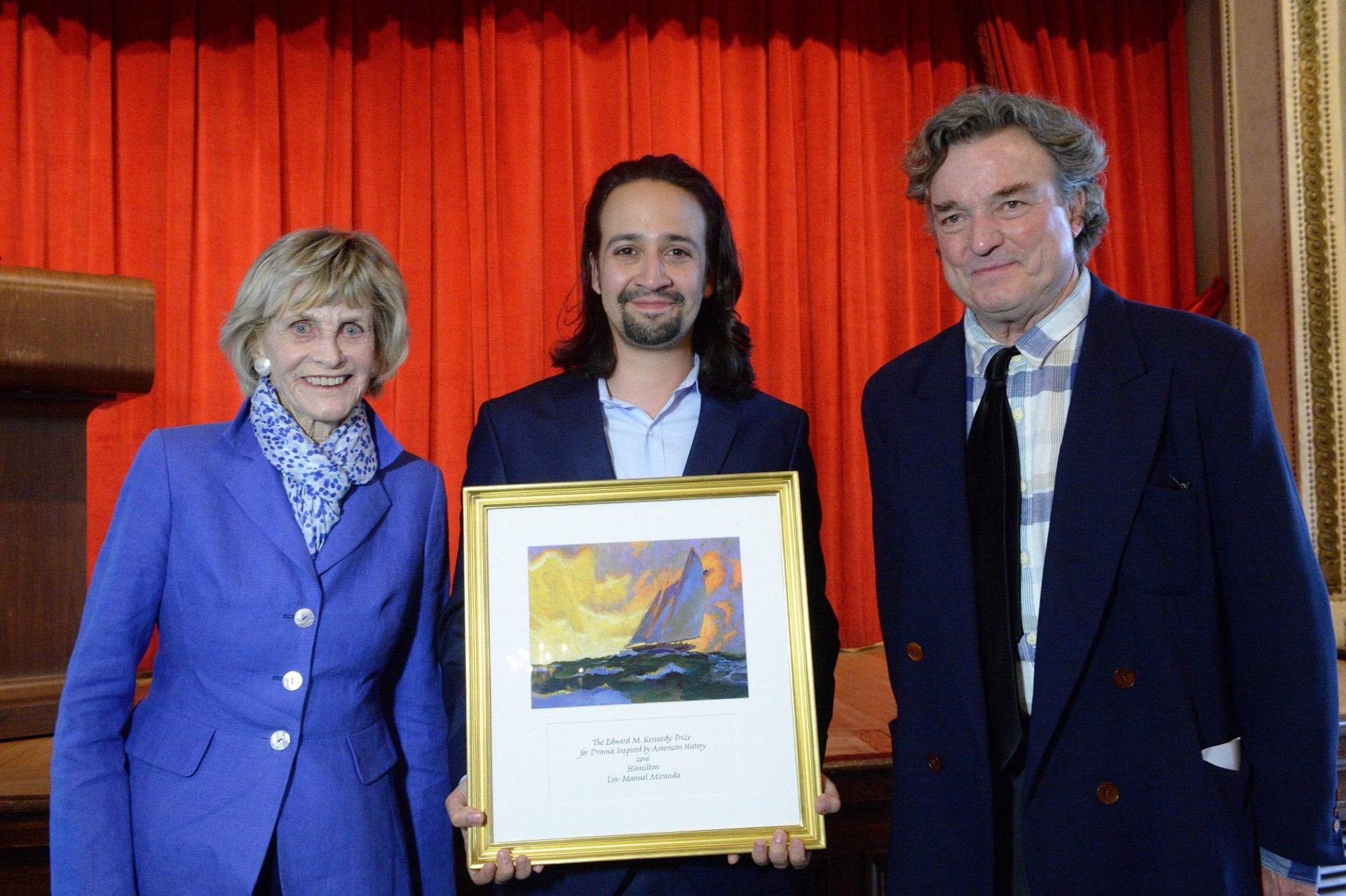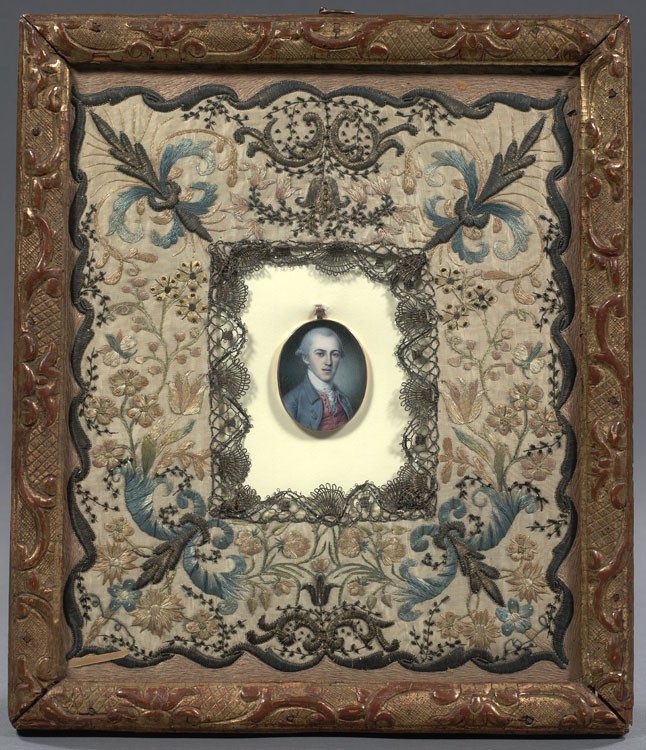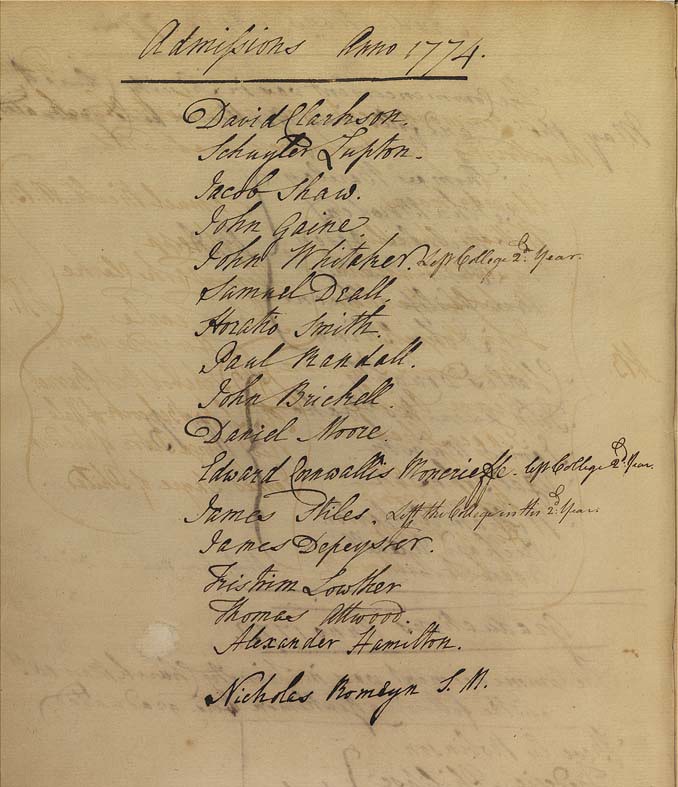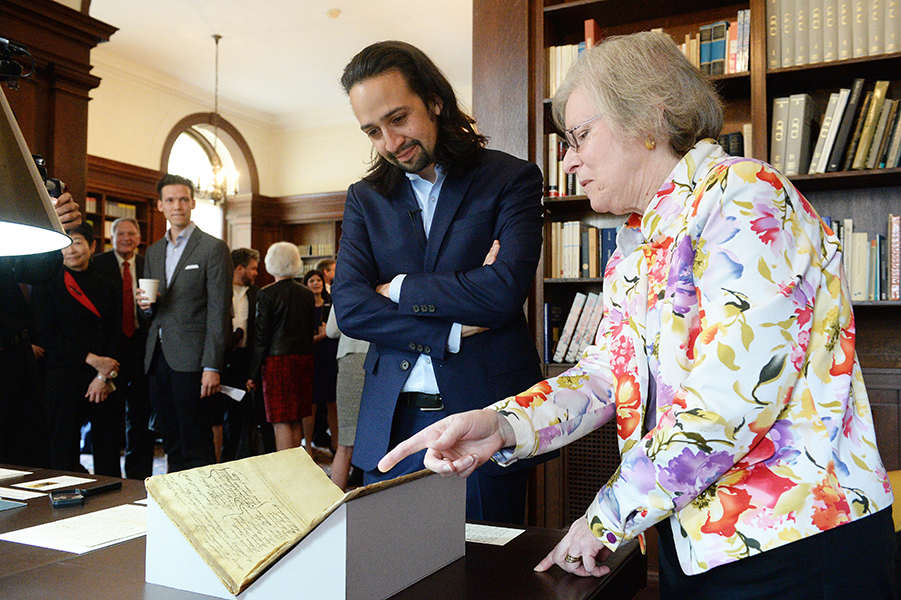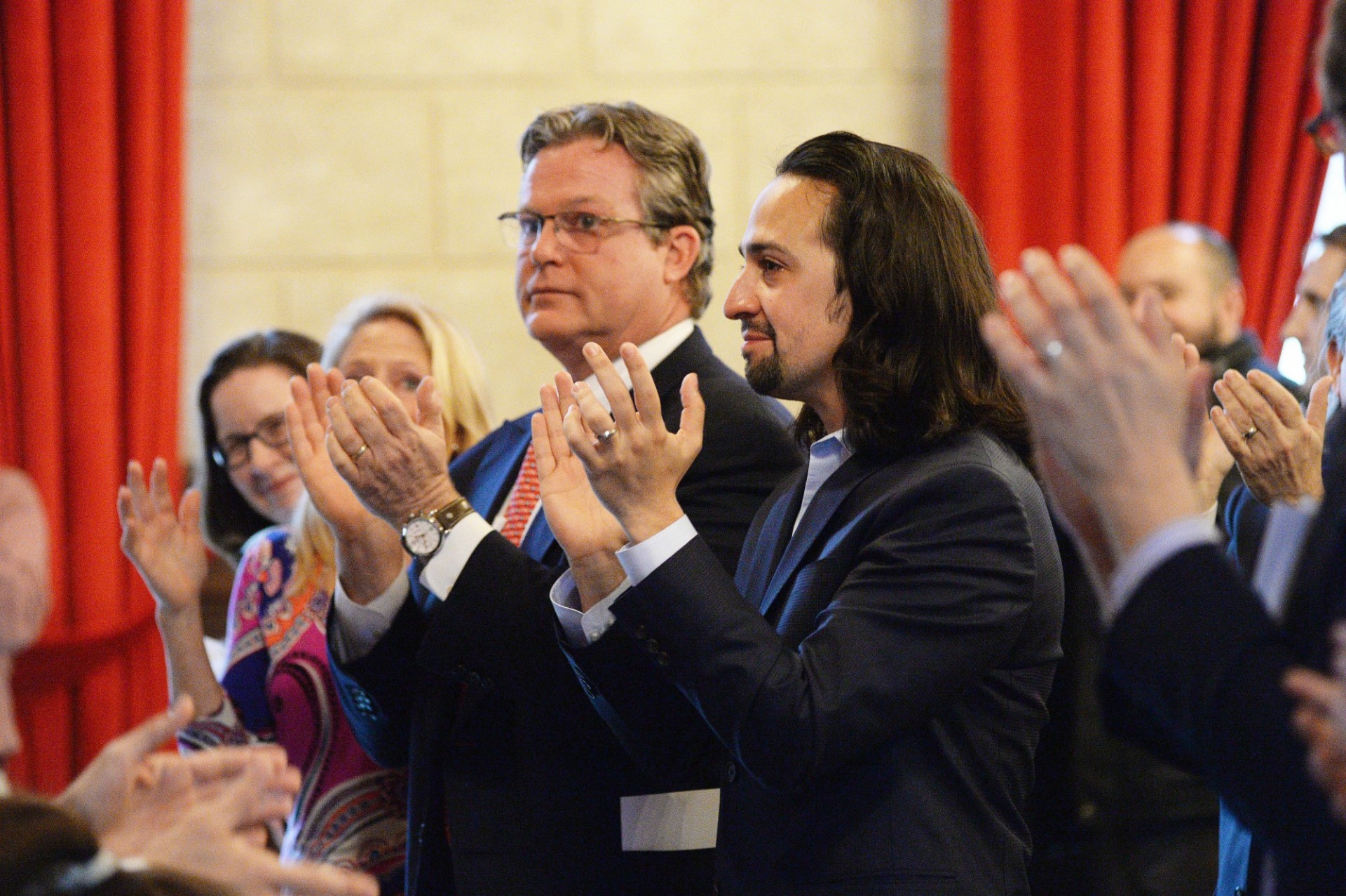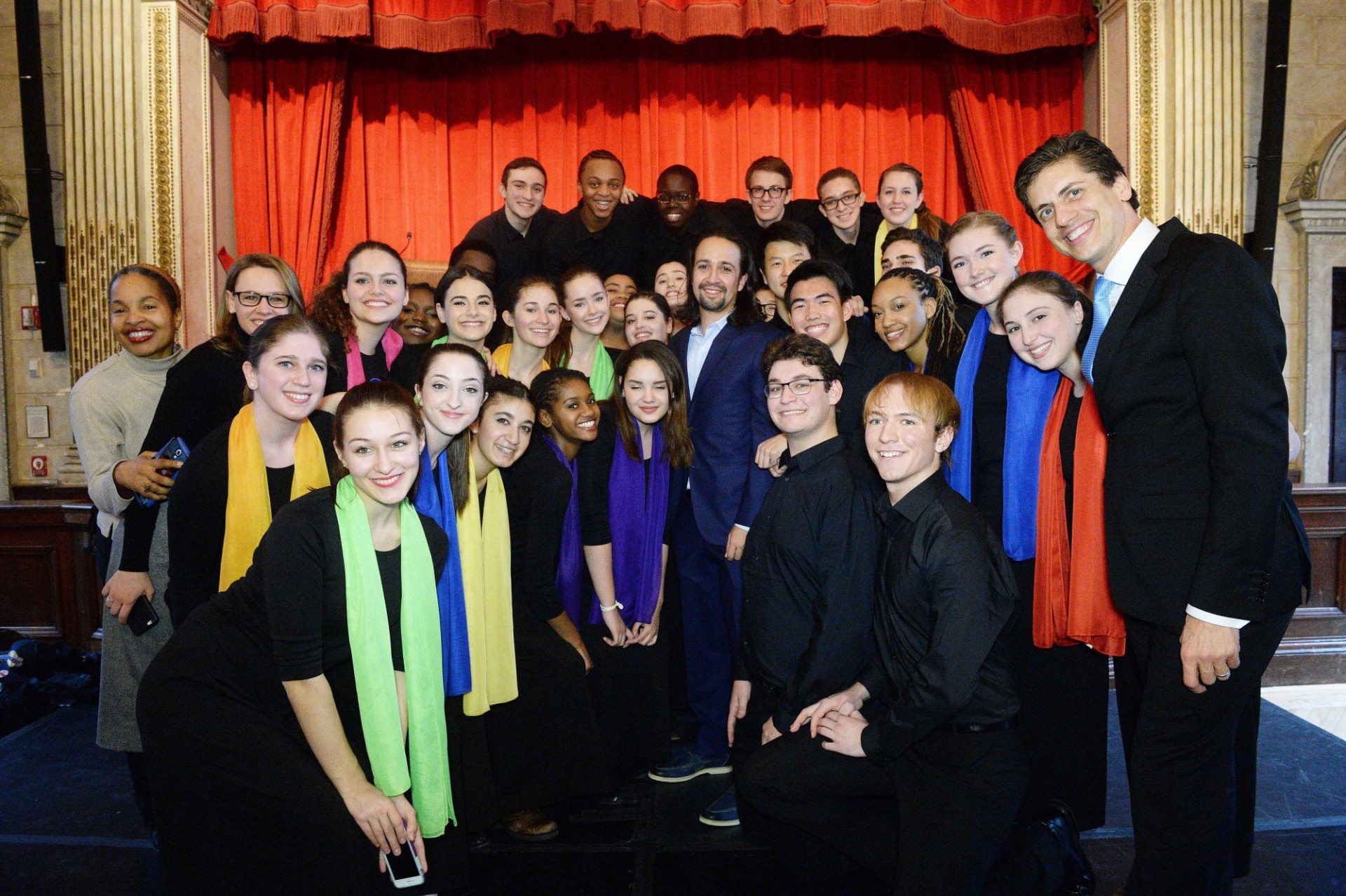 Previous
Next
During the awards ceremony, the Young People's Chorus of New York City sang selections from West Side Story, "the musical that's probably the reason I'm standing here," said Miranda. "It's like you played Citizen Kane and brought out 50 sleds."
His classmate from Hunter High School, MSNBC host Chris Hayes, introduced Miranda, saying he realized his friend was a genius when he was 13 and Miranda wrote a 20-minute musical, which Hayes directed, called Nightmare in D-Major. He also recalled seeing Hamilton at an early workshop, which he said was so good that he had to sit down on a downtown stoop and ponder, "what the hell am I doing with my life?"
Miranda was also praised by Robert McCaughey, an American history professor at Columbia and Barnard and the author of Stand, Columbia, a biography of the University, who noted that Hamilton was an instance where "the artist has informed and taught the historians." He cited how concisely Miranda collapsed years of history within a single song, how he portrayed Hamilton as the founding father "for the rest of us, up from the islands, or from other shores," and added, "thank you for delivering to us a founding father for our day."
Hayes perhaps best captured the tone of the celebration. "The fundamental principle of democracy is that every single person is capable of the greatness of self-determination… and so if America's civic religion is democracy, Hamilton has become its most ecstatic mass."