Literary Lion: 5 Questions with Novelist Colm Tóibín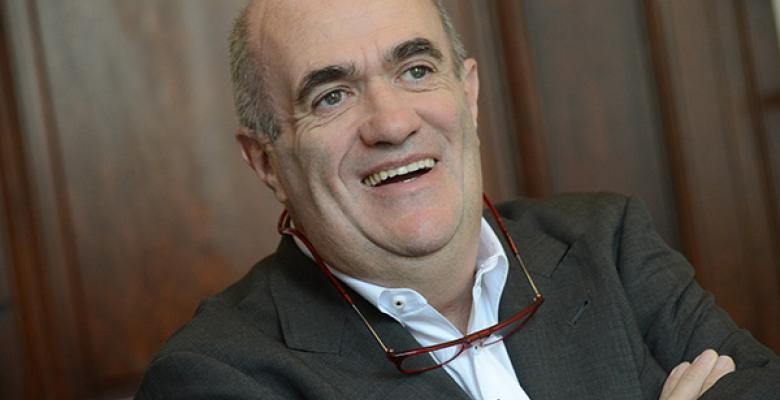 Colm Tóibín, the Irene and Sidney B. Silverman Professor of the Humanities, is an award-winning author of such critically acclaimed bestsellers as The Testament of Mary, Brooklyn and New Ways to Kill Your Mother: Writers & Their Families. His eighth novel, Nora Webster, was published last year. His next book, On Elizabeth Bishop, was recently published. His work has been translated into more than 30 languages.
Q. How does the intersection of teaching and writing affect you?
Teaching sharpens me. Working with students who are dedicated makes me want to write better books and work harder. I come away from each class caring about the books we have been reading, knowing more about the machinery of fiction, and this has to make a difference to the work I do as a writer.
Q. How important to the craft of writing is reading?
Writing is a form of reading. You almost read a sentence in your mind before you write it, and certainly afterwards. Reading is an essential way for training your ear as a writer. It is like listening to music, except even more essential. Writing is controlling rhythm and creating illusion by verbal images. There are days when you have an odd clarity of vision, when you can do this more easily than other days. It can, at the beginning, come naturally, but you can't write many books that way. You must train your ear, your concept of tone. Reading is one of the best ways to do this.
Q. Do you focus on one particular kind of writing or can you easily switch genres?
I write essays now, usually about writers and writing, or art and artists, or politics and history. I have written three travel books. I have also written a screenplay and a few works for the theatre. I work every day. Sometimes, it is to meet a deadline, to deliver something I promised on time. Other days, I add to a story, or a novel, or a text for the theatre. There is a difference. With fiction, I have been planning a novel or a story for years, writing sections and drafts and new openings, exploring. So when I write, it is out of years of imagining and planning.
Q. How does living and working in New York influence your writing?
New York does not matter at all. I live in my head, or in a room. I don't notice much energy here and I don't see many writers. I like the art galleries and the music here, but nothing interferes with work.
Q. What are you working on now?
I am writing a monologue for an actress based on a Greek text. I am working on a novel set in contemporary Germany. And there is a short story that I must finish. I am also writing a long essay on Henry James. And I am rereading Middlemarch for my class at Columbia and the essays of Oscar Wilde for another class.