Literary Lion: 5 Questions with Screenwriter Katherine Dieckmann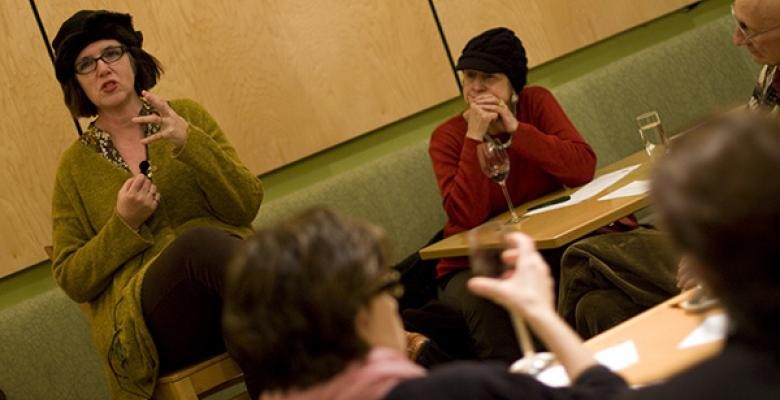 Associate Professor Katherine Dieckmann is a film director and screenwriter known for her lyrical, character-driven work. Her feature films A Good Baby (2000) and Diggers (2006) premiered at the Toronto International Film Festival, while Motherhood (2009) premiered at the Sundance Film Festival. She has directed a number of music videos for such artists as R.E.M., Wilco and Aimee Mann. Dieckmann has a B.A. in English from Vassar College and an M.A. in English from New York University.
Q. How do you straddle the intersection of teaching and writing? 
Teaching has helped make me a stronger writer. After 15 years in the classroom spent working with students on their feature-length screenplays, I've discussed so many aspects of creating and critiquing scripts that I am far better equipped to assess what might work, or not work, in my own writing. I can spot potential troubles in my own pages before I ever arrive at them, then ideally diagnose and change course. There is no way to keep the two spheres separate, which sometimes makes writing one's own work while teaching very challenging. Students' plot lines and characters take up residence in your head, and sometimes it is very tough to evict them in order to protect your own imaginative space.
Q. How important to the craft of writing is reading?
In my experience, the strongest writers are also avid consumers of fiction, in particular. I know of very few successful screenwriters — if any — who are not also serious and impassioned readers.
Q. Do you focus on one particular kind of writing or can you easily switch genres?
I started out as a journalist and critic, and my work in those arenas definitely informs my screenwriting. I can move fairly easily from one mode to the other. I've never written poetry, plays or fiction. I feel like the form of screenwriting is the best possible vessel for my interests, which include still photography, music, short stories and both cinematography and editing. All those things inform my work on my own scripts.
Q. How does living and working in New York influence your writing?
New York is a great place for overheard dialogue and odd incidents. It is a wonderful place to be an observer, and to gather observations. For me, it is not at all the best place to write. I far prefer the quiet concentration possible in a more rural environment, plus I like to take breaks from sitting at a desk to weed or mow the lawn or do some other mechanical chore (but not interact with humanity) as a way of sifting through ideas about whatever I am writing.
Q. What are you working on now?
I am simultaneously trying to close financing for my next feature as writer-director, Strange Weather, starring Holly Hunter; starting a new feature screenplay that I can shoot very cheaply in and around my house upstate; developing a TV series with some former collaborators in Los Angeles; revisiting an old treatment to pitch for Amazon's new features slate; working as a consultant to the Sundance Institute to help them develop online screenwriting labs; and teaching my full-time course load at Columbia.