Living With Future Tech Entrepreneurs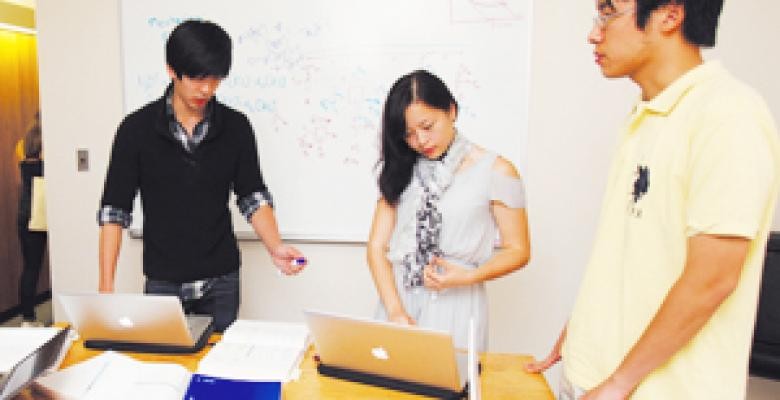 Someday, Columbia's engineering graduates may fondly recall launching their successful startup company while huddled around a whiteboard in their dormitory suite.
For the first time this fall, entrepreneurial-minded engineering students are living together in Res. Inc., an initiative of the Engineering School in which 72 students—45 of them first-years—share more than kitchen space in their suites on the eighth floor of Hartley and Wallach halls.
Throughout the year they will attend special events, such as a monthly speaker series with alumni entrepreneurs, and training workshops focused on skills like proposal writing and project management. And they will go on field trips, including a site visit to Google offices in New York City. Many will compete in a yearlong competition to plan and program software applications, but the best part for many of the residents may well be living with others who share their interests.
Christopher Yan (SEAS'15), a first-year student from Plano, Texas, who thinks he may major in computer science or math, said a sophomore in his suite suggested they get together over one weekend to work on code for their advanced programming class. "I've been exposed to a lot more application development stuff because I've been spending a lot more time with people who are also interested in computer science and are living in the dorm because of this program," he said.
The idea for Res. Inc. came in response to the growing numbers of aspiring innovators at the engineering school, where entrepreneurship is one of the most popular minors. Late last spring, Engineering Dean Feniosky Peña-Mora approached his team with the idea for shared housing, one of a host of programs designed to cultivate creativity.
"Res. Inc. is going to be an active beehive where our students will be breathing in entrepreneurial air and will be able to realize their ideas and transform them into business proposals that will serve both the economy and society," said Peña-Mora.
The Res. Inc. dorm floors were previously dedicated to engineering students but without the entrepreneurial focus. Generally, students have been the driving force behind special interest housing at Columbia; by contrast, this initiative came from the administration, said Promiti Dutta, assistant dean of innovation, corporate engagement and entrepreneurship at the engineering school, who describes the new program as the first residential business incubator in the Ivy League.
A handful of other universities have instituted this kind of "dormcubator," but none on the scale that Columbia has.
At Columbia, the transformation of dorm space in the Living-Learning Center is still underway, with whiteboards in the suites slated to be replaced soon with interactive touch-screen boards. Administrators have been surprised by the outpouring of student interest, with many dozens more students applying than Res. Inc. could accommodate.
Sigal Shemesh (SEAS'15) of Atlanta, Ga., is already a fan. "Last night I was working on my physics homework, went to one of my friends who is in the higher level of physics, and he was able to help me," she said. And when another Res. Inc. student was struggling with chemistry, Shemesh lent her a hand.
James Thompson (SEAS'15), of Brooklyn, has designed an app for the Res. Inc. competition. "I don't expect it to make much money or anything, but I just expect that I'll get more programming experience—real life programming experience," he said. "As for the year-long app competition in Res. Inc. I thought that would be really cool. I don't really have any team experience and I think that's important for real life."
by