Lynn Nottage and Ricky Ian Gordon Turn 'Intimate Apparel' Into an Opera
The playwriting professor and the composer discuss their collaboration at an online School of the Arts event.
March 22, 2022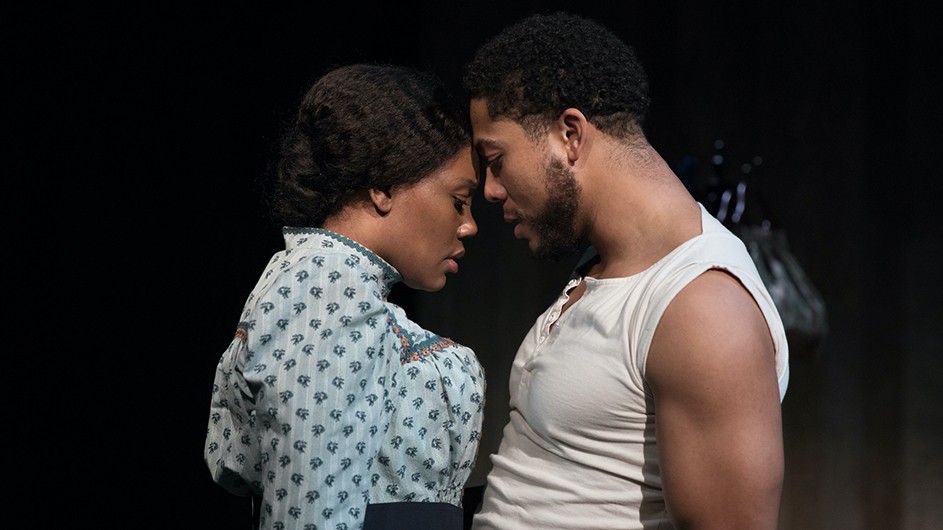 On March 4, 2022, Lynn Nottage, two-time Pulitzer Prize-winner and an associate professor in the Theatre Program at the School of the Arts, joined composer Ricky Ian Gordon for a lively and illuminating online discussion of their experiences transforming Nottage's 2003 play, Intimate Apparel, into an opera. Moderated by SoA Theatre Professor Christian Parker, the conversation ranged from musical influences to the process of collaboration, and shaping "an opera that can go anywhere."
The Story of Esther
Intimate Apparel began with a family photograph, said Nottage. Preserved in the pages of a magazine, where her grandmother often put keepsakes, Nottage came across an image of her great-grandmother, which had been used as a passport photo.
"I knew very little about my great-grandmother other than the fact that she was a seamstress," said Nottage, "and she made intimate apparel. She had come to New York at the turn of the last century by herself at 18 years old, and soon after that she had begun corresponding with a man in Panama, who she had connected with through her church."
That man would eventually cross a continent to become Nottage's great-grandfather. "I was left with all of these questions, and no one to answer them. So the only thing that I could do was go to the public library and research," said Nottage.
She did research for a year, discovering that, apart from a few periodicals, "Black women who came to New York at the turn of the 20th century were invisible. It was difficult to find their stories."
Nottage wove Intimate Apparel from her research, family legacy, and personal experiences. It is the story of Esther, a single Black woman who makes her independent living sewing ladies' undergarments and corsets in New York in 1905. She is a gifted seamstress, who does not lack for friends—there is the beguiling Mayme, a Black singer, piano player, and sex worker, and the gentle Mr. Marks, an Orthodox Jewish immigrant from whom she buys her fabrics.
Yet Esther longs for love and companionship. When George, a mysterious man from Panama, begins writing her letters, she enters into their correspondence with great hopes for the future. But when George arrives in New York to marry her, their union does not unfold as either of them expects.
A Trash Can of American Music
Intimate Apparel became a major popular success; for two years it was the most produced play in the U.S. "I never dreamed it would find another form," said Nottage, "until Ricky Ian Gordon, this wonderful composer, approached me, and said, do you want to write an opera?"
"I am basically a trash can of American music," Gordon quipped, as he talked about discovering Intimate Apparel. "It plays to those strengths—the Lower East Side of New York, and growing out of ragtime, it was a perfect piece for me."
Nottage and Gordon played clips from the show, beginning with the Opium Rag, sung by the radiant, charismatic Mayme from the floor of the saloon where she works. The music in the piece is hypnotic and sensuous, combined with operatic vocal techniques. Similar ragtime and early jazz inflections appear elsewhere in the opera—such as a choral street interlude, where vendors, customers, and workers bustle to and fro. The result is an opera that feels deeply contemporary, and profoundly American.
"We were interested in the fact that Intimate Apparel takes place at the birth of modern America," Nottage said, "when you had a confluence of all these cultures that were coming into dialogue for the first time. It had to feel like a collision of cultures—African, Americana, and Jewish immigrant."
A Transformative Piece to Write
Nottage wrote the opera's libretto, a process that Gordon described as "boiling the play down to a stock. They were lovely words to set to music—a magnificent story, incredible characters, a transformative piece to write."
Intimate Apparel is orchestrated for two pianos rather than a full orchestra, to better suit the intimate size of the Mitzi E. Newhouse Theater at Lincoln Center, where the opera was staged. The two pianos are visible, each on a mezzanine to stage left and right. "It adds to the feeling of this happening in a bar or a saloon," Gordon said. 
"We wanted to make an opera that was accessible," added Nottage. "So often, because of the Metropolitan Opera stage, the grandness of those shows, and how expensive the tickets are, a lot of people don't feel welcomed across the threshold." 
In early conversations, they realized that "we don't want to build an opera like that," said Nottage. "We want an opera that can go anywhere, that's nimble, that can go in a small theater, or in a grand opera house. But everyone will feel invited to see it."
Vivid, Complex, Fully Realized Characters
The characters in Intimate Apparel are vivid, complex, fully realized—not often the case for characters in an opera. A number of factors contributed to this unique psychological depth.
"One of the things I loved about making this opera was that we had the opportunity to delve deeply into the rehearsal process, and develop the characters in ways that are unusual," Nottage said. 
Typically in opera, Gordon explained, "you get basically two dress rehearsals, and then you open for critics all over the world." But Intimate Apparel rehearsed for a month, enabling the team to get inside the characters and the music. The difference is palpable. 
Nottage played a clip of Dear George, a romantic, expressive piece in which George responds to one of Esther's letters, his hopeful voice soaring over gentle swells of choral phrases like waves beneath a ship. When George arrives in New York, however, the romance falls away; it's clear that he is not what he purported to be. 
Nottage noted that Intimate Apparel audiences have perceived George as a kind of villain. Yet George is struggling, and has dealt with one disappointment after another. Revisiting her source material allowed Nottage to elaborate on George's subjectivity, inviting the audience to have greater empathy for him. 
Production paused for two years because of COVID. Performers didn't even move things out of their dressing rooms. "Two years later, when we returned to the theater, everything was intact," Nottage said. "Like Great Expectations!" Gordon said. 
Nottage and Gordon spoke about how the time away gave them the opportunity to refine the opera even further. "I'm so happy that we had all of that space to revisit the piece. I feel like it's stronger as a result," Nottage said.
---
Emily Johnson is an MFA student in the fiction concentration of the writing program at the School of the Arts.