Mary Boyce to Step Down as Provost
Boyce was instrumental in leading the university through a series of transformational achievements and challenges.
April 06, 2023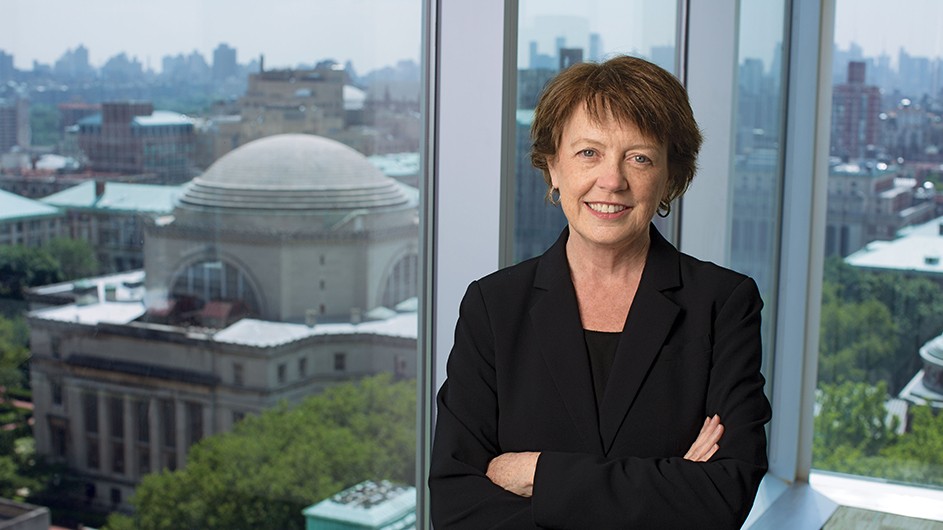 Mary Boyce has announced that she will step down as provost on June 30, 2023. After a decade of leadership at Columbia, she plans to take a scholarly leave and return to research and teaching as a member of the Columbia Engineering faculty.
In an email to the Columbia community announcing Boyce's decision, President Lee C. Bollinger wrote: "We celebrate Mary for her leadership, for her scholarship and teaching, and for her perfect collegiality. She has left an indelible mark on this institution and helped secure its future for generations to come. I am personally grateful to her for her unwavering commitment to academic excellence and to serving Columbia."
Boyce wrote in a letter to deans and senior administrators, "My decision to step away from University administration at Columbia was not an easy one, as I have found the past 10 years to be rewarding in countless ways. The opportunity to lead Columbia Engineering during an era of intellectual and physical transformation, recruiting and supporting an exceptional faculty and student body, including a historic number of female faculty and students, as well as an expansion and renewal of our many research and teaching spaces and programs, gives me enormous pride. The guiding vision of Columbia Engineering for Humanity captures our unique strengths in engineering and the many collaborations across this premier university. When President Bollinger asked me to serve as Provost, I was hesitant to give up a job I loved, but I believed strongly in advancing Columbia's unique capacity to engage in world-class scholarship with real-world impact. It has been an honor to serve our faculty and students in this role."
---
Boyce became provost at a pivotal transition. In September 2021, faculty, students, and staff returned to campus after the worst months of the pandemic. Boyce played a critical role in ensuring that the design and execution of health protocols balanced the desire for learning and connection with the need for safety.
---
Boyce became provost in the summer of 2021, at a moment of pivotal transition for Columbia. The university was coming out of the worst months of the pandemic, having shut down much of its on-campus life from the spring of 2020 to the fall of 2021. In September 2021, all of Columbia's faculty, students, and staff returned to campus, easing back into normal academic life, with a primary focus on in-person teaching and learning.
Boyce played a critical role in that process. She ensured that the design and execution of health protocols balanced the desire for learning and connection with the need for safety. Through her efforts, together with the institution's public health group and other university leaders, Columbia successfully navigated the challenges of mask and vaccine mandates on a large scale. The work paid off in the spring of 2022, when many restrictions were loosened in time for the first in-person Commencement in three years.
As provost, Boyce has prioritized the advancement of interdisciplinary education and research that transcends traditional divides across fields and areas of expertise to advance basic and translational research, and has introduced new cross-school degree programs. She created new mechanisms for sets of faculty from multiple schools to teach new courses together and organized interdisciplinary faculty forums on key societal challenges, from democratic resilience to maternal health. This broader-based approach builds on Columbia's many disciplinary strengths and would prove foundational to the creation of the Columbia Climate School and to the university's focus on emerging fields.  
Commitment to Faculty and Student Excellence
Boyce has also prioritized the recruitment of talented faculty from diverse and underrepresented backgrounds at all stages of their careers. She oversaw the creation of new pathways programs that serve as bridges for students from historically underrepresented groups and support their educational progress toward advancing as members of the next generation of the professoriate.
Her commitment to propelling faculty and student excellence forward has been further exemplified by the introduction of professional workshops, such as those for faculty to guide best practices in mentoring students, postdocs, and researchers and those for international students to ease their transition to Columbia and New York City. She led the creation and development of the university's initiative on anti-bullying, putting in place a series of initial steps to foster a climate where all students can thrive.  She oversaw initiatives to spur innovation in the classroom by leveraging successful faculty teaching experiments during the pandemic that were supported by the Office of the Provost. Her tenure as provost also marked the recruitment and onboarding of record numbers of new deans for schools across the university.
"Mary has been an extraordinarily inspiring academic leader for the university with profound impact," said Claire Shipman, vice chair of Columbia's Board of Trustees. "She has done so much to build a culture of collaboration and inclusion, to strengthen our community across all disciplines, and to make Columbia a leader in recruiting the very best female and diverse engineering students and scholars. Her stand-out achievement has been her ability to understand the multidisciplinary excellence that Columbia represents, to harness it, and tell the story of where that can take us. Our board could not be more grateful for her vision and work."
An Inspiring Academic Leader
In June 2022, within a year of becoming provost, Boyce launched Columbia's Common Data Set Initiative. Initially a response to the questions raised about undergraduate-related data submitted in previous years to US News and World Report, the initiative overhauled the university's data collection and dissemination process and created comprehensive, publicly available resources for undergraduate prospective students and their families.
In January 2022, Boyce brought to a close a decade of complex conversations and negotiations regarding the unionization of graduate school students. That month, the Student Workers of Columbia-UAW ratified its first contract with the university, with over 97% of votes cast in favor. The contract reflects Columbia's commitment to its PhD students during this important period of their academic journey.
About Boyce's Tenure as Provost
Boyce's tenure at Columbia stretches back to 2013, when she joined the university community as dean of the Fu Foundation School of Engineering and Applied Science. In that role, she elevated the status and international profile of the school, developed exciting new programs devoted to interdisciplinary research, entrepreneurship, design, and innovation, and renovated and built out laboratory, classroom, and student spaces.
"Mary has had a monumental impact on Columbia Engineering. Under her leadership, Columbia Engineering grew to be a top engineering school in the country and a key player in all major initiatives across the university. Indeed, she has shown how an engineering mindset can transform a world-class institution like Columbia," said Shih-Fu Chang, Dean of Columbia Engineering and Morris A. and Alma Schapiro Professor.
As dean of Columbia Engineering, Boyce recruited more than 100 new faculty from exceptional senior experts to rising junior stars, including doubling the number of women on the faculty and  the number of female faculty with tenure. Under her leadership, female students began making up more than half of the entering undergraduate classes, and the number of students from underrepresented and first-generation backgrounds rose substantially. Fundraising initiatives helped make this possible, including the Engineering for Humanity campaign, which promoted transdisciplinary work by Columbia scholars and engineers on work that addresses complex global challenges.
"The world-class excellence within the Columbia Engineering community is a direct result of Mary's tireless efforts," said Columbia Trustee Dean Dakolias. "Mary was an extraordinarily successful dean of the school, elevating its profile and expanding the impact of its research beyond the walls of campus. She nurtured a culture of curiosity and creativity that attracted top-tier intellectual giants."  
A scientist and a scholar with an impressive record of accomplishments and accolades, Boyce has spent her career in the academy. She began as an assistant professor on the faculty of MIT, rising through the professorial ranks and heading the Department of Mechanical Engineering from 2008 to 2013.
Her research blends fundamental mechanics with the study of the microstructure and behaviors of physical materials, particularly natural and man-made polymers and soft composites. Doctoral students and postdocs from her group hold faculty positions across the country and around the world. Her modeling work has been included in software programs that engineers use in the design of wide-ranging products, including automobiles, airplanes, biomedical devices, sporting goods, and protective equipment.
For her achievements, Boyce has been honored with the Timoshenko Medal, the highest honor accorded by the Applied Mechanics Division of the American Society of Mechanical Engineers. She has also been elected as a fellow of the American Society of Mechanical Engineers, the American Academy of Arts and Sciences, and the National Academy of Engineering.
"Mary has played a central role in crafting a transformative vision for the sciences and engineering on the Morningside and Manhattanville campuses that will advance those fields forward for many years to come," said Columbia Trustee Jonathan Rosand.
Plans regarding the search for Boyce's replacement as provost will be announced at a later date.