Meet Dawood Mayom
This is part of a Columbia News series introducing members of the University's Scholarship for Displaced Students, a program administered by the Columbia Global Centers. 
April 28, 2021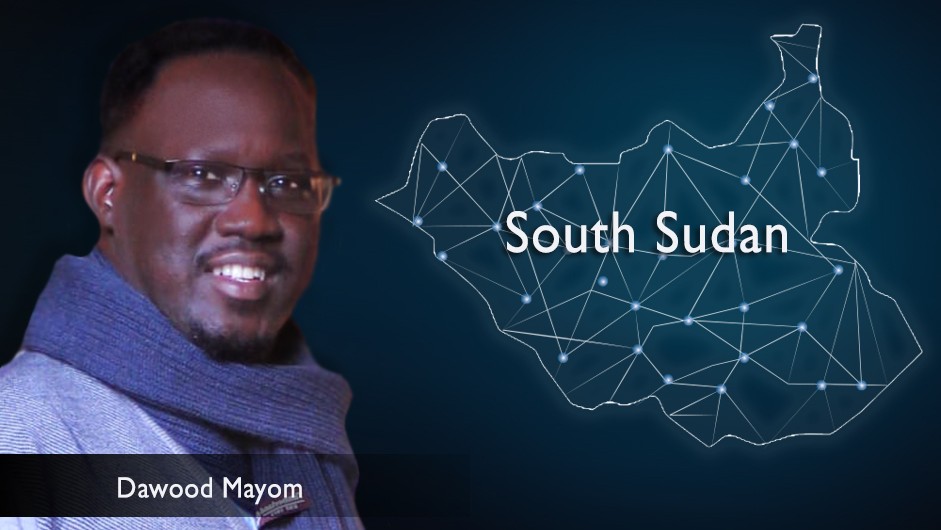 Dawood Mayom is a student at Columbia School of Social Work from Juba, South Sudan. He spoke with us about his studies, his work with refugees, asylum seekers, and migrants, and the organization he founded for youth in South Sudan, Sudan, and Egypt. He also shared with us his hopes for the future and what he wishes more people knew about South Sudan.
What are you studying?
Due to the generous support from the Columbia University Scholarship for Displaced Students (CUSDS), I enrolled in the School of Social Work in Fall 2020. This fantastic opportunity came to my attention after hearing about it from my fellow refugee colleagues while looking for a program to support me. My concentration is Policy Practice: International Social Welfare and Services to Immigrants and Refugees.
I am a professional social worker dedicated to continuing my education and striving to advance human dignity, social justice, peace, and inclusiveness. I have gained academic, professional skills, and experience in human rights, psychosocial support, and case management. Since 2012, I was employed by different organizations that serve refugees, asylum seekers, and migrants in Egypt. I worked as a caseworker supervisor for unaccompanied minors and separated children, focusing mainly on child protection.
I was also responsible for protection issues related to Cairo's refugees, which included working on legal and protection problems with other partners.  Through this role, I have developed excellent communication skills and can understand and break down complex information to quickly build others' capacities.
My research interests include social work research and social justice, public policy, refugee and migration policy, education, youth, women's empowerment, and community-based project development. Currently, I am an intern at Trust for Youth and Child Leadership (TYCL) International, Inc. I am also the founder and CEO of Youth for Development and Leadership Foundation (YDLF), a new initiative for youth in South Sudan, Sudan, and Egypt, with a particular focus on displaced youth.
YDLF is a youth-led, non-profit, and non-governmental organization that aims to empower South Sudanese youth through education, psychosocial support, livelihood, inter-communal peace initiatives, gender equality, civic engagements, training and leadership, environmental sustainability, and promote humanitarian assistance and development support in South Sudan.
Where are you living currently?
I am currently living in Cairo, Egypt, hoping to move to NYC, USA, soon.
What do you hope to accomplish with your degree?
After obtaining my master's degree, I will reinforce my field experience with scientific and theoretical information to become more effective and efficient in my endeavors. Working for social justice is an essential piece of my long-term plans. I believe the School of Social Work's master's degree will help me pursue further postgraduate studies. I plan to earn a Ph.D. in social work. There is a need for additional study on social issues and public policy.
My long-term goal is to support marginalized, underserved, and underrepresented communities like refugees and migrants. I am optimistic that the knowledge, skills, and abilities I am currently gaining will aid me in helping those displaced communities.
I dream of being a professor one day. I have genuine confidence that I will continue on this track that is successful in finding solutions and achieving plans. This will also help me take on more leadership roles and serve my community back home in South Sudan. Therefore, I pledged myself to dedicate my life to making the world a better place to live in for those groups. I would describe myself as passionate, ambitious, patient, and proficient.
The opportunity that CUSDS has given me is a turning point in my life, and I am sure it will be a significant and life-changing experience not only to me, but also to other people we serve. The help, support, and encouragement I get from my colleagues and professors is indescribable. At the university, I have come to know great people who are very passionate and supportive; I am so happy that CUSDS allows me to meet new people, make new friendships, provide hope, and make my dreams possible!
What do you wish more people knew about South Sudan?
My original home country is South Sudan, a country located in northeastern Africa. Its rich biodiversity includes lush savannas, swamplands, and rainforests that are home to many wildlife species. Before 2011, South Sudan was part of Sudan, its neighbor to the north, and since has become the world's youngest country where the vast majority (73.7%) of its total population are youth.
Today's major challenges facing South Sudan are similar to global issues: growing inequality, social and economic issues, multiple forms of violence, and inadequate access to education and employment for youth. In 2013 and 2016, a civil war broke out in South Sudan, causing many displacements and insecurity issues. Currently, the country is in the post-war stage. Despite all challenges facing South Sudan today, it has just started the development phase, and there is a long way to go, but I am hopeful for the future.