Music Graduate Improvises His Way to a Doctorate
Tyshawn Sorey is a musician of many talents: improvisation, 20th-century avant-garde and classical music, rhythm and blues, metal, funk and hip hop, among other genres.
May 08, 2017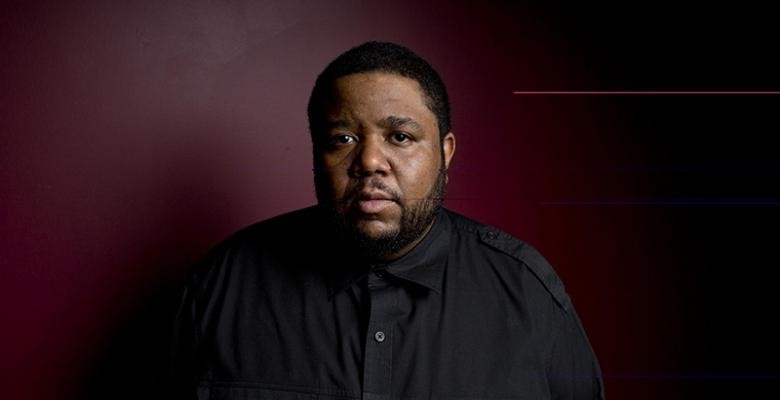 "I'm really interested in all music," said Sorey, a percussionist, trombonist, improviser, composer and conductor who graduates with a doctorate from Columbia's Department of Music in May. "I like participating in these interconnected forms of music without feeling I have to belong to any one."

As a percussionist he has used large found objects, cookware, opera gongs, tam-tams, Glockenspiels and Swiss cow bells. As a trombonist, he has played in brass quintets, performed in symphonies, played improvised music and worked in styles from avant-garde to klezmer. He has made six recordings, from That/Not in 2007 to Verisimilitude, coming out this summer. He delights in musical innovation and considers himself an "improviser-composer."
"What makes great improvisation is challenging yourself through the amount of commitment and thought that you put into your sonic contribution and a strong ability to listen," he said, noting that he's been inspired by musicians from Anthony Braxton to John Zorn. "Improvisation is really about becoming."
Sorey's path to becoming a musician began in Newark, N.J., where as a small child he played piano in the church basement and learned to read music at the age of 7, when he began to play trombone. "Before that, everything I did was mostly by ear," Sorey said. His grandfather bought him his first drum kit. His barber would give him records, mostly of soul music.
Sorey has a photo of himself at just that age with the legendary trumpeter Dizzy Gillespie at Newark Symphony Hall. Sorey remembers holding Gillespie's trumpet and playing with his mute. "He was on such a personable, human level—there was no feeling like 'I'm the baddest trumpet player ever and you're not worth my time,'" Sorey said. "He saw this kid from the inner city who told him he had heard him on recordings with Charlie Parker and so on, and then he was like, 'Who is this guy?'" Even as a child, Sorey added, "I felt like this was really home for me and really something I feel like I could do."
As a teenager Sorey happened upon Columbia's own WKCR and listened to many different kinds of music, making cassette mixtapes of everything from bluegrass to contemporary classical music. He would often arrive at Newark Arts High School, from which he graduated in 1999, before dawn to practice his music. He spent his free time performing at church services and whatever gigs he could get at bars, clubs and weddings while underage and visiting jam sessions in New York City.
Sorey went on to earn a bachelor's degree at William Paterson University in jazz studies and performance and a master's degree in composition from Wesleyan University in 2011, matriculating at Columbia that fall. At the music department he has found great support among the faculty, especially his professors of music composition, George Lewis and Fred Lerdahl. "They're both really fantastic for different reasons," he said.
Lewis "is all about detail, taking risks, and the problematizing of concepts," Sorey said. Lerdahl "confirmed for me that improvisation was such a strong part of my music that to deny it was to be dishonest with myself," he continued. "This was truly liberating for me on many levels, as I felt before then that I was trying to be something I wasn't, and will never be."
"Both Fred and George pushed me to develop a greater understanding of what I want out of a given composition and to really address it in the notation—to have notation work for me," he said. In his dissertation, Sorey discusses the critical reception to his recent song cycle, an ode to Josephine Baker, to illuminate the communal nature of Black music.
Last June, Tyshawn Sorey's \"Josephine Baker: A Portrait,\" premiered at the Ojai Music Festival in Ojai, Calif. In it, Sorey rearranged and slowed down some of Baker's best known songs in a work that The New York Times described as as \"a ritual of mourning, a reminder of Baker's racial struggles and civil rights activism, and of the era of police brutality and Black Lives Matter in which we currently live.\"
In July, Sorey will join the faculty at Wesleyan as the John Spencer Camp assistant professor of music composition and creative improvised music. He looks forward to sharing his expansive approach to music with students.
One area he would like to focus on is jazz of the past 50 years. "In the upper echelon of academia, there seems to be only a handful of courses in which this area of improvised music is critically and extensively engaged," he said. "If we are going to deal with so-called 'jazz history', then we really need to deal with all of it."