Music Propels Chris Washburne from Ohio Farm to Career as Jazz Teacher, Bandleader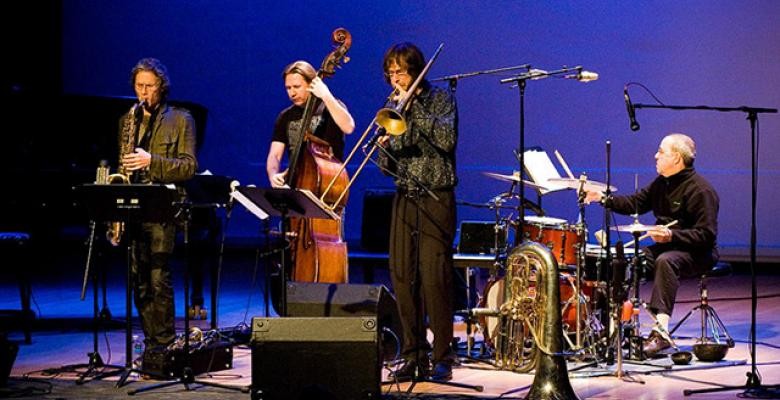 A colorful painting on the wall of Chris Washburne's Dodge Hall office portrays the associate professor of music as a superhero, riding a collection of musical instruments including trombone, tuba and piano. The artist is an inmate at Sing Sing Correctional Facility, one of 50 inmates in a music program Washburne leads at the maximum-security state prison in Ossining, N.Y., where they write music and play in a house band.
"It's using music as a form of catharsis, as transformation, showing alternative possibilities in life," says Washburne (GSAS'99), a jazz trombonist and bandleader. "I've played at Carnegie Hall, at Lincoln Center, at famous venues all over the world, but this is different. I feel like I'm making a real difference in people's lives."
The program at Sing Sing is part of Carnegie Hall's Musical Connections program, which Washburne has been involved with for 15 years. Besides teaching and performing at Sing Sing, he takes his trombone and his band to community centers, hospitals, homeless shelters and juvenile justice facilities throughout the New York area.
At Columbia, Washburne, who joined the faculty in 2001, teaches jazz history and performance and is director of the Louis Armstrong Jazz Performance Program. He was key to jazz becoming part of the Music Humanities segment of Columbia College's Core Curriculum. Today, Columbia is one of the few universities where all undergraduates will study jazz and its history.
Related Links
Washburne has performed with Tito Puente, the Duke Ellington Orchestra, Eddie Palmieri, Justin Timberlake, Celine Dion and others. His Latin jazz band SYOTOS (an acronym meaning See You On The Other Side) performs regularly three to four times a week. Its sixth CD, Low Ridin' on the Zoho label, was released in April. Unlike earlier CDs, which featured original music, this one goes back to his roots, Washburne says, with Latin jazz versions of 1960s and 70s classics like Stairway to Heaven and Walk on the Wild Side. In addition to the professional musicians, it features Washburne's 11-year-old son playing electric guitar and his 7-year-old daughter on percussion. Washburne also plays with an experimental band called FFEAR (Forum for Electro-Acoustic Research).
Washburne, who grew up on a farm in Ohio and started playing trombone in a school band, didn't plan to become a Latin jazz musician. But when he was a graduate student at the New England Conservatory in Boston, practicing late one night, a stagehand who moonlighted as a trombone player knocked on his practice- room door. "He couldn't make it to a gig that night, he was double-booked," Washburne recalls, and needed someone to fill in – with a salsa band. "I knew nothing about the music, I was a jazz and classical player, but he said, 'Just play loud and they'll love you.' So I did and they did, and the band eventually replaced him with me."
Every other year he teaches a course on music of the Caribbean, and among the 400 in the class are students from every island whose music is studied. The Louis Armstrong Jazz Performance program he started in 2002 with eight students has grown to 130 students in 16 ensembles that perform on campus once each semester. Only a few are music majors, although about a quarter aspire to be professional musicians. "The other 75 percent are jazz lovers who want to play," he says. Undergraduates in the Armstrong program performed at the Columbia Global Center in Amman, Jordan, in 2009. In 2013, Washburne and SYOTOS played at the Global Center in Rio de Janeiro, Brazil, and at the World Economic Forum in Davos, Switzerland.
He also collaborates with Business School professors on a program in the executive education program that uses jazz as a way to present alternative organizational models. "Jazz has a pretty flattened organizational structure, everybody is given an equal voice," Washburne says. "It shows the role of improvisation and the importance of it, and a way to allow everybody an equal opportunity to tap into their creativity."
Washburne came to New York after earning his master's degree in performance and hoped to be a studio musician. Since that would take time, and he was interested in the music of other cultures, he applied for Ph.D. programs in ethnomusicology, the study of music in a cultural context. Soon after he started at Columbia, his performing career took off. "I was living a dual life," he says, enjoying classes, playing in clubs at night and going on tour.
Two years after earning his Ph.D., Washburne returned to Columbia to teach, and many parts of the University have benefited from his creativity. "I feel extremely lucky," he says. "My passion for playing and my passion for teaching come together in the classroom."