National Academy of Engineering, AAAS Elections, Gates Cambridge Scholar, and More
From science to engineering, writing to social sciences, here are the Columbians who received awards recently.
February 22, 2023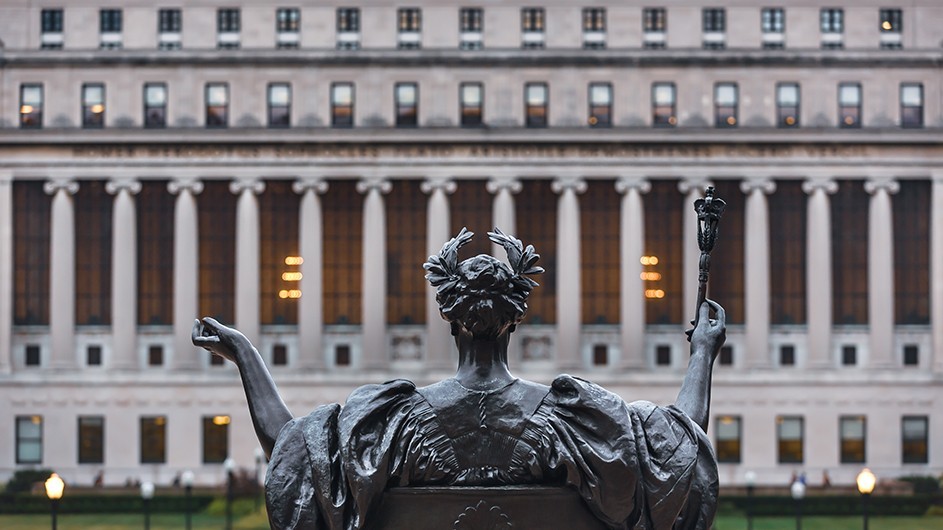 Columbia News produces a biweekly newsletter (subscribe here!) and article series featuring a roundup of awards and milestones that Columbia faculty, staff, and students have received in recent days. In this edition, you'll find awards and milestones from February 9 to February 23, 2023.
Have an award or milestone you'd like to have featured in the newsletter or article online? Please send an email to [email protected]. Note that we'll be running this series every other week. 
You can take a look at past accomplishments on our Awards & Milestones page. And you can subscribe to receive the newsletter in your inbox. 
FACULTY
ARTS & HUMANITIES
Vidya Dehejia, Barbara Stoler Miller Professor Emerita of Indian and South Asian Art, is one of two recipients of the 2023 Freer medals from the Smithsonian's National Museum of Asian Art, a lifetime achievement award that honors individuals who have substantially contributed to the understanding of the arts of Asia throughout their career.
Nan Rothschild, professor emerita of anthropology, and her co-authors have won the Society for American Archaeology Popular Book Award for Buried Beneath the City: An Archaeological History of New York.
Columbia GSAPP faculty members Nahyun Hwang and David Eugin Moon are winners of the Architectural League's Emerging Voices competition. Another GSAPP professor who won is Adriana Chávez.
SCIENCE & MEDICINE
Ana Navas-Acien, professor of environmental health sciences, was appointed to the National Cancer Advisory Board by President Joe Biden.
Kellie Bryant, associate professor of nursing, received an award for service from the Society for Simulation in Healthcare at the International Meeting on Simulation in Healthcare.
Donna L. Farber, George H. Humphreys, II Professor of Surgical Sciences, was selected as a Distinguished Fellow of the American Association of Immunologists for 2023.
David Fidock, C.S. Hamish Young Professor of Immunology, has been named for a Fellowship in the American Academy of Microbiology. The Academy, the honorific leadership group within the American Society for Microbiology, recognizes excellence, originality, service, and leadership in the microbial sciences.  
Joel Gabre, assistant professor of medicine; Jerard Z. Kneifati-Hayek, assistant professor of medicine; Ryan Moy, assistant professor of medicine; Maria Diaz, assistant professor of neurology; Benjamin Ranard, patient safety research and postdoctoral fellow; and Deborah Theodore, assistant professor of medicine, were awarded the inaugural Clinical Trialist Early Career Development Scholars Award by the Herbert Irving Comprehensive Cancer Center (HICCC) at NewYork-Presbyterian/Columbia University Irving Medical Center (CUIMC) and the Irving Institute for Clinical and Translational Research. The award recognizes proposals for innovative clinical trials that aim to advance treatment and interventions for multiple areas of health and medicine, seeking increased access to clinical trials from underrepresented groups.
Dorothy Peteet, senior research scientist at NASA/Goddard Institute for Space Studies and senior research scientist and director of the paleoecology division of the New Core Lab at Lamont-Doherty Earth Observatory, and Lorenzo Polvani, Maurice Ewing and J. Lamar Worzel Professor of Geophysics in the Department of Applied Physics and Applied Mathematics, Department of Earth and Environmental Sciences, and Ocean and Climate Physics Division, Lamont-Doherty Earth Observatory, were elected fellows of the American Association for the Advancement of Science (AAAS).
Anil K. Rustgi, director of the HICCC, has received the William Beaumont Prize in Gastroenterology. The award recognizes individuals who have made major contributions that have significantly advanced the care of patients with digestive diseases through clinical or translational research. 
Will Sawin, associate professor of mathematics, was named a 2023 Sloan Research Fellow, the Alfred P. Sloan Foundation announced on Wednesday. The fellowships are given annually to outstanding U.S. and Canadian researchers "whose creativity, innovation, and research accomplishments make them stand out as the next generation of leaders."
ENGINEERING
Josh Alman, assistant professor of computer science, won an NSF CAREER award. The award supports early-career faculty who have the potential to serve as academic role models in research and education and to lead advances in the mission of their department or organization.
Shih-Fu Chang, dean of Columbia Engineering, and Donald Goldfarb, Alexander and Hermine Avanessians Professor of Industrial Engineering and Operations Research, were elected to the National Academy of Engineering. The academy also elected Christopher H. Scholz, professor emeritus of Applied Physics and Applied Mathematics and of Earth and Environmental Sciences in the Department of Earth and Environmental Sciences, and Special Research Scientist in Seismology, Geology and Tectonophysics at Lamont-Doherty Earth Observatory, and Regina Barzilay, who graduated from Columbia Engineering with a PhD in computer science.
Ronghui Gu, Tang Family Assistant Professor of Computer Science, won a VMWare Systems Research Award. Gu is recognized for fundamental theory underlying systems verification and for synthesizing the results into realistic bug-free and hacker-resistant systems software.
SOCIAL SCIENCES
Joel Brockner, Phillip Hettleman Professor of Business at Columbia Business School, won a 2023 Distinguished Scientific Contributions Award from the Society for Industrial and Organizational Psychology.
Ester Fuchs, professor of international and public affairs and political science and director of the Urban and Social Policy Program at the School of International and Public Affairs, was inducted into City Limits' New York Hall of Fame.
Natalia Pasternak Taschner, adjunct professor at SIPA, was honored with the Balles Prize in Critical Thinking.  
Geovanny Vicente-Romero, course associate in the Enterprise Risk Management program at the School of Professional Studies, was named to the Leaders of Color Class of 2023.
STUDENTS
Stanislav DeLaurentiis, a student in astrophysics at Columbia College, is one of 23 academically outstanding and socially committed U.S. citizens selected as a 2023 Gates Cambridge Scholar. DeLaurentiis will pursue a PhD in Applied Mathematics and Theoretical Physics. For his doctorate, he will work with the Theoretical Astrophysics group to study the galactic center, focusing on characterizing the fluid and planetary dynamics that govern Super-Massive Black Hole accretion disks and the objects that are embedded within them.
Jennifer Puac, a student in occupational therapy, has been selected as an FPI John Robert Lewis Fellow for the 2023-2024 cohort.