A Near-Death Experience Sparks a New Career Path in Environmental Health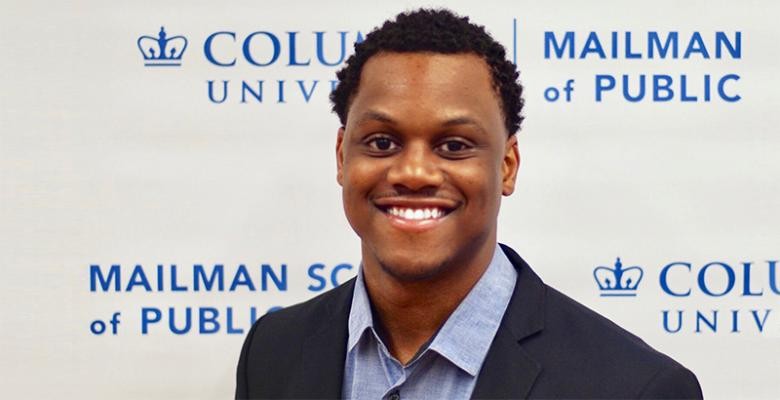 If he hadn't nearly died, Jamal Lewis likely never would have found his way to Columbia's Mailman School of Public Health, and a life devoted to the field of environmental health.
Lewis, who graduates on May 16 with a master's degree in Public Health from the Department of Environmental Health Sciences, always had an interest in environmental science—it was his favorite class in high school. But he had no time for it in college, having been recruited out of Washington D.C.'s Sidwell Friends School to play point guard at the University of Pennsylvania, a Division I school. Basketball took precedence over everything, including academics. He majored in communications because it allowed him more time to focus on training.
Then, in the spring of his sophomore year, Lewis noticed a strange mark in his armpit and soon began to feel ill. Medical practitioners initially said he had a virus and sent him home. On his third visit to the student health center, however, he had a full body rash and a fever of 106. He was sent to the hospital by ambulance.
The bump, it turned out, was a staphylococcus infection that had quietly festered and entered his blood stream. When he developed pneumonia-like symptoms, doctors put Lewis in a medically-induced coma and attached him to a ventilator to keep him alive.
Lewis recalls little from those harrowing weeks, except that they were life-changing.  "I remember what I thought at the time was my last breath," Lewis said. "'I just wished I had one more day.'" As he regained his health,  the trivial things—petty feuds with friends, bad grades on tests, lost basketball games—seemed unimportant.
After he was hospitalized again and required surgery, it was clear that his health setbacks made it impossible for him to return to sports until his senior year. He took the time to to get himself back in shape to captain the basketball team during his senior year. And he switched his major to Earth and Environmental Sciences.
"I always thought I would play professional basketball somewhere," Lewis said. "But that experience led me to believe I could make a bigger difference and do something I'm really passionate about in this field of environmental health."
In his junior year Lewis assisted one of his environmental science professors, who had a grant to study childhood lead poisoning in Lancaster, Pa. During the summer before his senior year, he and a classmate went to the home of a little boy with lead poisoning and used an X-ray fluorescence machine to identify the mysterious source of lead. It turned out to be dripping off a balcony when it rained and into the soil of the backyard, where it had poisoned the boy.
"We actually got a thank you note from the family," Lewis recalled. "Our work likely will change the trajectory of that boy's life."
And Lewis's, too, for it cemented his interest in environmental health. His undergraduate thesis was on lead-poisoning prevention in the city of Philadelphia and his advisor urged him to apply to graduate school. "I didn't really think that I would get in to Columbia," Lewis said. "Until then, I never had to apply based on my academic merit. I was recruited for college. It was the first time that I felt like I earned this."
At Mailman, Lewis has, among other things, focused on the impact that enhancing household energy efficiency can have in reducing psychosocial stress and improving aspects of physical health in low-income households. Weatherization, for instance, can reduce energy costs, leading to  greater economic security, and also may help keep out harmful pests associated with higher rates of asthma.
After graduation, Lewis will work in the Washington, D.C. office of  Baltimore-based Green and Healthy Homes Initiative, a nonprofit that advocates for safe, environmentally-friendly housing, tackling the issues of lead poisoning and home weatherization in minority communities.
"In my time at I have learned from and been inspired by the phenomenal work of my classmates and professors," he said. I just hope to do my part in ensuring that health is truly a human right for everyone."