Nobel Laureate Daw Aung San Suu Kyi Speaks at World Leaders Forum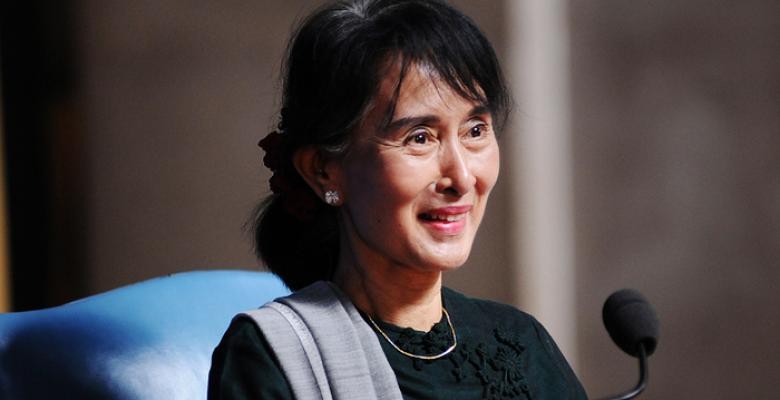 Long before she was a Nobel Peace Prize laureate, and spent 15 of the past 21 years under house arrest as a political prisoner in Burma, Daw Aung San Suu Kyi said she learned how to survive her pressure cooker-like imprisonment from an actual pressure cooker. Suu Kyi took to cleaning up a kitchen mess one step at a time. "That was the lesson," she told a packed audience at Columbia University's World Leaders Forum.
"I decided that whenever there's a crisis to be met, you just do what you can." This experience served her well under house arrest, she said, to the rapt attention of the audience, "I meditated, I read, I listened to the radio, I exercised. I think I was the healthiest prisoner of conscience in the world."
Suu Kyi, who spoke at Columbia's Low Library on Saturday, Sept. 23, is on a coast-to-coast tour of the U.S. She has met with President Barack Obama (CC'83) and Secretary of State Hilary Clinton, received a gold medal from Congress and will speak at college campuses from coast to coast. At Columbia, she answered questions from the event's moderator, NBC News correspondent Ann Curry, but she was far more focused on interacting with the students in attendance—to exchange views and learn from them the best ways to help Burmese youth.
While there wasn't much advice, as Curry called it, from the audience, the students were eager to learn how they could help Suu Kyi and the Burmese people. The Nobel laureate, who was sentenced to house arrest without trial in 1989, stressed the importance of a motivated and educated youth as a key to helping Burma democratize and build its economy.
She encouraged a young 15-year-old American to visit Burma, which fell under military rule following a 1962 coup d'état, and see for himself what the situation there is like. When asked what those Burmese who have left their country could do to help, Suu Kyi said that they should not feel ashamed if they chose to settle abroad. As long as they are a good person, they will be a credit to their country, she stressed.
Columbia's President Lee C. Bollinger opened the event by presenting Suu Kyi with a rose, a symbolic gesture in honor of their mutual friend Vaclav Havel, the late president of the Czech Republic and Columbia University's Artist in Residence in 2007. Havel, who argued for Suu Kyi's release, had written about how he longed to give Suu Kyi a rose but was never able to before his death in 2011, due to her imprisonment.
"Havel understood so well that you provided hope to oppressed people not only in your own country," Bollinger said, "but around the globe demonstrating how to endure both physical isolation and personal hardship by keeping one's eyes and heart firmly fixed on what others may see as an unreachable horizon, sustained by the knowledge that democratic change is not only possible, but inevitable when enough people finally choose to make it so."
Suu Kyi, who was released from her house arrest on Nov. 12, 2010, explained how she was worried that having so many unemployed and unskilled youths in a country like Burma could lead to unrest and what she called a "resource curse." Burma currently ranks 147th out of 187 countries on the United Nation's Development Programme's 2011 Education Index, which is based on the average years of schooling for both adults and children.
Suu Kyi wants to meet with and hear from youth "because you are our present as well as our future," she said. "And you should be our treasure and our joy rather than our curse."
Should that curse befall the youths of today, Suu Kyi, who is now a member of the Burmese Parliament and chair of the National League of Democracy party in Burma, said the blame falls squarely on herself and her peers for failing to provide them the adequate environment in which to grow and succeed.
One way in which to ensure an economically successful Burma would be through higher education. Suu Kyi mentioned that a law is being drawn up to make Burmese universities more open and progressive. At this point they need contact with universities abroad, such as Columbia, to help raise the standards of teaching in Burma.
Perhaps more than anything else, Suu Kyi said that the message she wanted young people to leave with was that "principles matter." This, she stressed, can help the eager youths in attendance from repeating one of the mistakes made by Burma's military rulers.
"And one thing, best things, about living a principled, duty-conscious life is that you learn to take responsibility for your own actions," Suu Kyi said. "And not to keep blaming others for whatever happens to you."