NSF CAREER Grants, Special Appointments, and Student Fellowships
From science to engineering, writing to social sciences, here are the Columbians who received awards recently.
March 08, 2023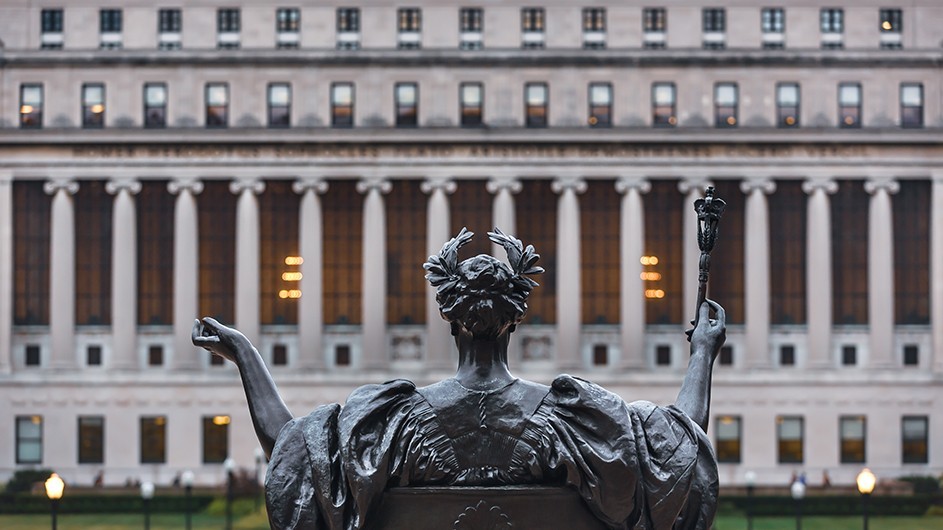 Columbia News produces a biweekly newsletter (subscribe here!) and article series featuring a roundup of awards and milestones that Columbia faculty, staff, and students have received in recent days. In this edition, you'll find awards and milestones from February 23 to March 9, 2023.
Have an award or milestone you'd like to have featured in the newsletter or article online? Please send an email to [email protected]. Note that we'll be running this series every other week. 
You can take a look at past accomplishments on our Awards & Milestones page. And you can subscribe to receive the newsletter in your inbox. 
FACULTY
ARTS & HUMANITIES
Yasi Alipour (SOA'18), adjunct assistant professor in the Visual Arts Program at School of the Arts, is the recipient of a Louis Comfort Tiffany Foundation biennial grant. Alumnus Cy Morgan (SOA'16) also received a grant.
Amale Andraos, professor and dean emerita of Columbia GSAPP, and Dan Wood (GSAPP'92), adjunct associate professor in architecture, have received a 2023 Arts and Letters Award in Architecture from the American Academy of Arts and Letters. 
Anne Bogart, head of the directing concentration in the Theatre Program at School of the Arts, won a 2023 Lifetime Achievement Obie Award.
Hernan Diaz, managing editor, Latin American/Iberian Cultures, was awarded the 2023 John Updike Award from the American Academy of Arts and Letters. 
Zosha Di Castri, Francis Goelet Assistant Professor of Music Composition, has received a 2023 Goddard Lieberson Fellowship in Music from the American Academy of Arts and Letters.
Shane McCrae, professor in the Writing Program at School of the Arts, won the 2023 Arthur Rense Poetry Prize from the American Academy of Arts and Letters.
Christopher Peacocke, Johnsonian Professor of Philosophy, won the 2024 Jean Nicod Prize.
SCIENCE & MEDICINE
Kellie Bryant, DNP, received an award for service from the Society for Simulation in Healthcare at the International Meeting on Simulation in Healthcare.
Penelope Buschman, assistant professor of clinical nursing, has received the Elizabeth Hurlock Beckman Award.
Maria Diaz, assistant professor of neurology; Joel Gabre, assistant professor of medicine; Jerard Z. Kneifati-Hayek, assistant professor of medicine; Ryan Moy, assistant professor of medicine; Benjamin Ranard, postdoctoral fellow; and Deborah A. Theodore, assistant professor of medicine, received Clinical Trialist Early Career Development Scholars Awards from the Herbert Irving Comprehensive Cancer Center and the Irving Institute for Clinical and Translational Research.
María P. Fernández, assistant professor of neuroscience at Barnard, was awarded a National Science Foundation Faculty Early Career Development (CAREER) grant.
Stephanie Grilo and Goleen Samari, assistant professors of population and family health, have been selected for Pedagogy in Health Promotion's 2022 Best Paper of the Year Award for their paper about Mentoring of Students and Igniting Community (MOSAIC), an antiracism public health graduate program.
AUTM awarded Orin Herskowitz, senior vice president for applied innovation and industry partnerships, the 2023 Bayh-Dole Award. The award is given in recognition of the recipient's efforts to foster and promote intellectual property activities on behalf of the university and the non-profit community.
Churl-Su Kwon, assistant professor of neurological sciences; Nadia Liyanage-Don, assistant professor of medicine; and Meghan Reading Turchioe, assistant professor of nursing, are among the first cohort of Health Equity Scholars selected by the COMMUNITY Center Investigator Development Core Program.
Roberto Lewis-Fernández professor of clinical psychiatry at Columbia and director of the New York State Center of Excellence for Cultural Competence assumed the presidency of the American Psychopathological Association (APPA) on March 4, 2023, at the APPA 2023 Annual Meeting. Lewis-Fernández is the first Latinx president since APPA was founded in 1910. 
Yves H. Moussallam, assistant professor in the Department of Earth and Environmental Sciences and Geochemistry Division at Lamont-Doherty Earth Observatory, was awarded the Wager Medal by the International Association of Volcanology and Chemistry of the Earth's Interior.
Bo Shen, Edelman-Jarislowsky Professor of Surgical Sciences, was awarded the Distinguished Clinician Award in Academic Practice from the American Gastroenterological Association.
Marie-Pierre St-Onge, associate professor of nutritional medicine, was named Specialty Chief Editor for Frontiers in Sleep: Sleep & Metabolism.
Myrna Weissman, Diane Goldman Kemper Family Professor of Epidemiology, was honored with the Mood Disorder Award from the American College of Psychiatrists at its annual meeting in Tucson, Arizona, on Feb. 26. Weissman's research includes the study of the transmission of depression across generations, the detection of biomarkers of transmission and treatment response, and the implementation of psychotherapy in low-income countries and populations.
ENGINEERING
Optica (formerly OSA), Advancing Optics and Photonics Worldwide, selected Alexander L. Gaeta, David M. Rickey Professor of Applied Physics and Materials Science and professor of electrical engineering, as the 2023 recipient of the Stephen D. Fantone Distinguished Service Award. Gaeta was recognized for his role as founding editor-in-chief of Optica and his commitment to excellence in the optics and photonics community.
Ronghui Gu, Tang Family Assistant Professor of Computer Science, won an NSF CAREER award. The award supports early-career faculty who have the potential to serve as academic role models in research and education and to lead advances in the mission of their department or organization.
SOCIAL SCIENCES
Timothy Frye, Marshall D. Shulman Professor of Post-Soviet Foreign Policy in the department of political science, was appointed chair in U.S.-Russia Relations at the John W. Kluge Center at the Library of Congress. Through this chair position, the Library seeks to bridge the gap between scholars and policymakers by bringing insights from research to policy and practice. The chair was made possible through a grant from the Carnegie Corporation of New York.
STUDENTS
Jaine Archambeau (CC'22) and Joshua Elias (CC'21) have been awarded 2023 Charles B. Rangel International Affairs Fellowships. The Rangel Fellowship supports extraordinary individuals who want to pursue careers in the Foreign Service of the U.S. Department of State. 
Haoxian Chen, Rachitesh Kumar, Melanie Subbiah, and Kevin Xia, doctoral students at Columbia Engineering, were named Columbia Center of AI Technology Fellows for 2023. Columbia Center of Artificial Intelligence Technology, in collaboration with Amazon, supports emerging and established researchers by awarding PhD fellowships and faculty research awards.
Ismini Drosoforidi (GSAS'23) was recently selected to be part of the 2023 Clinton Global Initiative cohort.
Aleksandar Obradovic, MD/PhD candidate, was awarded the 2023 Michelson Philanthropies & Science Prize.
Wally Suphap, MFA student in the writing program at School of the Arts, has received a 2023 Open City Fellowship from the Asian American Writers' Workshop.
Coleman Yorke (CC'20) and Sarah Toscano (GSAS'23) have been named 2023 Luce Scholars. Established in 1974, the Luce Scholars Program offers early-career leaders year-long immersive, professional experiences in Asia, providing stipends, language training, and individualized professional placements.
Bethany Younge, DMA student in composition in the Music Department, has received a 2023 Charles Ives Award in Music  from the American Academy of Arts and Letters.