Opioid Avengers: Columbia Students Save Four Lives With Naloxone
Campus overdose prevention programs have trained more than 2,500 students, employees and community members to recognize the signs of an emergency and intervene.
Editor's note:
As of October 2020, an additional five members of the Columbia community have used life-saving naloxone in a potential overdose situation bringing the total number of cases to nine. Campus overdose prevention programs have trained more than 3,000 people to recognize the signs of an emergency and intervene.
February 21, 2020
The students were from different schools at Columbia University, traveling in different areas of the city. They didn't know each other. But all recently found themselves in the same situation: bystanders staring at someone who has passed out, asking themselves: Do I grab for the naloxone I've just learned how to use and step in?
The four students—from Columbia Mailman School of Public Health, the School of General Studies and two from the School of Nursing—in separate incidents intervened and saved a life with a dose of nasal spray from naloxone kits they received at opioid overdose prevention training sessions at Columbia. 
Sonalee Rau was on her way to meet friends for a day of apple picking in upstate New York this fall. She was about to enter the Metro-North train station at 125th Street in East Harlem when she saw a small group surrounding a man lying unconscious on the sidewalk.
"I heard a woman yell, 'I think it's an overdose,'" said Rau, a master's student in health policy and management at the Mailman School. "The naloxone kit I'd been carrying for three weeks was hooked to my purse. I knew there wasn't much time."
The man had collapsed with his head tilted upright between two newspaper kiosks, which meant Rau didn't have to move him. Bending down, she administered the spray into one nostril, while a bystander called 911.
Want to Prevent an Opioid-Related Death?
"Almost instantly, his eyes flickered. I could see he was coming to, and then I heard sirens and FDNY was there," Rau said. "The firemen asked if I had given him naloxone. They thanked me, and within seconds they were able to stand him up and get him into a car."
Most Opioid-related Deaths Are Accidental
Naloxone is an opioid antagonist—meaning it binds to opioid receptors and can block the drug's effect in the brain for 30 to 90 minutes, which restores normal breathing. It acts within two to three minutes and has no effect in people without opioids in their system.
The medication has become an essential tool for law enforcement and public health agencies in a city where every six hours someone dies of an opioid overdose.
In 2018, there were 1,444 accidental opioid overdoses within the five boroughs, according to the New York City Department of Health. (A recent Columbia study found that suicide accounts for about 4 percent of opioid-related deaths.) East Harlem has the highest rate of fatal opioid overdoses, followed by the South Bronx.
The opioid crisis requires a citywide response, and Columbia has joined in the effort to both save lives and apply its research expertise to combat the epidemic.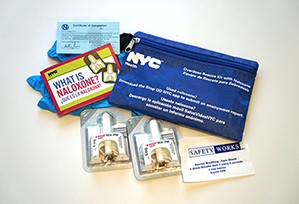 Since January 2018, the University has distributed naloxone kits and provided training to more than 2,500 students, faculty, staff and community members on how to recognize an overdose and administer treatment. Class facilitators have registered and trained with the city's Opioid Overdose Prevention Program (OOPP), which provides the kits for free.
Kellie Bryant, executive director of simulation and assistant professor at the School of Nursing, serves as medical director of the school's OOPP on the Washington Heights campus, a volunteer position required by the city.
"I got involved in 2017 after watching the Netflix documentary "Heroin(e)," which affected me deeply," said Bryant, who early in her career as a maternity nurse cared for babies of mothers addicted to heroin. She went online and was surprised to see how easy it was to become part of the city's overdose prevention force.
University Program Expands Across Campuses
Bryant offered her first training class to a group of nursing students in January 2018. "The program was a huge success and word started to spread," she said.  
Soon after, Stephanie Rozen, director of the Addiction Information and Management Strategies Program at Columbia University Irving Medical Center's Student Health Services, reached out to Bryant to explore collaboration.
"I thought it was crucial amidst situated in Washington Heights, a neighborhood deeply impacted by this epidemic, that our students be equipped to reverse an opioid overdose," Rozen said.
Training sessions on the uptown campus have expanded to medical, public health and dental students, as well as to community boards and residents in Washington Heights and Inwood. Bryant, as the registered OOPP provider, offers hour-long classes once or twice a month. In all, she has educated more than 1,500 people. Beginning later this year, Bryant will offer training in the Washington Heights public schools in collaboration with CUIMC's Office of Community Service Programs.  
Bryant and Rozen agree that while naloxone (sold under the commercial name Narcan) is a miracle medication, it is only a beginning. "Naloxone is an important tool, but it should not be considered a solution," Rozen said. "Its function is to keep people alive while more widespread, sustainable solutions can be implemented."
In May 2019, Columbia Health launched an interdisciplinary opioid education and naloxone initiative on the Morningside campus that partners with the Mailman School and the School of General Studies. In addition to naloxone education sessions—the program has trained more than 700 students and staff, including public safety, resident advisers and student organizations—teams are working to assess student attitudes toward participation, evaluate training material and study the effectiveness of the program.
Michael McNeil, chief of administration for Columbia Health and the Opioid Overdose Prevention Program director on the Morningside campus, said that while a great deal of work is happening in opioid education, there isn't a body of research to back up interventions.
"Our team hopes to establish the science that helps define best practices," said McNeil, who recently visited the White House with colleagues to present key findings from the program.  
'Ready and in the Right Place'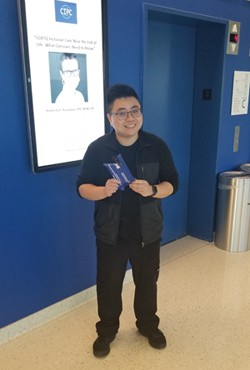 In January, Justin Tsui became the fourth Columbia student to reverse an opioid overdose. 
Walking along Essex Street in the Lower East Side, Tsui saw a middle-aged man passed out on the sidewalk. A bystander had called 911 but 10 minutes already had elapsed.
Tsui, a first-year student in Columbia's psychiatric mental health nurse practitioner program, knew from his training what do. He tried to wake the man by calling to him and tapping his shoulders. He unzipped the man's jacket and rubbed his sternum with his knuckles. When there was no reaction, Tsui checked to make sure his airway was not obstructed. Next, he used the light from his iPhone to examine his pupils and found they were pinpoint, a sign of opioid use. His pulse was slow and fingernails bluish, indicating low oxygen levels in the blood. 
Knowing it was likely an overdose, Tsui grabbed the Narcan kit from his backpack and administered a single dose of nasal spray. No response. He administered a second dose, and the man came to, drowsy and confused. 
When the police arrived, he told them he was a nurse and offered to help. "They said that while they appreciated what I'd done, it wasn't my responsibility, and that I should leave. I was in shock for the next 24 hours and walked around in a kind of daze," he said. "I mean, this person could have died if I hadn't been walking down that exact street at that exact moment."
Tsui said the ending felt abrupt, like leaving a room halfway through a story. "There's a part of me that wants to know how he got there and what will happen next," he said, "and another part that feels that it's none of my business."
McNeil said that for many who go through this experience, the aftermath can be the hardest part. An opioid reversal requires no follow up or documentation. "Once the save is made, the saver's job is really done," McNeil said.
Rau had a similar reaction to Tsui's as she continued on her way to the train that day for apple picking.
"Sitting in my seat I tried to process what had happened," she said. "I still think about the man. I hope he didn't suffer and that he's all right." 
And although saving a life was amazing, she doesn't believe she did anything heroic. "I'm just someone who was ready and in the right place," Rau said. "We all need to support each other and do what we can."  
---
Interested in getting involved? Columbia's Opioid Overdose Prevention Program offers training to members of the community. For inquiries about Morningside campus classes, fill out this form. For Washington Heights, contact Kellie Bryant at 212-305-2982 or [email protected].