Physician Has an Eye on Emergency Medicine and Community Health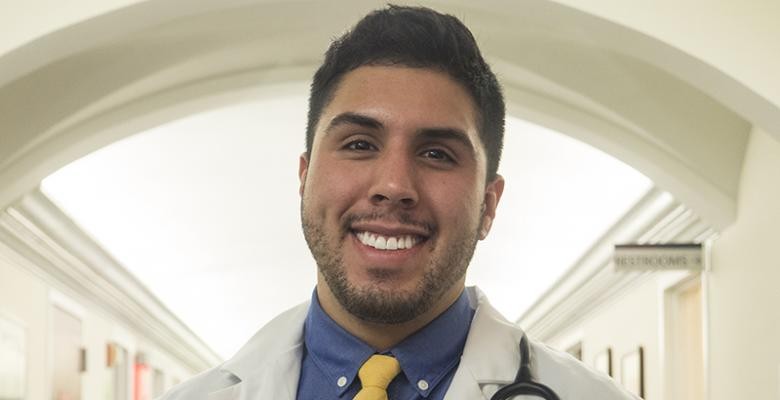 Before deciding to become a doctor, Michael Hernandez wanted to be a priest. "I always loved the idea of helping people," he said. "And I grew up in a very Catholic family." His father is the son of Mexican farm workers who settled in Washington state and his mother's family is from Ireland.
Those plans changed while he was in high school, in Murrysville, Pa., outside of Pittsburgh. Hernandez especially liked the science courses, and also was a volunteer in a local nursing home. "Medicine seemed like a good way to combine my interests in serving the underserved and in science," he said. When he receives his M.D. degree from Columbia's Vagelos College of Physicians and Surgeons on May 16, he will be the first physician in his family.
Hernandez first came to Columbia in the summer of 2011, between his sophomore and junior years at Northwestern University, to participate in the Summer Medical and Dental Education Program, a free initiative at several universities around the country aimed at preparing students under-represented in the health professions for medical and dental school. He knew immediately Columbia was his first choice for medical school.
"The medical students who volunteered their time to mentor us that summer were such kind and down-to-earth individuals," he recalled. "I was excited about the prospect of living and working in Washington Heights, which would offer me the opportunity to learn from neighbors and patients of different languages, nationalities and religions."
Hernandez served the underserved while at Physicians and Surgeons, volunteering at the Columbia-Harlem Homeless Medical Partnership's clinic one evening a week. "The knowledge that our work was impacting the lives of so many uninsured New Yorkers carried me through the most challenging moments of my medical education," he said.  The clinic, which operates out of a church on West 126th Street, provides free medical care to the homeless in West Harlem. For the last few months he has been saying goodbye to patients he followed for four years.
Caring for the homeless is just one of the disparities in healthcare Hernandez has tried to address. Knowing that blacks and Hispanics are disproportionately affected by HIV and AIDS, he spent a year doing research on prevention and a possible vaccine. He presented his work at a national meeting of the HIV Vaccine Trials Network and also helped to develop a smartphone app that reminds people at high risk for HIV to take medication known as PrEP, or pre-exposure prophylaxis, to lower their chances of getting infected.
And he still found time to pursue a passion for photography. He took photos at various events on Columbia's Irving Medical Center campus, which led to freelance photography assignments for the Medical Center's Office of Communications and Public Affairs.
His interests took him far from New York, During the summer after his first year of medical school Hernandez worked in a pediatric clinic and a maternity hospital in Juarez, Mexico, where he also followed community health workers as they visited patients in their homes for a photojournalism project. He later spent a month in Alaska in a clinic that serves Native Americans living north of the Arctic Circle.
Soon after Commencement, Hernandez will begin a residency in emergency medicine at the University of Chicago Medical Center, on the city's South Side. He was attracted by the diverse population it serves and its outreach to the community, and its new state-of-the-art trauma center. Emergency medicine is "a chance to do it all, you get to see it all," he said, noting that under federal law, anyone who walks through the door of a hospital's emergency department must receive treatment. "It's a diverse skill set that can take you in any direction."
He isn't sure which direction he will follow. It could be teaching, community medicine, research, or a combination of all three. At Columbia, the medical director of the Homeless Medical Partnership, James Spears, a family physician and assistant clinical professor of medicine, was an inspiration and a mentor, Hernandez said. "He is calm and patient and understanding, the model of the physician I want to be."