Playwright Draws on His Military Experiences to Create Compelling Drama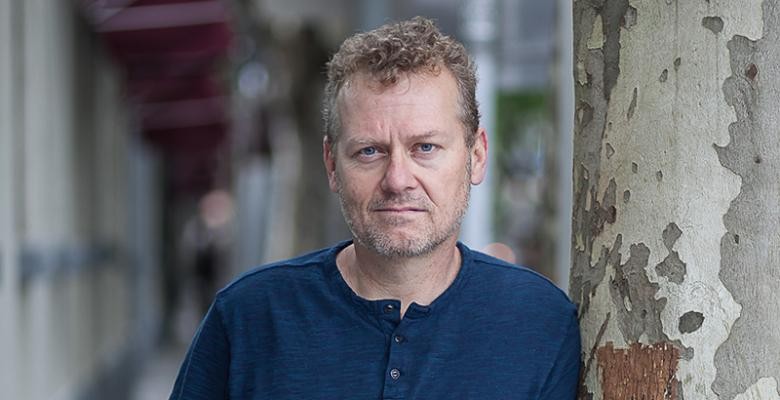 Thirty years elapsed between Gordon Penn's graduation from Licking Hill School in southern Missouri and when he got his college degree from Fordham University. As the son of parents who both dropped out of school after eighth grade, the MFA in playwriting that he will earn this month from Columbia's School of the Arts is a personal and professional achievement.
Penn's path to playwriting took many turns. He was a music and theater producer and publicist in Chicago, then ran his own management firm for actors in Los Angeles. In 2006, while traveling the country working as a DJ, Penn "heard a news story about how, due to the wars in Afghanistan and Iraq, the army had raised its maximum age to 42," he said. "I turned 40 years old in basic training and never looked back."
He spent the next five years on active duty assigned to the 3rd Infantry Regiment, known by its nicknames, the "Old Guard" and "Escort to the President." He participated in President Barack Obama's two inaugurations as well as over 2,000 Army funerals at Arlington National Cemetery. In 2011, Penn was sent to Kuwait as a photographer to document the 20th anniversary of Operation Desert Storm.
He was honorably discharged from active duty service in 2012, but continues to serve in the Army Reserve as a photojournalist with the 361st Public Affairs detachment, Fort Totten, Queens.
"Joining the Army was like hitting the reset button," said Penn. "Somewhere along the way, I discovered that I was a closet writer, so first things first—that never-completed college degree."
Penn moved to New York to attend Fordham, where he studied painting and writing, graduating in 2015. "I took my first playwriting class there, and studied with professors who urged me to continue writing and helped me finish my first play," he said.
Penn honed his craft studying with the renowned professors in the theater department's playwriting concentration—including Tony winner David Henry Hwang, Lynn Nottage, a two-time Pulitzer Prize winner, as well as Charles Mee, Anne Bogart and Arnold Aronson. He also "did a lot of everything else" — acting, taking photos of productions, managing props and designing costumes.
"I got into Columbia with the first play I ever wrote, so I never had anything of my own produced," said Penn. "My work is a product of this school."
His thesis play, Into the Zone (A military comedy with enhanced interrogation techniques), directed by his wife, Ann Cooley, grew from a 20-minute in-class presentation to a full-length workshop piece, which had a production translated into Mandarin in Shanghai in December, where Penn was a visiting artist at the Shanghai Theatre Academy. There will be an Equity showcase production this month at the Signature Theatre in New York during the annual School of the Arts graduating playwrights' New Plays Festival.
"Gordon Penn came into our program as an older student, having lived several lives before deciding to become a dramatist," said Hwang, head of the playwriting concentration at School of the Arts. "He soon emerged as a leader among his peers, while creating bold, innovative work drawing on his life experiences, particularly as a member of the U.S. military. Gordon has shown that artistry can come to fruition at any age."
After graduation, Penn hopes to take Into the Zone to the Edinburgh Fringe Festival and, among other projects, is the libretto military consultant and assistant costume designer for Hwang's new opera, An American Soldier, which opens at the Opera Theatre of Saint Louis in June.
"I may have known how to write a play before I came to Columbia, but I am leaving here as a playwright," Penn said. "There is a huge difference. The program here is immersive and collaborative."